Created by Turner Prize winner Rachel Whiteread, Nissen Hut is a permanent tribute to the lasting impact of the First World War on the British landscape
Revealed in autumn 2018, the sculpture is co-commissioned with 14-18 NOW, the UK's arts programme for the First World War centenary.
Set deep in Yorkshire's Dalby Forest, Nissen Hut is a life-size concrete cast of the interior space of the distinctive military structures invented during the First World War. They were used to house work camps on our land, after we were established in 1919. The sculpture will create a witness to the lasting relationship we have with our changing landscapes over time. 
Co-commissioned by 14-18 NOW: WW1 Centenary Art Commissions, supported by the National Lottery through the Heritage Lottery Fund and Arts Council England, and by the Department for Digital, Culture, Media and Sport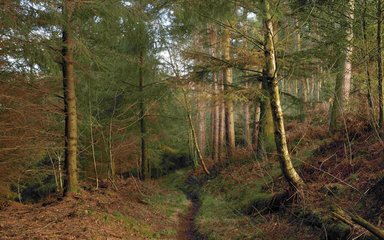 Dalby Forest is situated on the southern slopes of the North York Moors National Park and spans over 3,500 hectares.

Find out about visiting the sculpture: