Meet the 'Fragile with Attitude' artists
'Fragile with Attitude' was curated by contemporary artist, Zoe Partington, in collaboration with Art Shape and six fantastic artists. Art Shape is passionate about supporting and enabling artists facing disabling barriers to realise their creative and learning potential.
The exhibition took place in the Great Oak Hall, 21 - 25 April 2022. Watch a video on the exhibition here.  
Learn more about the artists below.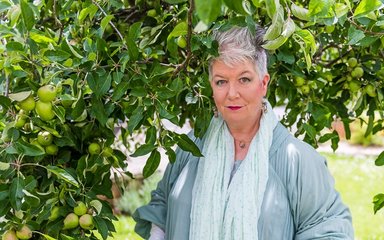 Chloë of the Midnight Storytellers
Chloë is a spoken word artist on a mission to boldly take performance storytelling where it's never gone before. Rooted in tradition; exploring original material and "verbal jazz".
The Twisted Tree is her first collaboration with a professional videographer. The story chose itself. And blossomed, inspired by the landscape and wildlife of Westonbirt Arboretum.
As a survivor of 40 years' depression, solo lockdowns and three cancer attacks and counting, Chloë thrives on creativity as a life sized act of defiance. Performance is her reason to exist. She tells stories to delight audiences and herself, to lift us all out of daily cares.
Chloë relished the learning curve of writing a script and working with videographer Jim Brooks to shoot and edit. But her whole project had to restructure over 48 hours when she was unexpectedly plunged back into chemotherapy.
Since 1999 Chloë has taken her playful Story Cabaret to Cheltenham Literature Festival, castles, cruise ships, schools, posh parties, theatres and much more. She's loved the Cotswold countryside since she was seven years old and now rents a farm cottage among the wolds.
Ellie - Cat in the Moon
Doll maker and fibre artist for the last year and a half, my art is a creative journey. I have no destination in mind but am curious about the places I will visit along the way. I have travelled through paper, paint and yarn, and am currently rolling through a sensory rich landscape of wool, fibres and flowers.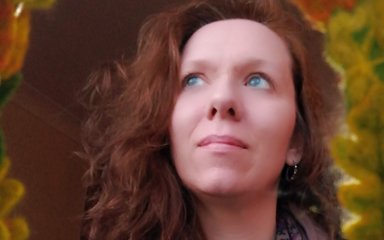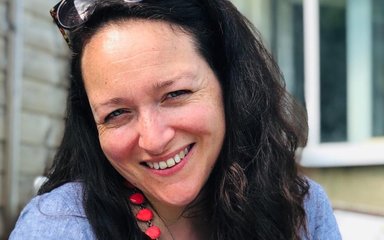 Naomi Said
My visual art practice is an essential act of self-care. Through research and experimentation with mark making, colour, found objects, textiles and text, my work is abstract, often unplanned and regularly instigated by an impulse, sense of need, or an improvised moment of play. I make art to consciously explore, navigate and process the landscapes of emotion I experience and to shape a language for these in visual form.
I'm British-Maltese and grew up in Coventry. I studied English at university and trained at drama school, both in Birmingham, and then worked as an actor, movement director and educator in the theatre industry for 15 years. I live in the Golden Valley in Stroud, with a current focus on my art and writing practice. 
Through my work as an Expert by Experience for Gloucestershire Health and Care NHS Foundation Trust, I also advocate for the development of mental health care across the county. 
My collection for the 'Fragile with Attitude' exhibition invites the viewer to connect to a world of feeling, spontaneity and exploration, inspired by the natural world. The pieces are a celebration of being in relationship with nature, with our inner child, and our own emotions, as consciously felt experiences that are unique and subjective to us all. 
Sarah Goddard

 – mixed-media artist
The colours, shapes, textures and patterns of the natural world can calm or enliven us, and I draw inspiration from them when creating my mixed-media abstract artworks. 
We all see the world around us differently and our lived experiences impact on how we perceive our surroundings. Being sight-impaired, I bring different perceptions and representations of the world to my art. I aim to embody the emotions prompted by nature, and snapshots of the way I see the world.
Working with other artists who face disabling barriers has provided a safe environment where I have felt able to move beyond those barriers and to concentrate on creating more authentic artworks that express my responses to the arboretum. These works combine expressive, abstract elements with more detailed sections and found items from the arboretum. This mirrors how I engage with the natural environment – seeing large vistas out of focus, while playfully getting up close to look at and touch details.  
Creating art is an essentially human way of communicating emotions, and I am driven to creativity to express myself. It provides stillness and peace, and reinvigorates me. Many people face barriers to participating in creative activities, and I am passionate about encouraging and enabling people to access art and creative activities.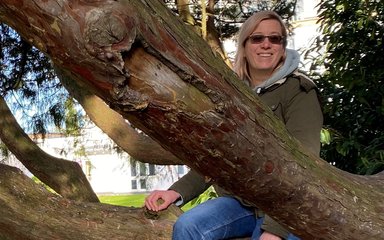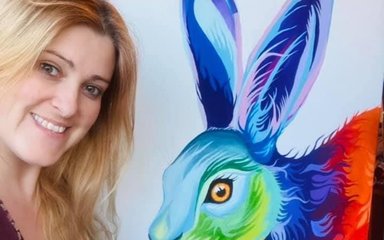 Julia Nigh of Duck & Dot Art
I wanted to illustrate the relationships between the natural world and people, and how we pull on nature's strength and fragility to support our own lives and beliefs.
The snowdrop quickly became an obvious choice of subject for me. As a child I loved to visit Westonbirt Arboretum with my grandparents and marveled at the swathes of tiny white blooms that blanketed the woodland floor. The more research I did into this tiny plant, the more I saw how it encapsulated everything we have come to understand about the strength of nature. Originally, I hoped to highlight nature's healing properties, and discovered the use of snowdrops in Alzheimer's treatments. This, however, quickly grew as I identified more and more exciting stories and examples of the strength and fragility of the snowdrop. The Many Faces of The Snowdrop was born.
Through my 9 pieces I have not only explored the snowdrop, but also my own creative limitations. As an artist who has not had a formal artistic education, I have used this opportunity to push myself out of my creative comfort zone. The wood carving, the wire and bead, the sculpture and the 3D printing are all art forms I have not done before. I like to push myself and my art into new areas. This keeps my art ever growing and evolving, much like the natural world around us.
Lisa Barnfield
For me, my artwork is a form of communication. For many years growing up, I lacked confidence but I found my voice and outlet through art.
Creating space to express myself through abstract and mixed media enabled me to grow. Connection and emotions are very important to me so my work in health and social care – and progressing to Holistic Therapist – has given me the ability to explore the way humans think and behave.
I have a deep connection to nature which is incredibly grounding and has many benefits to our equilibrium and wellbeing. This has been a key focus of my pieces for 'Fragile with Attitude', inspired and developed through the time spent at the Arboretum and in conversation with the artists involved in this project.