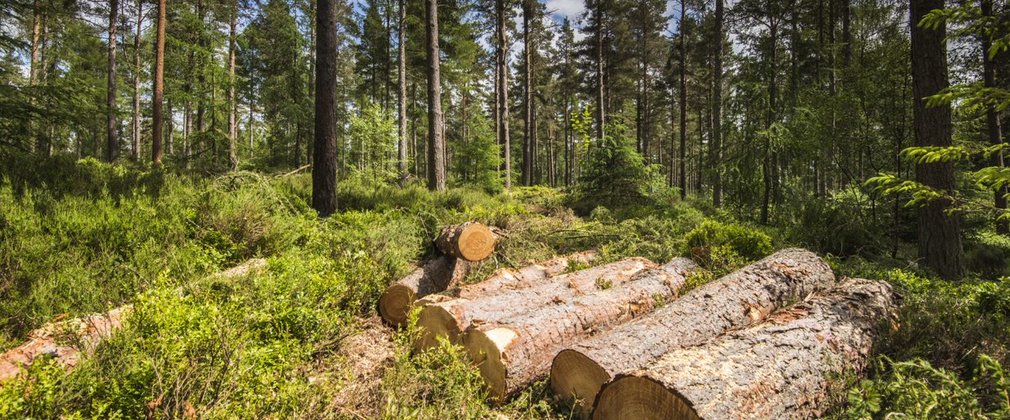 Updated 12th January 2023
Forestry operations at Deerpark
Deerpark is a working woodland producing sustainable timber. We are working here until the end of March 2023. This page provides more information about the work we're doing.
What is happening?
We are thinning young and mature tree crops to improve conditions for the remaining trees to grow on.
By removing carefully selected trees in chosen areas, we reduce competition for resources such as light, water, and nutrients. This allows the remaining trees to grow on to their potential. Thinning is hugely beneficial because it improves the woodland structure by establishing a mosaic of different conditions. This helps various plant species to flourish and further support a diversity of insects and animals. This process is key to improving the biodiversity and resilience of our woodlands while producing sustainable timber.
This work in Deepark will produce nearly 700 tonnes of timber for local and national markets. Our timber is certified as being sustainably produced and is highly sought after.
Can I still visit Deerpark?
The most important thing for Forestry England is to keep the public, our staff, and contractors safe. The wood will be closed to all public access during the working week (Monday-Friday) but will be reopened for you to visit at weekends. Access to Forest Holidays is unaffected.
We ask that you always follow all signs and closures within the wood. These are for your safety, whether you can see or hear us working or not. Forestry work is very hazardous. A falling tree can weigh several tonnes and hit the ground at nearly 60mph. If a harvesting machine's chain snaps, it can fly through the forest like a bullet. All these hazards are assessed and planned for before we start work, but we rely on your co-operation to keep everyone as safe as possible.
Please keep all gateways clear for operational and emergency access. Your consideration will help us to finish working as quickly as possible.
What about the wildlife?
Harvesting trees is an important part of a sustainable forest lifecycle and well managed forests support more wildlife. Deerpark is home to a variety of wildlife, including protected birds and mammals. Before we start any forestry work, we carry out thorough ecological surveys to check for species such as birds, mammals, rodents, invertebrates, flora, and fungi. We consider these findings against complex factors including tree health, how the ground slopes, soil condition, and likely rainfall when planning work that will support our long-term management plan.
We continue to check for wildlife throughout the operation and will adapt, pause, or suspend work if we find any animal that must be protected.
Where can I find out more?
You can read our full management plan for forestry in the Herodsfoot area online. Please contact our Community Ranger, Shaun Woodward for further information.