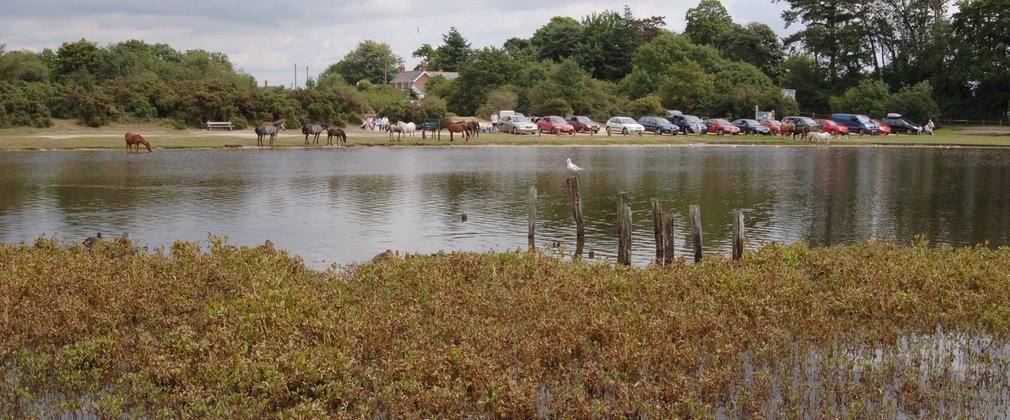 A group of New Forest organisations have agreed an urgent action plan to protect Hatchet Pond, one of the UK's most important ponds for nature and renowned local beauty spot which is under major threat from pollution and over-use. Works at the pond started in 2019 but unprecedented pressures experienced during the easing of lockdown has accelerated the plans by Forestry England, Freshwater Habitats Trust, and Natural England.
Hatchet Pond is the New Forest's largest body of fresh water and home to some of the rarest wetland plants and freshwater animals long since lost from many other parts of the UK. As the most wildlife rich pond remaining in lowland England, it has the highest possible conservation status as both a Site of Special Scientific Interest and a Special Area for Conservation and maintaining the health of the pond is a legal requirement.
Analysis of the Pond clearly shows that the health of the water, and plants and wildlife that rely on it, are in decline. Pollution is being caused by a number of factors; the area around the Pond is rapidly eroding allowing silt to drain into it from the very busy car park, large amounts of material being thrown in to feed birds and bait fish, and a sharp rise in people and dogs entering the water disturbing sediment and releasing trapped chemicals. Erosion of the surrounding banks has also led to regular flooding of the car park raising a major risk of pollution from the toilet block.
Actions to improve the water quality began in 2019. These included an Environmental DNA survey of the fish within the Pond followed by the removal of non-native carp, a process repeated in 2020. Changes were also made to the car park to help prevent drainage flowing directly into the pond, and increased signage installed highlighting the prohibition of activities including water sports, swimming and petting or feeding livestock.  
However, problems here reached a critical point during the recent easing of lockdown with unprecedented numbers of people visiting the location and a steep increase in prohibited activities including wild camping, littering, the use of BBQs and campfires, swimming, kayaking and paddle boarding. Forestry England, the New Forest National Park Authority and the emergency services significantly increased patrols at Hatchet Pond throughout this period.
The urgent plan agreed by Forest organisations aims to increase protection of the site and covers a range of measures designed to halt the decline and restore this special place. Actions include relocating the car park, subject to planning consent, away from the Pond edge whilst retaining views over it. The toilet block will also be removed to reduce the major risk of pollution with alternative public toilets available in nearby Beaulieu, Brockenhurst and Lymington.
There will also be a focus on improved information and signage at the Pond highlighting its conservation status and importance, together with increased engagement with the public to encourage them to help protect this special place.
Bruce Rothnie, Forestry England's Deputy Surveyor of the New Forest said:
"Hatchet Pond is an incredibly important place for nature and wildlife. It is one of the few places across the country where you can still find so many rare species in one place. It is also a special place for people to enjoy and appreciate nature and its beauty. Working together with other organisations involved in looking after the Forest we are taking action to help protect this incredibly valuable location, build wider awareness of its importance and ensure its long-term survival."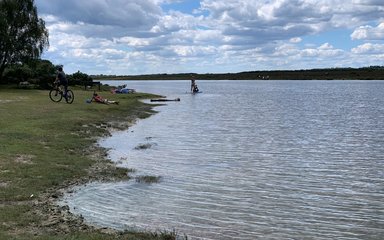 Dr Naomi Ewald from Freshwater Habitats Trust said:
"Hatchet Pond is a unique and special place. There are no other waterbodies in lowland England which support the same number of plants and animals, and so many rarities which are in decline elsewhere. Once lost, it will not be possible to recreate a site as good as this, so we need to take action now."
Jenny Thomas,New Forest Specialist, Natural England said:
"Hatchet pond is of exceptional ecological value, supporting a staggering 133 wetland plant species, more than one third of all the wetland species in the UK, along with numerous invertebrates.  Natural England are delighted that this programme of restoration works is underway, which will help to protect and restore Hatchet Pond for the benefit of all the plants and animals which depend on it, as well as safeguarding it for the enjoyment and wellbeing of New Forest residents and visitors."
Nigel Mathews, Head of Recreation Management and Learning at the New Forest National Park Authority from the New Forest National Park said:
"Over the summer, especially in the hotter weather, large numbers of people gravitated towards this beauty spot. Sadly, some ignored the signs and left litter, lit barbecues, petted the livestock and entered the water to go swimming, boating or paddle boarding. Working closely with Forestry England we set up increased ranger patrols to remind people of the New Forest's special qualities and how their actions could upset the natural environment and commoners' animals. As the local planning authority, we will be dealing with the associated planning application for the works at Hatchet Pond in due course."