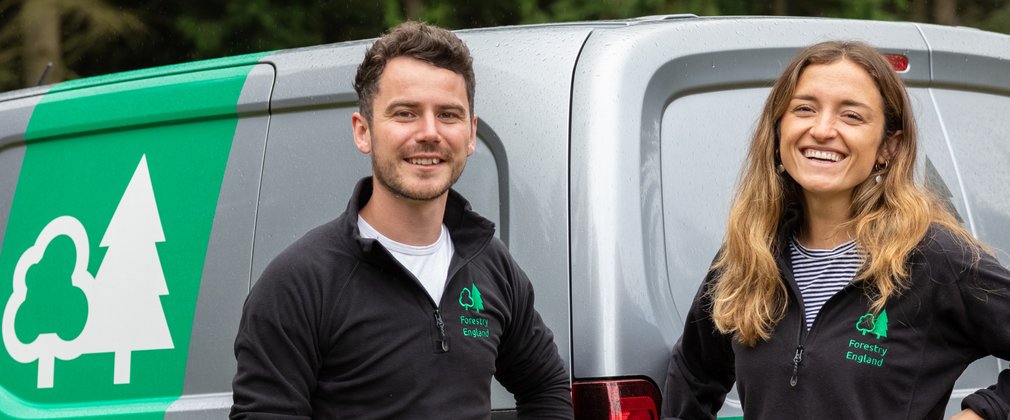 Meet the graduates
Updated 21st December 2022
Meet some of the graduates who have taken part in our Graduate Leadership Programme and discover their experiences during and after their placements.
Tom: current second year trainee working within the National Operations team
"I joined the Graduate Leadership Programme in 2021, after studying geography at university. I didn't know exactly what I wanted to do, except that I wanted to work in the environmental sector and in an organisation that could make an impact. When this programme came up, it ticked all the boxes. Forestry England's priority is to manage the nation's forests for nature, climate and people, and the graduate scheme gives you a broad experience across environmental land management and conservation.
My first year was spent in the South District, working across a huge range of landscapes in Dorset, the New Forest, the South Downs, and all the way to Surrey and the Thames Basin Heaths. Throughout the year, I worked across all major departments: Recreation and Public Affairs, Forestry and Land Management, Estates, and the Planning and Environment Team. As a result, the projects I was involved in ranged from commercial business modelling and research to contract managing the planting of thousands of trees!
Since October 2022, I've been working with the National Operations team, based in Bristol. My current project sits between Forestry England's species reintroduction and recreation work, looking at how ecotourism could become a bigger part of what we do as an organisation. The project line up for the rest of the year will see me work with lots of different teams, on a diverse range of strategic and operational projects."
Anabel: current second year trainee working within the National Operations team
"I joined the programme in Autumn 2021, relocating to Thetford Forest in the East District for the first year. The year has been filled with exciting projects, from working in a woodland creation team, project managing the design stage of an operational site redevelopment, developing a zero-waste strategy for the Bedgebury Pinetum, and working on the business case for a project to improve the condition of the Breckland SSSI, to name a few. These experiences have demonstrated how Forestry England deliver on organisational objectives, through both business-as-usual and investment projects. They have also enabled me to put into practice the skills I gained from the APM Project Management Qualification completed during this year.  
A highlight for me was pursuing interests, and developing knowledge, in forest resilience. I've progressed this through joining the nationwide Forest Resilience Network group and attending their site visits across the Districts, which provide opportunities to share experiences and join-up thinking, and broadened my network across the organisation. I've also been involved with the Thetford Forest Resilience Programme and supported the delivery of the Resilience Conference. This gathered District staff and external stakeholders to share the vision for the programme, identify key challenges, discuss ideas, and explore collaborative opportunities.
Being on the Graduate Leadership Programme, we are encouraged to seek opportunities for continuous professional development, to which 20% of our time is allocated. Over the past year, I've made use of this by designating time to shadow colleagues and attend various training sessions, including Raptor course in the New Forest and the UK Forestry Standard training.
As I look to this next year working in the National Operations team, I am looking forward to furthering skills in project management, leadership, and sustainable forest management, as well as gaining exposure to Forestry England's long-term strategic planning."
Naomi: graduate trainee 2020-2022
"I have finished my time on the Graduate Leadership Programme, and I have to say it flew by! There is a lot packed into the two years, so I constantly felt I was learning new skills and from other people's wealth of experience.
I spent the first year based in the East District. The variety of forest and woodland types here, from community woodlands to Britain's largest lowland pine forest, lends itself to providing a huge range of experiences. I project managed the team responsible for the planning of a new woodland creation site which included designing the woodland landscape, selecting suitable species, undertaking an Environmental Impact Assessment, and delivering a public consultation. Being given responsibility for such an exciting project demonstrates Forestry England's commitment to developing their graduates in leadership and management skills.
The second year, based in the National Operations team, helped to broaden my understanding of strategic and multi-objective decision making. I benefitted from the opportunity to take the APM Project Management Qualification and immediately put this into practice developing project and programme business cases. A highlight was designing the governance and early implementation of the Forests for Everyone programme, which seeks to improve diversity of people interacting with the nation's forests.
Over the course of the programme, my interest grew in how forestry mitigates climate change and is at the forefront of many challenges caused by climate change (drought, pests, diseases). I have now started a role in the Forest Resilience team and will be working directly with foresters and planners to ensure our operations and silvicultural systems are supporting the creation of a more resilient and robust forest."
Working life after the Graduate Leadership Programme
Towards the end of the programme we will work with you to find you a suitable post, ideally at the next level but otherwise at the same grade if no other suitable roles are available at the time. Find out below what some of our former graduates went on to do after finishing their placements.
Dave: graduate trainee 2019-2021
"I finished my time on the programme in summer 2021 and was successful in gaining a Beat Manager position in East Devon, West District. This was a fantastic 12-month opportunity to lead the local area team to manage the public forest estate for people, nature and climate in the fantastic forests of East Devon. This included, but was not limited to, the management of forests and their associated planting, felling, harvesting, and maintenance programmes; the management of the operational beat team; and liaison with the wider district teams to deliver on-going work programmes and cross-functional projects.
I am currently working in the South District leading the Land Management Business Improvement Project. This position has enabled me to build on the skills and experiences I gained whilst leading a local operational delivery team, to now explore ways to streamline and improve our systems and processes at a district level. The huge variety of projects and cross-functional work areas which I was involved in within the graduate programme, has really supported me to bring a well-informed and creative approach to this project."
Jemma: graduate trainee 2018-2020
"Finding my first role after the programme during the pandemic was tricky, but Forestry England supported me and I soon took up the role of National Operations Project Manager. I worked on lots of different projects such as a review of motorsport activity and other national agreements. While I was on the graduate programme I had the opportunity to attain the APM Project Management Qualification which set me up really well for my future roles within the organisation, and would recommend to any future graduates.
After a few months I then secured my current role of Active Forests Project Manager within Forestry England's Active Forests programme. This is an amazing and rewarding area to work in that is aimed at getting more people active in our forests, with a focus on less active people and harder to reach audiences. In this role I've been managing a few projects, such as Forest Runner (our annual series of 5k and 10k running events) and Breeze into the Forest with British Cycling (women-only group bike rides in our forests) among other things.
Being part of the graduate network has been invaluable, as it has helped introduce me to different areas of the organisation and other past graduates have always been available with advice and support when needed. I have also really enjoyed aiding new graduates in their immersion to Forestry England and imparting knowledge from my own experiences."