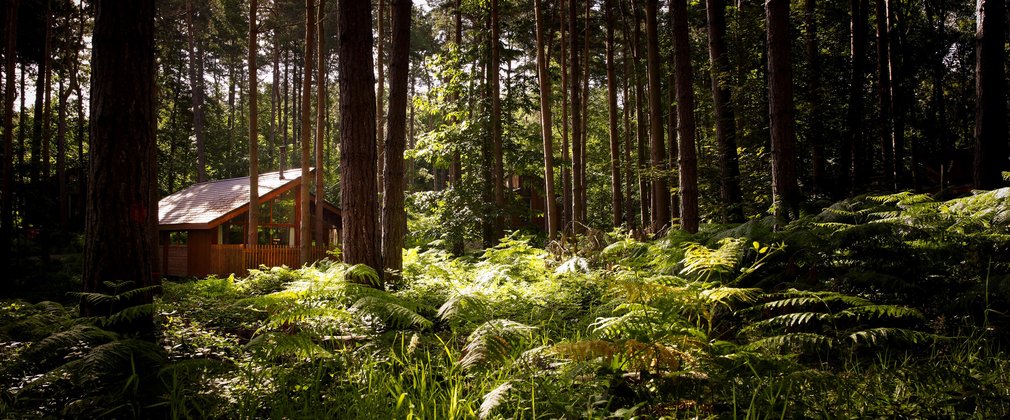 Our partnership with Forest Holidays
Updated 8th July 2021
Forest Holidays was founded by the Forestry Commission in the 1970s to meet the growing demand for sensitively placed accommodation in forest locations where people can enjoy our forests.
Although Forest Holidays today is an independent company, it is still part owned by Forestry England.
Forestry England works in close partnership with Forest Holidays'  responding to recreational demand through the creation of carefully considered cabin locations in the nation's forests that meet the highest sustainability standards.
Together with Forest Holidays, Forestry England works to ensure any proposals are appropriate to the location and offer significant environmental, economic and social benefits.
Environmental considerations
All new proposals are considered in detail by Forestry England before being agreed. Forest Holidays has a wealth of expertise and experience  in the design and build of cabin locations , ensuring minimal impact to the forest setting, wildlife habitats, flora and fauna.
Site design follows the natural constraints and sensitivities of the forest environment and the highest level of attention is paid to safeguard the natural environment during design and development.
The Forest Stewardship Council® (FSC®) timber cabins are designed to visually fit into a forest setting without detriment to the natural environment and every opportunity is taken to introduce improved forest management and habitat enhancement. The cabins are a unique concept and sit on steel piles, ensuring no harm to adjacent trees and are raised above ground to avoid disturbance to the forest floor.
Renewable energy is incorporated in the form of either wood pellet/chip boilers or airsource heat pumps. The units are highly insulated and incorporate energy saving devices.
No surface water is collected on site and surrounding roads and paths are not metalled, kerbed nor drained.
Economic benefits
Evidence and experience from existing Forest Holidays sites show that they quickly become part of the local community and rural economy by generating around 19 full-time and 40 part-time permanent jobs per location.
In addition the site will generate about another 30 FTE jobs in the wider local economy (these figures will vary per site).
It is a business priority for Forest Holidays to encourage visitors to explore local areas and attractions and this brings valuable and steady year round tourist income to surrounding communities and businesses.
Forest Holidays locations sit on Forestry England land and every cabin generates an annual rent which supports the sustainable management of the nation's forests. Revenue generated from Forest Holidays cabin locations and from other commercial partners is vital in helping Forestry England to continue to manage the nation's forests to the highest standard for people, trees and wildlife.
Social benefits
Forest Holidays helps Forestry England to enable more people to visit and benefit from woods and forests – an objective outlined in the Independent Panel Report on Forestry and in the Government's Forestry and Woodland Policy Statement.
All Forest Holidays locations are entirely open to the public and in creating a new location, we take every opportunity to improve paths, trails and recreational facilities for the wider visiting public.
The money that we reinvest into Forestry England sites from Forest Holidays' revenue means that access can be improved, wildlife protected, visitor facilities upgraded and more opportunities for all visitors created – not just for those staying in the cabins.
Please find more information on Forest Holidays and our partnership at https://www.forestholidays.co.uk/about/