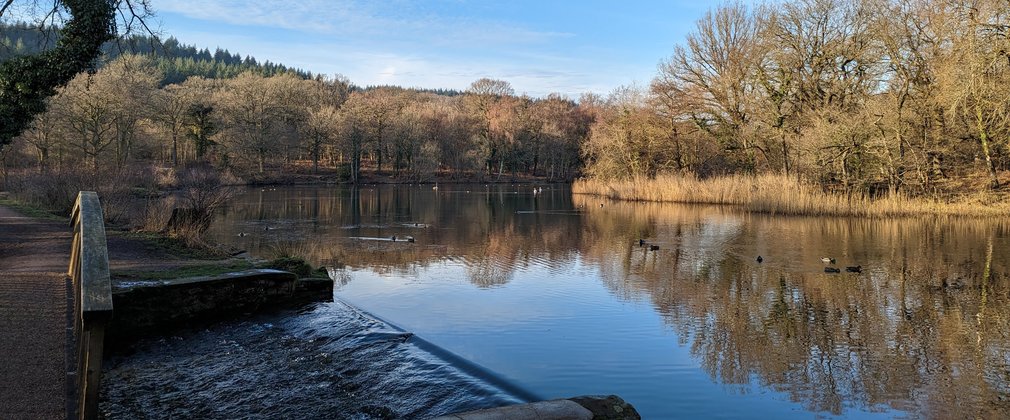 Updated 28th June 2023
Forestry England is continuing to gather critical information at Cannop Ponds to inform the decision on the future of its aging dams.
From Monday 3rd July, ground investigation works will begin. This work will help us understand the geological make-up of Upper and Lower Cannop dams, and the immediate surrounding area.
This will be done by taking core samples through the dam wall and down to the bedrock underneath. These bore holes will be small, approximately six inches wide, and will be filled in afterwards so as not to affect the integrity of the existing dams. The samples will then be taken away to be studied by expert engineers and geologists.
These tests will tell us what kind of ground is underneath the dams, and where the original ground level would have been. It will also tell us exactly what materials were used to construct the dams and will provide more evidence on their current condition. This work is being carried out by a Geotechnical Engineering Ltd, a Gloucester-based company and will involve the use of a small drilling rig.
Alongside this work, silt samples will be collected from the reservoirs. A floating pontoon will be used to look at the silt depth and will tell us what the silt is made of, including any possible contamination. As all options for the future of Cannop Ponds will require water levels to be lowered at some stage, the results of this work will help determine what kinds of mitigation will be needed to prevent the spread of this silt and ensure any historical industrial pollution is not disturbed.
Kevin Stannard, Deputy Surveyor for Forestry England, said: 
"We know that drilling works at Cannop Ponds may be worrying for some people, but this work is essential for us to gain a better understanding of the dam structures.
"Our current knowledge is based on visual inspections and historic information. This work gives us the opportunity to test our assumptions and increase our knowledge. 
"The engineers now need to move beyond assumptions and visual assessment of the historic dams, to work with firm data of what the dams are sitting on, what the dams are made of, as well as the depth and make-up of the silt layers in the Ponds themselves.
This information will be vital to inform the decisions as to which option is taken forward; and the final design of that option."
The ground investigation work will take approximately two weeks and disruption to visitors will be kept to a minimum. The car park and public rights of way will be kept open, although there will be a short, temporary road closure whilst the drilling rig is brought onto, and taken away from, the site. As the materials will be sent off to be tested in a laboratory, results are not expected for a few months.
The four options for the future of Cannop Ponds can be viewed at: www.forestryengland.uk/article/the-future-cannop-ponds
See more news from the Cannop Ponds Project
Note: This work was originally scheduled to take place in June but has been delayed.