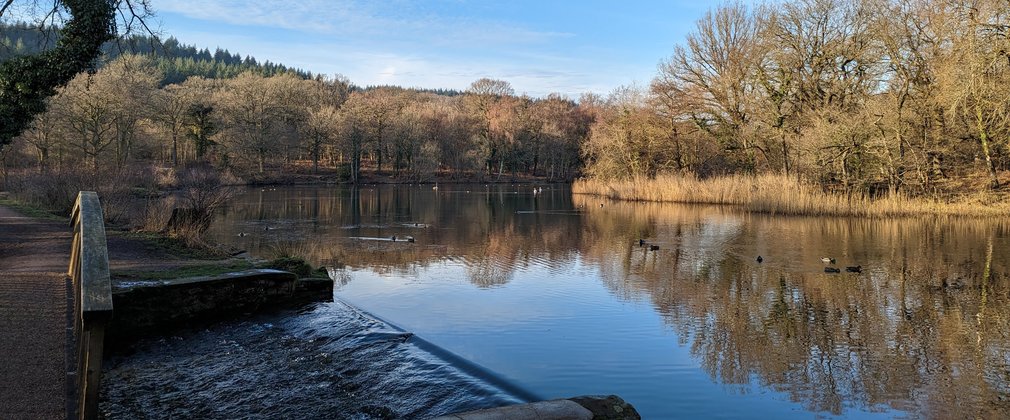 Forestry England is inviting members of the public to come and share their views on the future of Cannop Ponds. 
Updated 1st February 2023
Forestry England will be holding eight public engagement sessions across two days in March, with a virtual option for those unable to attend. 
The sessions, on Tuesday March 21 and Thursday March 30 at Speech House Hotel, will enable the public to come in person and record their views on the several potential ideas for the future of Cannop Ponds. 
With significant concerns about the safety of the ageing dams, Forestry England is looking at possibilities for the future of site. What we are sure of is that doing nothing is not a viable option given the significant weaknesses of the dams.  
The options range from replacement of the spillways and dam walls with larger, stronger and wider structures to meet current safety standards, to removing the dams entirely or in-part.   
All options will include equal or greater public access, and the ambition is that the final outcome would offer improvements for biodiversity and flood attenuation.   
The engagement sessions will each last around an hour and will take the format of a presentation and a Q&A, as well as time for attendees to look at visual representations of potential futures for the site and give their feedback on the many different options.  
Kevin Stannard, deputy surveyor of the Forest of Dean, said:  
"Over the last few months we have been busy gathering data. While some surveys will still be ongoing, by March we will be at a point where we can properly engage the public and have some information to answer their questions and receive their input. 
"The views of the public have always been important to us and the timing of this event should allow for two-way engagement that will be meaningful for all." 
The event will be by ticket only to manage numbers. 
For those unable to attend, an online version of the presentation and visual representations will be available to view with the chance to submit comments as those who attended the in-person sessions would have. Online links for this will be shared in March.  
Those who cannot attend either in person or the online consultation are invited to email in their views at cannopponds@forestryengland.uk, or write to:
The Cannop Ponds Team,
Forestry England,
Bank House,
Bank Street,
Coleford,
GL16 8BA.
We will be publicly releasing the visual representations outside of the engagement events.