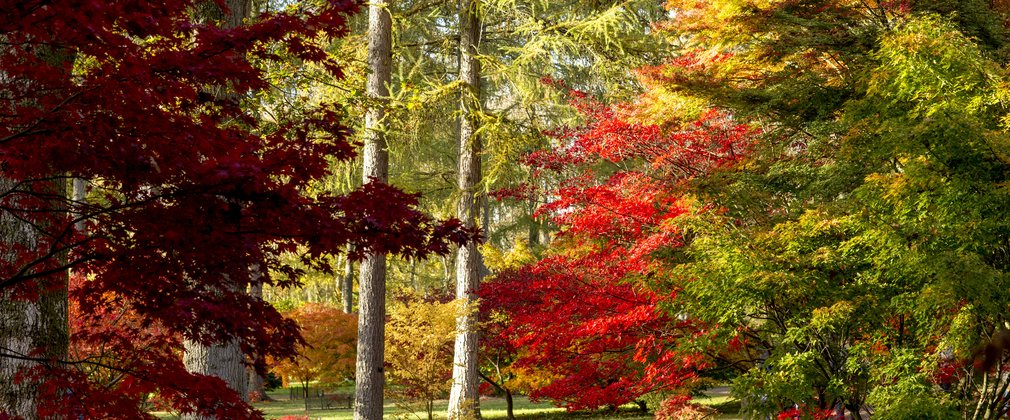 Autumn at Westonbirt
Take a walk through an incredible landscape of scarlet, orange and gold this autumn.
Autumn has arrived at the world famous Westonbirt, the National Arboretum. Days are getting shorter, the air that bit cooler which means the native and exotic trees in the arboretum are coming to life in a rich, blaze of colour.
Now is the perfect time to take a peaceful walk with friends and family to experience an incredible landscape of vibrant autumn colour spread through the branches overhead.
In the Old Arboretum Acer, Birch and Persian Ironwood are putting on a good show not far from Down Gate. Close to Down Gate on Main Drive look out for a Crimson Glory Vine growing through the tops of some large conifers, it's in section G22 on the visitor map. Our well established Acer collection provides some fantastic colour in Acer Glade, complemented by some tall golden-yellow Hickory. More Hickory can be found around Victory Glade; where our champion Katsura and a Full Moon Maple have been providing a veritable feast of colour.
In Silkwood Acer, Hickory and Tupelo along Willesley look really good just now, as does Yellow Wood; its leaves are vibrant yellow and stand out from everything around it! 3 Acers in particular in Maple Loop are stunning in autumn colour; you can't miss them if you walk there from Willesley. The tall yellow obelisks of Hickory can be seen on nearby Broad Drive; which also offers visual delights in the form of Acer, Tupelo, Persian Ironwood, American Sweetgum, and a large Sergeants Cherry in its last throw of colour. A walk down The Link is well worth it as Birch, Acer and American Sweetgum provide fine autumn interest.
Our Red Oaks are also worth a mention; one on Mitchell just coming into full colour, one on Barn Walk and one just off Broad Drive in section J10 of the visitor map.
To help you explore the beauty of Westonbirt Arboretum we have an autumn hotline you can call on 0300 067 5691. This hotline is updated weekly to let our visitors know the best areas to visit for dazzling displays of autumn colour.
Don't miss out on over 15,000 trees putting on one of the world's most spectacular autumn shows for your delight. We look forward to welcoming you soon.
Autumn Seasonal Trails
Discover more, learn and connect with the trees in our collection on our Autumn seasonal trails. Pick up your guide on arrival at the Welcome Building.