Bedgebury Presenting the Pinetum trail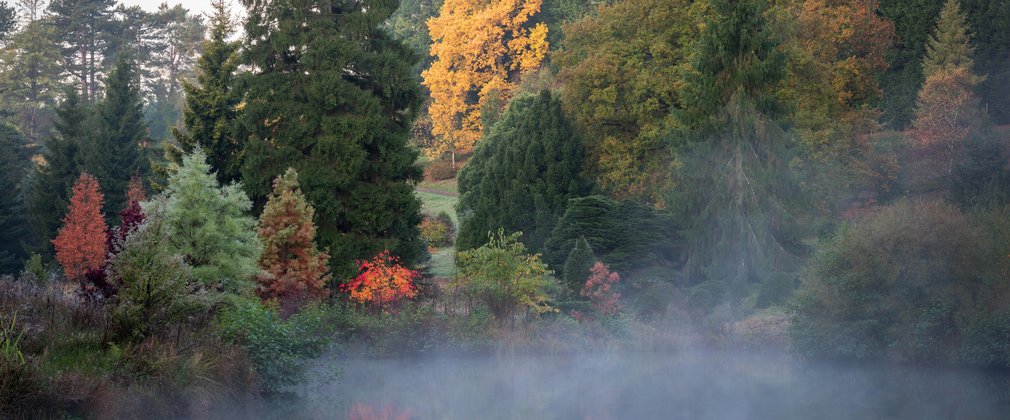 Bedgebury, the National Pinetum - an evolving landscape
At the heart of Bedgebury lies our pinetum – a unique tree collection of conifers from around the world. Visitors to Bedgebury have been experiencing the wonder of conifers since 1836. Follow the Presenting the Pinetum trail map to discover how Bedgebury's conifers have been presented through time for people's enjoyment, creating the look and feel of the pinetum today.
Bedgebury National Pinetum is cared for by Forestry England for people, wildlife and trees. It offers a sanctuary where scientists can study and visitors can enjoy diverse and beautiful conifers. The pinetum has evolved in size and purpose from a private collection to impress, to an important global resource focused on conifer knowledge and conservation. Through all the changes, one thing has remained constant: the beauty of the place.
You just need to stop and look around to realise this is no happy accident. Thought and vision have gone into all the plantings, from individual trees to the creations of views and vistas. It is thanks to the forward-thinking gardeners, curators and their teams that have worked here. They have indulged their passion for trees and left a personal stamp on the landscape, which visitors will be able to enjoy way into the future.
The trail is 2.5km in length, taking about 1.5 hours to walk at a steady pace. Sections of the trail take you away from surfaced paths to get the full benefit of the vistas. However you can choose shortcuts that remain on accessible paths if you prefer.
Trail information
Bedgebury National Pinetum and Forest, Lady Oak Lane, Goudhurst, TN17 2SJ
Please wear suitable clothing and footwear, and be prepared to walk on grass as well as hard surfaced paths
Accessible route with surfaced paths and benches available as a shortcut
Trail available any day for free, standard vehicle admission applies.