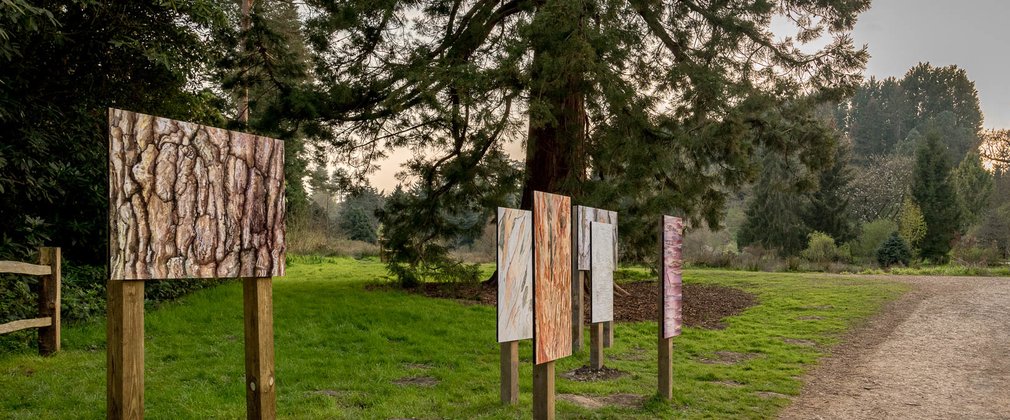 An outdoor exhibition by the Bedgebury Pinetum Florilegium Society
The Art of Trees outdoor exhibition showcases the Bedgebury National Pinetum tree collection.
Using new and unique artworks from the Bedgebury Pinetum Florilegium Society, the exhibition highlights the beauty and diversity of the Bedgebury's plants.
What better way to celebrate 100 years of forestry than with an art exhibition of specially created, botanically accurate drawings and paintings set against the backdrop of the National Pinetum's stunning tree collection. Eleven members of the Florilegium Society have produced over 100 drawings and paintings based on the annual life cycle of both coniferous and broadleaved specimen trees in the pinetum for the exhibition. The works depict popular native trees such as the oak (Quercus robur) as well as significant trees in conservation terms. One example growing successfully at Bedgebury is the Franklin tree (Franklinia alatamaha), which is classed as "extinct in the wild" by the IUCN Red List of Threatened Species and hasn't been seen in its native USA since 1803.
Bedgebury Pinetum Florilegium Society are a group of highly skilled artists who volunteer their time to capture all stages of the life cycle of the Bedgebury tree collection. This unique outdoor exhibition has been created by the Florilegium with support from the Friends of Bedgebury Pinetum, Forestry England, and professional scanners and designers.
The composite images created from the artworks are displayed on weather-proof boards situated amongst the trees at Bedgebury. The frames have been made specifically for the exhibition out of wood milled from Bedgebury's trees. The wooden frames include cuts from a noble cypress raised at the Alice Holt Research Station and planted at Bedgebury in 1981 plus Lawson cypress (x Cupressocyparis notabilis), larch (Larix decidua), cedar (Cryptomeria) and Sicilian fir (Abies nebrodensis).
Pick up a Friends of Bedgebury Pinetum magazine from the Visitor Centre on arrival at Bedgebury to enjoy the exhibition and read the stories behind the exhibition. Or download a copy to find out more before you visit.
Have you already visited the exhibition?
Please take a few minutes to let us know your feedback by completing our survey
More information
Bedgebury National Pinetum and Forest, Lady Oak Lane, Goudhurst, TN17 2SJ
The Art of Trees is on display until 29 March 2020.

Free outdoor exhibition (normal Bedgebury vehicle admission applies).

Friends of Bedgebury Pinetum magazine includes exhibition details, suggested donation £1.

Find out more and pick up a magazine at the Visitor Centre Information Office, open from 9.30am daily.