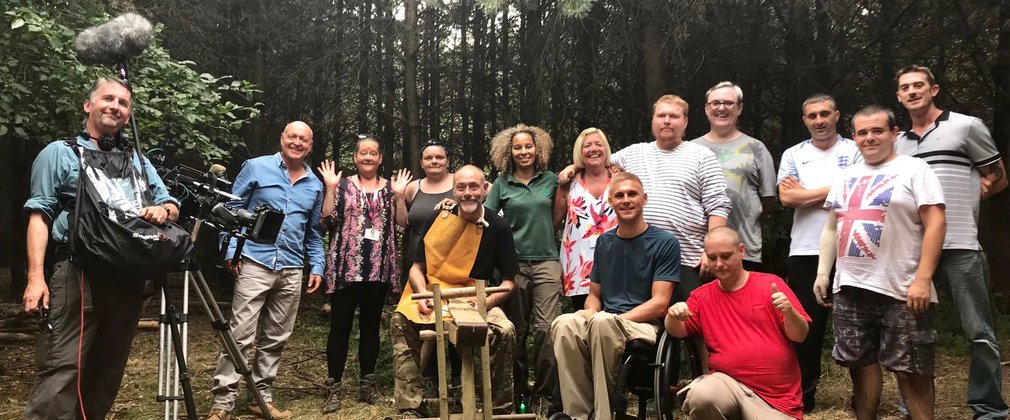 In a quiet corner of Sherwood Pines, a group of people are learning how to build shelters, weave willow and whittle wood. Some are beginners, whereas others are more advanced, looking to master more technical bushcraft skills.
But Framework's Opportunity and Change programme  (OAC) is more than learning how to survive in the wild. It's about developing confidence, gaining a sense of camaraderie, and making new friends.

Many of those taking part have faced seemingly insurmountable challenges, including domestic abuse, homelessness or challenging mental health issues. And when at rock bottom, it's the forest that helps to bring them back up.

The calmness of the setting and the bushcraft brings people together, helping them to believe they can achieve great things, rather than be defined by the challenges they face.
A typical not so typical day
A day at Opportunity and Change starts as most days do, with a cup of tea or coffee. But in the forest instead of putting the kettle on, the group first need to light a fire to boil water.

There's a bit of friendly competition, where teams are challenged to build the best woodland shelter using only what they can find in the forest.

Other activities include log-splitting and a campfire, where marshmallows and hot chocolate create the perfect atmosphere. And while the day of adventure comes to an end, its impact can last a lifetime.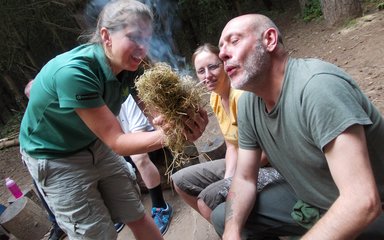 Diane Waddingham, OAC navigator, who brings the participants to the session said,
 "It's as if barriers just disappear. People take part and work well to make the day perfect, and worries and woes are left behind. We see people so satisfied and fulfilled - its magic."

"The natural setting also evokes feelings of relaxation and happiness, and a satisfaction gained from doing mild to moderate physical activity."
Trees for change
A day of bushcraft at Sherwood Pines can be truly transformative.

When talking about how they felt on arrival, many of the participants have said they felt depressed and nervous. One commented how he was just plodding day to day without anything to look forward to, with little expectation for the future.

By the end of the afternoon, words used to describe the experience included positive, relaxed and proud. One of the group reflected how they felt they had done something really positive with their day. Another said that evening, they had the best night's sleep for a long time.

The response shows how the sessions give people who are socially isolated a much needed opportunity to meet new people, gain confidence, learn new skills and embrace the outdoors.
Forests for mental health
While only a kilometre from the forest's visitor centre, the bushcraft camp feels peaceful and remote. There are few distractions and, instead of traffic and crowds, there are birds chirping and the sound of wood crackling in the fire.
Many of the group with shared experiences begin to open up to each other - some realising they might stay in touch to support each other in the future.  
Emily Butt, Sherwood Bushcraft Ranger, says the bushcraft sessions are a great opportunity for participants to build confidence, make healthy friendships, gain new experiences and have fun.
"Working with groups of people who are at risk of social exclusion or isolation is at the heart of what we do at Sherwood Bushcraft and it has been lovely to observe the positive changes in people in the group," she says.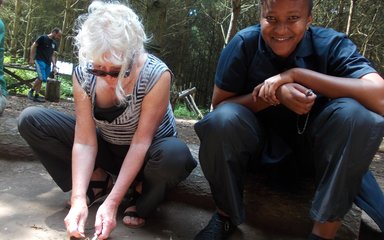 Framework's Opportunity and Change programme is part of a national programme called Building Better Opportunities and is funded by the European Social Fund and the National Lottery Community Fund to help people move into training, education and employment.

Find out more about Sherwood Bushcraft and Opportunity and Change.