Real Christmas Trees at Dalby Forest
Please bring enough people and an appropriate vehicle to transport your tree when purchasing.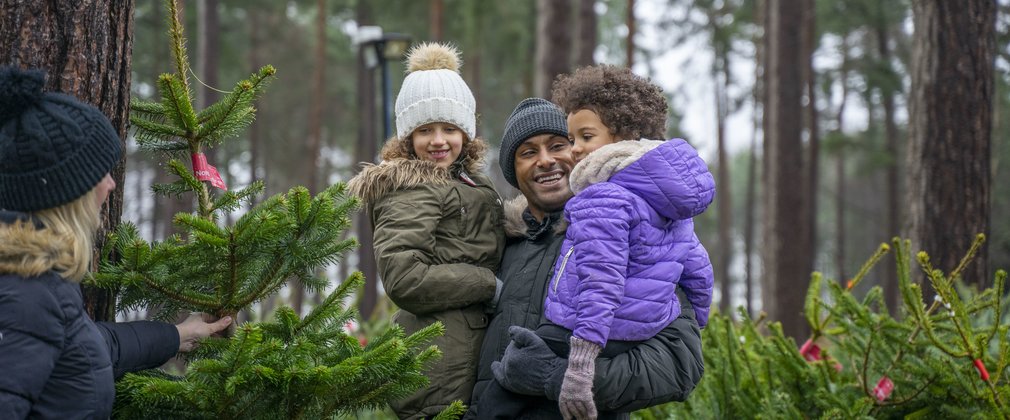 Looking for a real Christmas tree near you in North Yorkshire?
Wrap up warm, pull on your boots and let the fresh winter air fill you full of festive cheer.
Make treasured family moments choosing your perfect Christmas tree with steaming hot chocolate and rosy cheeks. 
Our trees
Nordman Fir: 4 - 10ft
Norway Spruce: 5 - 10ft
Our trees are on sale from Saturday 25 November up to Sunday 17 December. 
Trees may sell out before the end date.
Due to operations, tree sales will be unavailable on Friday 15 December from 12pm.
What makes our Christmas trees so special?
Quality: Our high-quality trees are British grown - so you can be proud of your superior quality tree
Experience: Choose your tree from a beautiful forest location to kick off your Christmas celebrations 
Expertise: With 100 years of forestry experience, our experts can help you choose the right tree for your home
Support your forests: The money raised from your Christmas tree helps us maintain the forests for wildlife, for you, and for future generations
More information
Dalby Forest, Dalby Forest Visitors Centre, Low Dalby, Thornton-Le-Dale, Pickering
Members receive 10% discount on trees.
25 November to 17 December, 10am to 3:30pm
Free when you buy a tree!
The Dalby Forest cafe will be open from 9am - 4pm for warm drinks and treats
The Courtyard cafe will be open from 9am - 3pm for warm drinks and treats
On Friday 15 December, tree sales will be unavailable from 12pm.