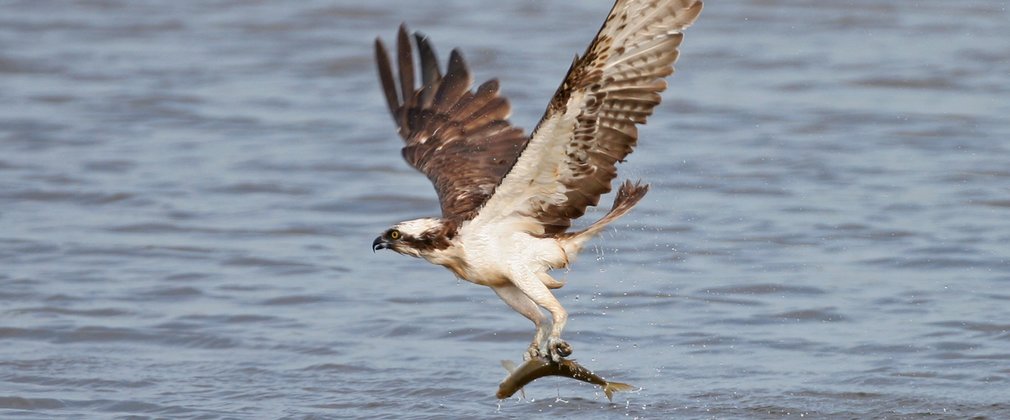 Osprey viewpoints - view the stunning Bassenthwaite ospreys
The Lake District Osprey Project is a partnership project between the Forestry England, Lake District National Park and Royal Society for the Protection of Birds (RSPB) with fantastic support from many volunteers.
The partnership aims to ensure the continued success of breeding ospreys at Bassenthwaite, and to provide visitors to the Lakes with the opportunity to see and find out more about ospreys.
The return of ospreys to Bassenthwaite Lake in 2001 was the culmination of several years' hard work to encourage them to breed. The Lake District Osprey Project partners built a nest platform in Wythop Woods overlooking Bassenthwaite Lake. In 2001, all the hard work paid off and a pair of ospreys took to the platform and nested. For the first time in over 150 years, ospreys had been recorded nesting successfully in the Lake District!  The ospreys have returned every year and used different nest sites, successfully raising many chicks.
The viewpoint will be unmanned for the 2020 season.  You will be able to walk up to the viewpoint and look at the ospreys with your own equipment.
If you would like to find out more about how you could help the project through funding or volunteering, please contact Nathan Fox at nathan.fox@forestryengland.uk.
More information, including a live webcam of the nest, is available at www.Ospreywatch.co.uk.
Activity information
Dodd Wood, Keswick, CA124QE
The view point will be unmanned for 2020 season. You will be able to walk to the viewpoint and use your own equipment to view the ospreys.