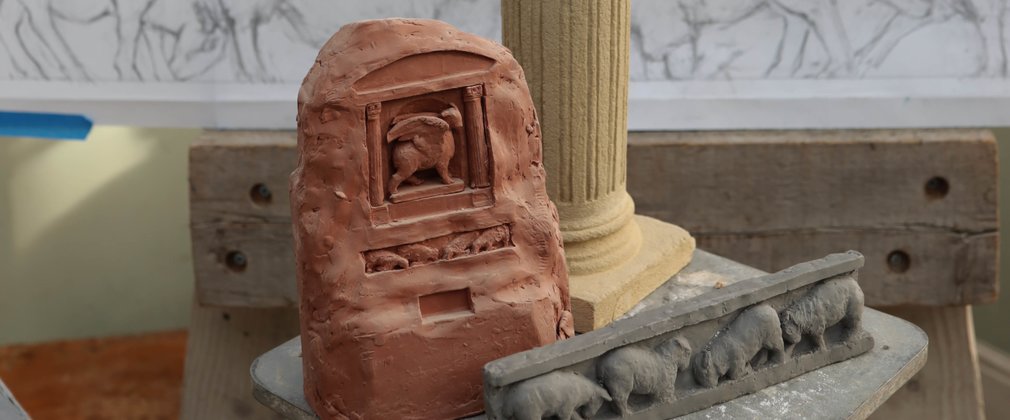 My introduction to Dalby Forest was through the series of public stone lettering workshops I delivered throughout 2018. These workshops were linked to the creation of colossal stone walls that waller Mark Ellis is forming into a maze within a clearing in Dalby Forest.
The idea of a journey or more specifically a pilgrimage, a journey to a sacred place, was developed from conversations I had with Mark Ellis about his maze.
My work is often informed by the beauty of stone in the ancient classical world, and my sculpture for Dalby Forest references the rock carvings of the Nabateans (4th century BCE – 1st century CE), around Petra in Jordan, and Sasanian carvings in Bishapur, Iran (260CE).
I am interested in the devices that sculptors employ to raise the status of their subjects, for example with ornamentation, posture or scale. I use these devices in my sheep sculpture; standing my Sheep on magnificent plinths and carving elaborately decorated fleeces. In my 2019 exhibition at Rievaulx Terrace near Ripon (National Trust) I made my first winged sheep.
My Winged Sheep for Dalby Forest stands within a small shrine (an aedicula) cut into a huge sandstone rock. A small procession of sheep, also carved directly into the rockface, bow and kneel in homage to the Winged Sheep above them.
The aedicula will stand at Jerry Noddle, a fabulous viewpoint at the north eastern edge of Dalby Forest. The site was chosen with the support and sympathetic understanding of Petra Young and Rob Herdman (Forestry England). From this elevated site there are views of sheep grazing in the fields far below, and an uninterrupted view to the east coast.
The sheep often appears in Art as witness to historical events, and my Winged Sheep bears witness to today's events. The Winged Sheep for Dalby was made during Lockdown 1.0 (2020) and wears 14th century allegorical armour; here the armour is not to defend and protect against the Bubonic plague, but the Covid plague of the early 21st century.
For me, a residency is an opportunity not only to create a work inspired by the place in which it will stand, but a work that has been informed by people strongly connected to that place. The Winged Sheep Aedicula for Dalby Forest has been greatly enriched by the people I've met and worked alongside during my involvement with this project; my thanks to them all!
Essential information
Dalby Forest, Dalby Visitor Centre, Low Dalby, Thornton-Le-Dale, Pickering
Artists in Residence 2020 - 2021

Dalby is working with a variety of exciting local artists who are using the forest as their inspiration to create new works. This work will culminate in an exhibition in the forest.