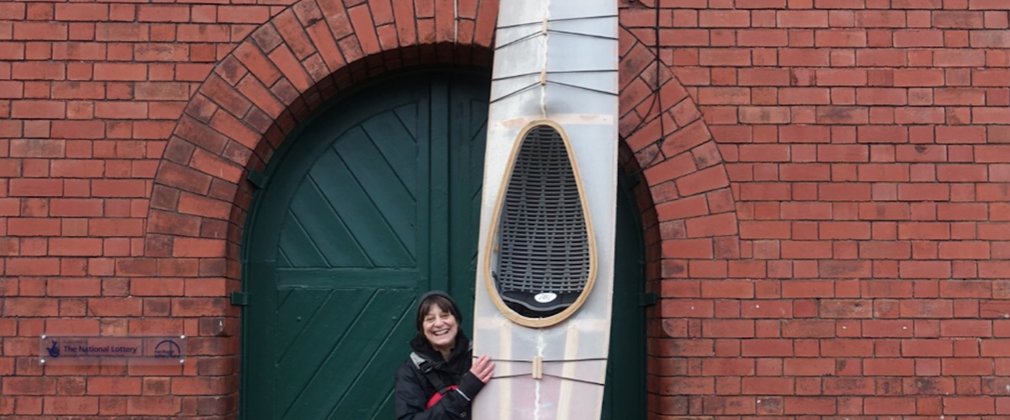 KAYAK
My proposal was to make a Greenland kayak which I did!  Once made, I intended to move it through Dalby forest and set it on the small lake there. Everything was to be left open so that any journey taken would not be prescriptive although there was also a hope that later it would be possible to physically link up with other forests via waterways or other lakes in other forests. From this would grow the potential for workshops and other related research.
In February I attended a bespoke Kayak building course with Ant Mace at Shipshape, Bristol funded by Forestry England.
This was the best course I have ever attended in terms of teaching, thoroughness and craftsmanship and all the skills I learnt were entirely new to me. I chose this particular kayak building course because it used all traditional methods and timbers.The nylon skin is sown onto the frame and the paddle is also carved wood. It is exceptionally light and is modelled closely on an original Inuit craft design.The skin itself is not organic but reduces the overall weight of the kayak and its translucency provides a perfect surface on which to apply drawings.
My plan was that if everything worked i.e. the boat floated, the water was deep enough and the access was easy I would attempt a 360 degree drawing of the perspective from the cockpit of the kayak. Ultimately these sketches might be transposed onto the kayak or provide part of a combined installation. Another idea was to suspend the kayak high in the trees.
I'm looking forward to July and walking, cycling and recording in preparation for the introduction of the kayak to the forest and seeing where it will lead
Artists in Residence 2020 - 2021
Dalby Forest, Dalby Visitor Centre, Low Dalby, Thornton-Le-Dale, Pickering
Dalby is working with a variety of exciting local artists who are using the forest as their inspiration to create new works. This work will culminate in an exhibition in the forest.

This is an ongoing project. Please check back for more updates and details.