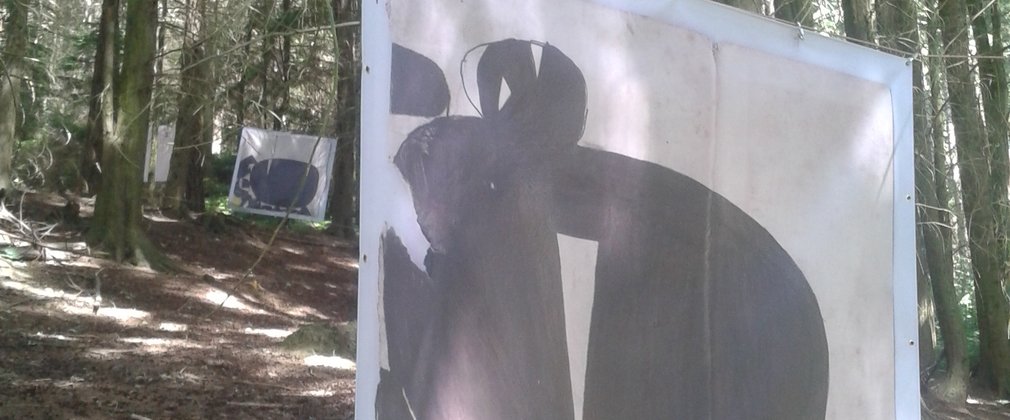 As part of my Residency, I have undertaken several visits to Dalby Forest to develop new work. This new body of drawings and sculptural objects is a development of work made in response to Dalby Forest in 2018 as part of the symposium and exhibition 'SelfScapes'.
These recent visits (October 2019 to March 2020) have included gathering information from the forest - from making drawings in situ, to taking photographs and collecting objects. This new body of work will form some large-scale sculptural objects and a series of graphite drawings on found surfaces to be sited in the forest in the Autumn of 2020.
The content of my work has revolved around the cognitive dissonance experienced in the natural environment and the sense of living through an image as opposed to engaging directly with the environment through more meaningful, embodied experiences. I see my drawn motifs as 'blockages or openings' – blobs, shapes, pebbles, boulders, speech bubbles, clouds, apertures, clearings.
The 'Head' drawings become environments, with the ground becoming a stage to 'play out' a sense of self and lived experience. Here the motifs become globes, maps, contours, continents, craters or geological fluctuations as I create my own 'imagined environments'.
The objects gathered while walking in Dalby have been used to inform the drawings, either by recording their form and translating this into drawings or by using the objects as items to collage into the works on paper, as an attempt to directly resolve the 'dissonance' between the environment and the image.
Recent exhibitions have included:
Trinity Buoy Wharf Drawing Prize 2019, London and UK tour (2019-20)
Fully Awake, Freelands Foundation, London (Sept 2019)
London Art Fair, Rabley Gallery, London (Jan 2020)
Art Happens Here, Crescent Arts, Scarborough (Feb 2020)
The Far Away Nearby, Rabley Drawing Centre, Wiltshire (March 2020)
Essential information
Dalby Forest, Dalby Visitor Centre, Low Dalby, Thornton-Le-Dale, Pickering
Artists in Residence 2020 - 2021

Dalby is working with a variety of exciting local artists who are using the forest as their inspiration to create new works. This work will culminate in an exhibition in the forest.

This is an ongoing project. Please check back for more updates and details.