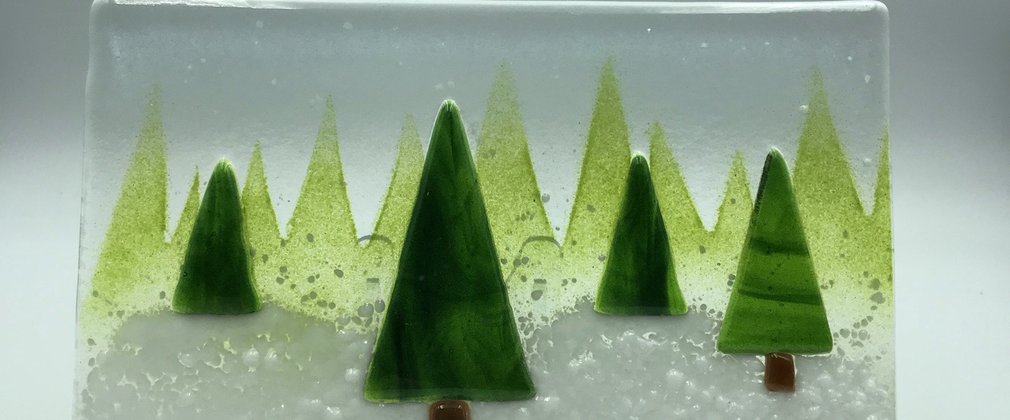 Each class will begin with an introduction to the basics of glass fusing, explaining how the kiln is used to create a variety of different effects. Students will have the opportunity to use the glassmaker's specialist tools to mark, score and break glass in a controlled way. Students will then design and make their own glass panel landscape with clear and coloured fusible sheet glass and other compatible glass products to produce a woodland scene, to be collected 2 weeks after your workshop.
Artist Bio:
The course is led by artist David Teece, an established maker and seller of specialised glass art from the heart of Yorkshire. Inspired by light, colour and with a hint of the dramatic, David creates decorative items in fused and stained glass. 
A graduate in Art and Design and a fully qualified teacher, David works from the Garden Studio in the heart of Masham. The studio houses three kilns and all the other necessary equipment, where David creates his own art works for sale in local outlets and completes individual commissions for private clients. 
David also offers individual and small group tutorials in fused and stained glass for beginners and intermediates and the more specialised use of the vitrigraph kiln for more established glass artists. 
Where and When:
Sunday 23rd April 2023
Morning Workshop 10am – 1pm
Afternoon Workshop 2pm – 5pm
Cost: £60 per person (10% discount for Forestry England members)
Book your ticket directly at Dalby Visitor Centre or call 01751 460295
More information
Dalby Forest, Dalby Visitor Centre, Low Dalby, Thornton-Le-Dale, Pickering
This workshop is fully accessible.