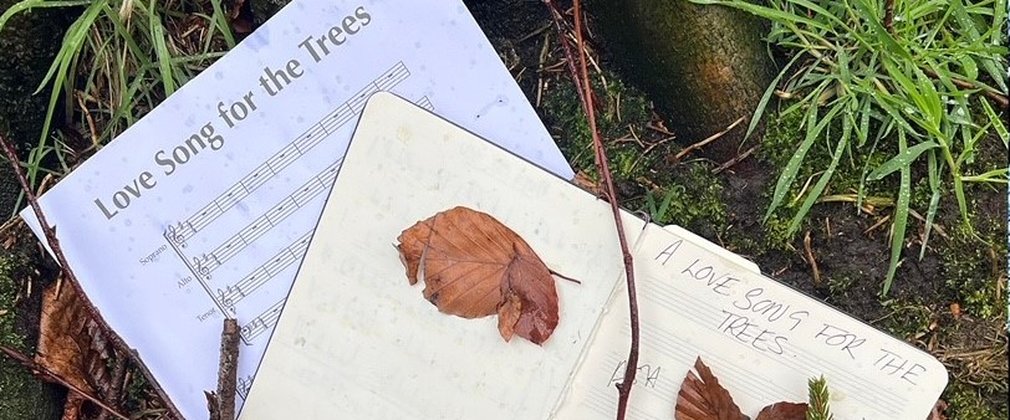 This workshop will lead a group through a compositional journey to create a site specific song in the woodland. The event will include a walk in the forest, immersing ourselves in the sounds, sights and smells of the woodland environment, and warm up our voices and bodies, collecting sounds and artefacts to inspire a collaborative songwriting session. The workshop will then return indoors to share, compose and combine findings with names of trees and words and sounds of the forest before returning to the woodland to sing this a capella love song to the trees.
Suitable for – adults and accompanied teenagers over 14.
Artist Bio:
Rebecca Denniff is a composer, songwriter, choral activist and singer/multi-instrumentalist who lives and works in North Yorkshire. She has a deep love for the forest, and has spent recent years creating songs and compositions that are inspired by the trees and hills that surround her home in the North York Moors National Park. She fashions songs out of the sounds that she finds in the world around her, using a variety of techniques to harness the essence of the wilderness to weave words and melodies into wild choruses and hypnotic, rhythmic tapestries of sound. Rebecca has been living and working in North Yorkshire for 25 years, and in this time has created music and performances with numerous groups and individuals across the county. She is a Fellow of the Royal Society of Arts.
Where and When:
Dalby Forest Courtyard, Sunday 14th May 2023, 10am – 3pm
Cost: £50 per person (10% discount for Forestry England members and staff)
How to Book:
Book with Dalby Forest Visitor Centre – in person or 01751 460295 Enquiries can be made via email dalbyvisitorcentre@forestryengland.uk
More information
Dalby Forest, Dalby Visitor Centre, Low Dalby, Thornton-Le-Dale, Pickering