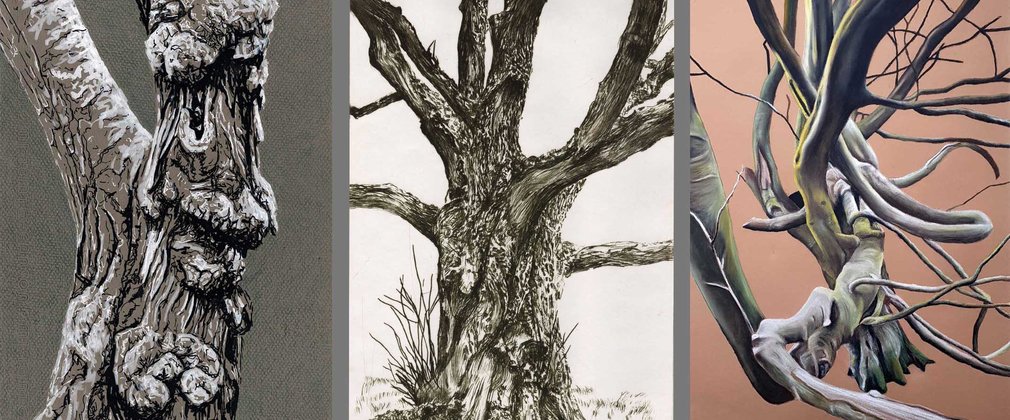 An exhibition of the artworks, process and drawings behind the exciting new Augmented Reality App "Reciprocity Forest". The App provides trails to follow and new ways to experience the forest.
The app enables you to follow three specially-designed virtual leaf trails through the forest using your mobile and listen to the curious narratives about the trees. This enables us to have a whole new appreciation of trees and experience the forest in a whole new light.
Want more? At Adderstone Field, you can also design your own leaves for the virtual Reciprocity Forest which will appear in real time. Time to get creative!
Designed by artist Dr Joanna Sperryn-Jones, this project is part of a larger research initiative to increase our understanding of how Augmented Reality (AR) apps could be used to change the way we perceive our surroundings, encourage us to spend more time outdoors and increase wellbeing.
Dr Joanna Sperryn-Jones is a sculptor and Lecturer in Fine Art at Coventry University. She has exhibited in the UK and internationally and has published several book chapters and expositions on breaking, artistic research, sculpture and risk-taking in art and extreme sports. She is one of the lead organisers of SelfScapes which has been developed with Dalby Forest, Forestry England. Her work with SelfScapes in addition to her explorations in virtual reality were the starting point for the augmented reality app 'Reciprocity Forest'.
Due to limited signal in Dalby Forest, you will need to download the app ahead of your visit.
Reciprocity Forest is available on the Google Play store and Apple app store.
Reciprocity is supported by EIRA, a Research England financed initiative, Metal and Forestry England.
This exhibition will be live from 7 January - 19 February 2023 in The Courtyard, Dalby Forest. The exhibition is free and will be open from 10am - 4pm daily.
More information
Dalby Forest, Dalby Visitor Centre, Low Dalby, Thornton-Le-Dale, Pickering
This exhibition is fully accessible.