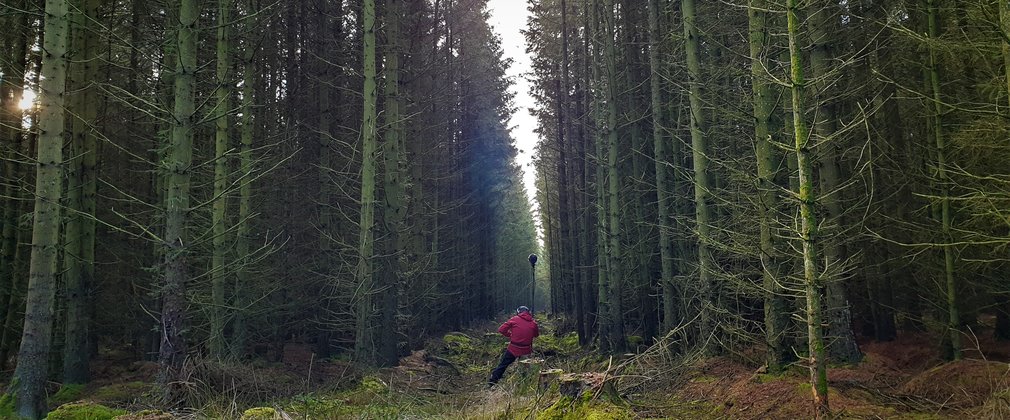 Dalby Forest is home to many points of interest and many different forestry practices. To enhance interpretation and enjoyment by the public of the nation's forests, Forestry England is working with Nayan Kulkarni, an acclaimed multi-media artist with extensive experience in creating high quality art installations, to create A Room That Sings.  This art installation creates a different way of experiencing the forest, relating to it through amplification and interpretation of its sounds.  
This quiet room is made for listening. The aim of the piece is to immerse the visitor in a challenging, radical, seducing and ever-changing harmony; the sound life of our forest. It will combine field recordings, original musical scores developed from this material, and advanced dynamic spatial sound composition. 
From the drama of a winter storm and the call of the Red Deer, the sounds from the beaver project in Cropton Forest and the subdued hum of a stream in summer, A Room That Sings will be immersive, with each sound moment taken from close listening to the landscape and sonic movements from places in the forest that we would not ordinarily listen to. A Room That Sings also rewards repeated visits. As a digital musical instrument, the sonic chamber will be engineered to resonate both sonically and physically, and the visitor will be able to touch the sound. This is an artwork that invites contemplation.
Throughout the design process, Nayan has gradually refined the design for this modest building constructed from English Larch. As we approach the construction phase, engineers Anca Butnaru and Gez Pegram from Mason Clarke Associates have been rationalising the design, helping us to realise a structure that has as light an environmental footprint as possible.
Nayan has developed this project with Jez Riley-French, Simon Knighton and Ruth Montgomery.
More information
Dalby Forest, Dalby Visitor Centre, Low Dalby, Thornton-Le-Dale, Pickering
This installation will be located amongst the trees just off the bridleway and an accessible new path will be constructed to link the installation to and from the bridleway. There, it will be positioned to show the light coming through the trees to nearly reach the forest floor.

The bridleway provides access to the site which is already a level forest track that provides wheelchair access, to ensure everyone can access arts in the countryside.