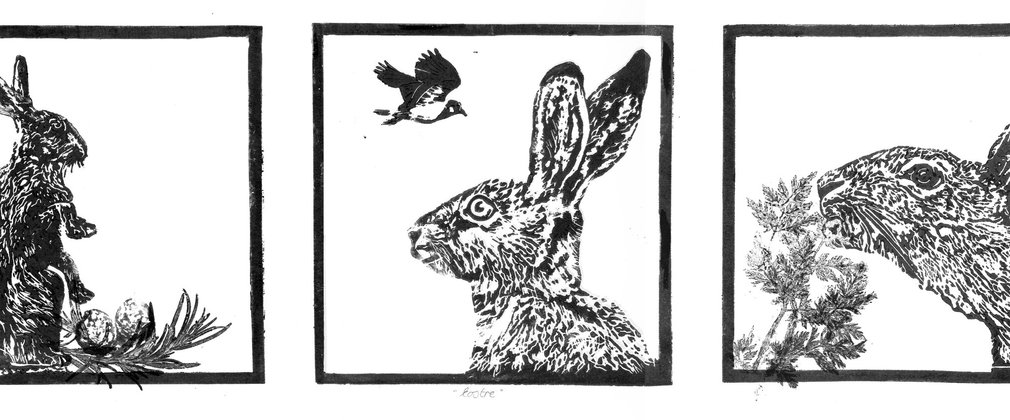 Enjoy a day creating your own artwork inspired by moon-gazing hare folklore, local artist Suzie Devey will share her skills as a printmaker so you can learn the art of linocut.
Discover how to transfer an image to a block and use specialist tools to make your art, adding colour and beautiful impact with gold leaf finishing. You will create a collection of prints with handmade Japanese papers to keep or give as Christmas presents. This is an enjoyable workshop with no previous experience required, but is not suitable for children.
About the artist
Suzie Devey is a printmaker based on the edge of the North York Moors. Suzie re-tells people's stories through hybrid prints using linocut, drypoint, collagraph and contemporary methods such as laser cutting. She plays with scale and proportion in the re-telling of the stories and share them for all to see in unexpected places.
Cost of session
£50 per person (10% discount for Dalby Forest members and staff)
How to book
Email - dalbyvisitorcentre@forestryengland.uk
Phone – 01751 460295
In Person – Reception desk at the Dalby Forest Visitor Centre
More information
Dalby Forest, Dalby Visitor Centre, Low Dalby, Thornton-Le-Dale, Pickering
• Tickets to be booked via Visitor Centre – either in person or over the phone
• Full payment to be made at time of booking
• Contact number and email address to be recorded at point of booking
• All participants to meet at Visitor Centre 15 minutes before workshop begins to walk over to Courtyard together
• Parking for the day of the workshop is included in the ticket price – car registrations to be given to Visitor Centre on day of workshop
• Booked tickets are non refundable