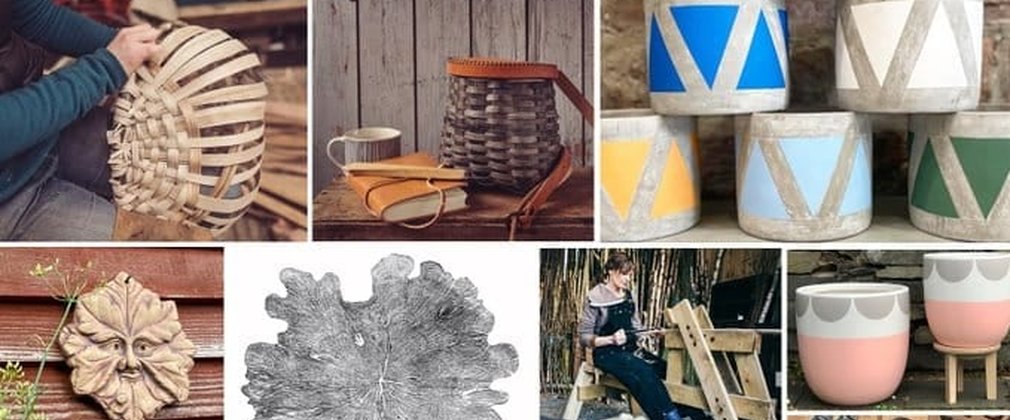 THIS EVENT IS NOW CANCELLED AS THE FOREST IS CLOSED DUE TO THE DAMAGE CAUSED BY STORM ARWEN. 
Grizedale Forest Makers are coming together for the first time this year to put on a Festive Winter Fair from their Studios on 'Makers Row' at Grizedale Forest Visitors Centre.
A printmaker, potter, basket weaver, rustic furniture maker, painter of giant plant pots & musical instrument restorer will be displaying their specialist crafts plus Christmas themed gifts and decorations for sale.
Unified in their creativity & their connection to the forest, the makers live in or close to Grizedale. A strong bond with the woodland and its trees runs through much of the work, with specialisms in tree printing, weaving of Oak & Hazel, 'Bark on' rustic furniture & celtic forest imagery.
Nordmann Fir Christmas trees available from Grizedale café.
Nordmann fir trees have strong branches and an even shape. Glossy, dark green needles with a whitish/ blue underside and excellent retention of the broad, soft needles.
Information
Grizedale, Grizedale Forest, Hawkshead, LA22 0QJ
Saturday 4 December 10am - 4pm
Sunday 5 December 10am - 4pm

Nordmann Fir Christmas trees available from Grizedale café
6 foot - £40 7 foot - £48 8 foot - £56