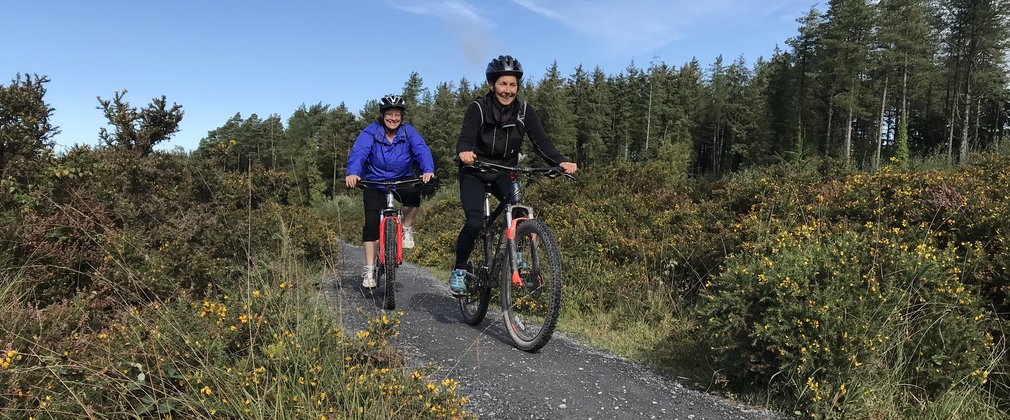 Join us on gentle group bike rides for women. This supportive group is a great way to meet new people, build your confidence on a bike and develop new skills.
You will also enjoy the benefits of being out in the fresh air, with fabulous views to nourish you. It is a great way to get your body moving, and to improve your physical fitness. Most importantly, it's also sociable and fun.
These rides are designed as a gentle re-introduction to cycling for those who haven't been on a bike for years. They take place on purpose built, graded tracks at Haldon forest, so there's no need to worry about traffic. There's a café on site and we generally stop for a coffee or tea after the ride.
Your leader is Cathy Debenham, a cycling enthusiast and a qualified British Cycling Mountain Bike Leader.
If you haven't got a bike then you can hire one from Forest Cycle Hire at the Haldon Forest site to get started. Ideally you will have a mountain bike, but a hybrid is OK on the beginners trails. As you progress, we can recommend places to buy new or second hand bikes.
For more information, contact cathy@bikeguidedevon.co.uk or ring 07786 440129. To book a place, visit https://www.bikeguidedevon.co.uk/booking-online.
Essential information
Booking is essential.

PRICES:
Pay weekly: £10
Five week block (valid over 7 weeks): £45
Ten week block (valid over 12 weeks): £80
These prices do not include bike hire or parking.