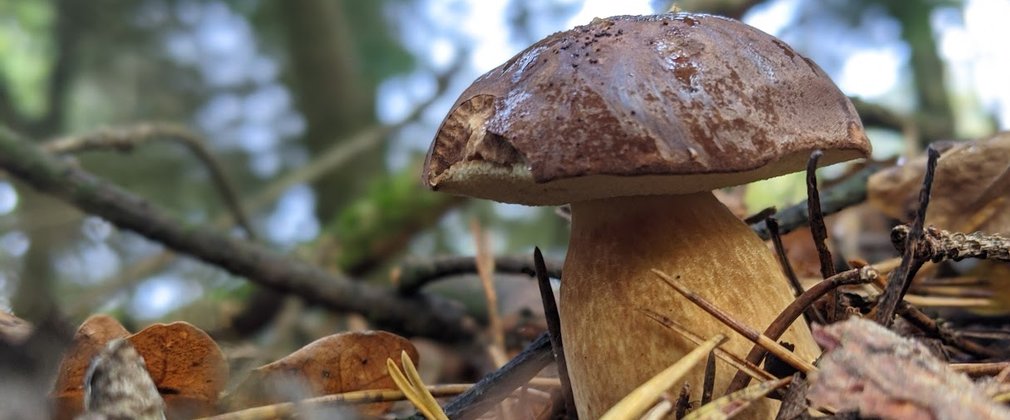 We are delighted to have a special guest The Fungi Guy join us to lead a day immersing ourselves in all things fungi. From fine edibles to the downright poisonous and all the other bits in-between, we'll hope to be familiarising ourselves with a wide variety of species in a friendly, relaxing environment. Starting the day with a little interactive classroom session to introduce some fungi basics, we'll then head out into the woods to see what mushroom treasures we can find. We'll be examining the key ID features of different families, understanding what to look for so as to become familiar with some of the amazing fungi that shape our landscape. This is primarily an educational foray, so we'll handle, sniff, scratch and squeeze all sorts, treading lightly but still hands-on so as to better cement our learning. We'll tuck into our packed lunches in a lovely spot in the woods, where toilets and hot drinks will be available, then continue our treasure hunting as we meander back to base for the close of day. Once there, we'll lay out our finds for final photos and questions. 
We're really excited about this fungal celebration and we look forward to seeing you - book early to avoid disappointment! 
For further information email lindsey.mcculloch-howe@forestryengland.uk and book by ringing the Visitor Centre on 01623 825411 or call in. Card payments only, paid in advance to secure your place.
The Fungi Guy is a larger-than-life character in the mycological community, leading forays and workshops across the country with boundless enthusiasm and fizzing passion. With a large Instagram following, Ali loves to create fun and accessible content about all things fungi, and has a series of fun educational videos on his youtube channel. He regularly leads forays and workshops across the country, helped devise UK Fungus Day activities as part of the BMS Outreach Committee and is a proud member of the North West Fungus Group.
Instagram: the.fungi.guy
Youtube: The Fungi Guy
Essential information
Sherwood Pines, Kings Clipstone, Nottingham, NG21 9JL
£40 per person
No children under 12, children 12-16 must be accompanied by adult,
Payment non-refundable unless the event is cancelled. Parking charges apply.