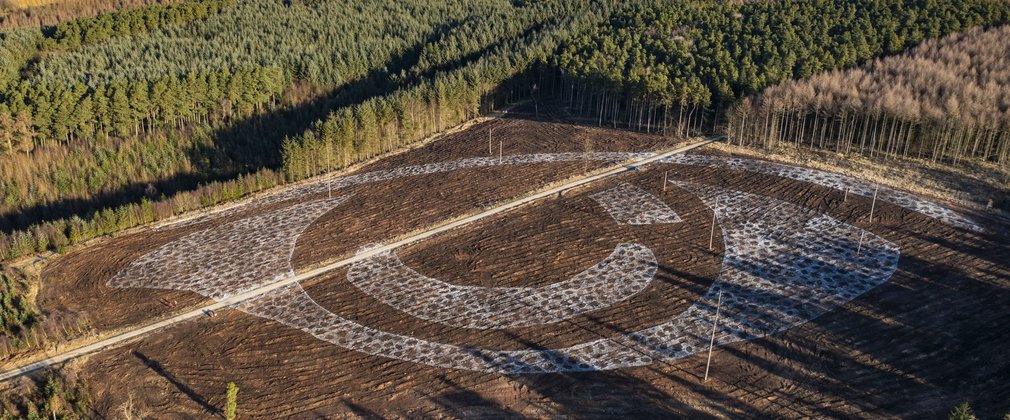 The Forest Eye symbolises children's visions and hopes for a better natural world.
A giant forest eye in the heart of Yorkshire
The Forest Eye is a unique, living forest feature which aims to highlight the importance of ensuring a healthy natural world for future generations to enjoy and look after.
It will be formed from 5,000 beech, alder and maple trees which have been planted in the shape of a child's eye in the heart of Dalby Forest in Yorkshire. As the newly planted trees mature, the 300-metre-wide eye will become fully visible from the air. This will take six years.
As it grows, the Forest Eye will engage visitors, spark conversation and encourage children to share their ideas for creating a positive, healthy environment in the future. 
The Forest Eye highlights how forests fight climate change
Eye on the future
The Forest Eye aims to focus attention on climate change and has been created by a partnership between Forestry England and arts organisation Sand In Your Eye, with encouragement from the Environment Agency. 
The broadleaf tree species of beech, alder and maple which will create the eye shape have been selected for their climate resilience and their resistance to pests and diseases.
Once established, the Forest Eye will grow alongside the mixed broadleaf and conifer trees of the Dalby Forest landscape providing habitat for wildlife including bats, birds and small mammals. It will capture carbon, improve air quality and offer a beautiful place for people to explore and connect with the natural world.
Dalby Forest covers more than 3,500 hectares in the North York Moors National Park and welcomes 450,000 day visits each year. The Forest Eye will be carefully managed as an integral part of this.
The story so far
The site was made ready, and the outline of the eye was painted to guide the planting.
On Tuesday 8 Feb 2022, children local to Dalby Forest planted the first trees to form the  giant forest eye, marking the launch of this project. 
Keep visiting this page to see how the project progresses. To join in  - take part in our #EyeHope competition below.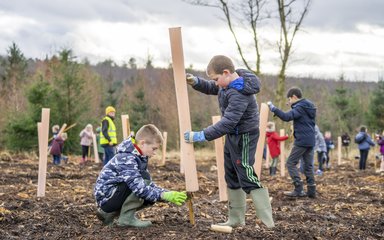 Enter our #EyeHope competition
To celebrate the planting of Forest Eye, we want to get people talking.  We want to hear your hopes for a better natural world and help you find inspiration from others.
You could win:
£100 Go Ape voucher
Forestry England Membership to your chosen site*
How to enter
To enter, please answer this question using #EyeHope on Facebook, Twitter and Instagram:
"What's your hope for forests in the future?"
Whether your hope is for forests to survive in a changing climate, act as an outdoor escape for the future generations, or be a space for wildlife to thrive... we want to hear your #EyeHope.