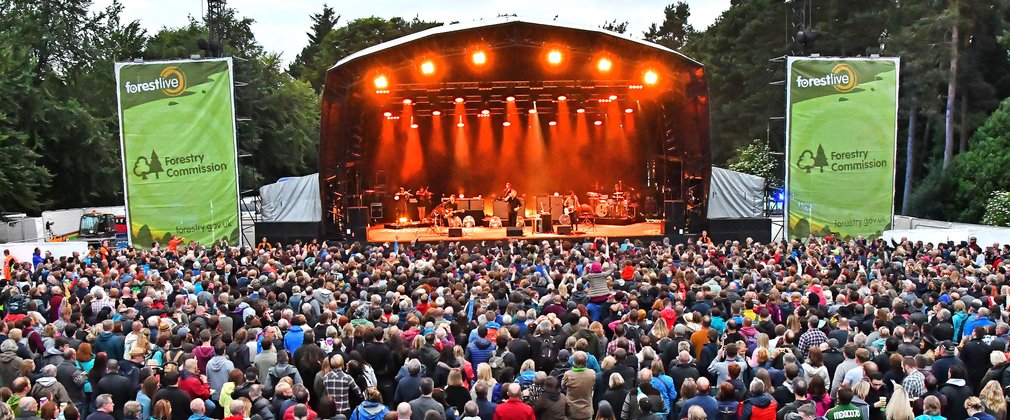 Sectioned by topic
Buying tickets
Travel Arrangements
About the venues
What can I bring?
Information for customers with access needs
Running Times
Accommodation
Environmental Impact
Contacts
 
1. Buying Tickets
How do I book tickets?
Tickets can be booked online or over the phone with Forestry England.
Buy over the phone from the Box Office on 0300 068 0400 (open 9am - 5pm Mon to Fri plus email remote support during concert weekends)
You can also buy tickets though our approved agents.
In person sales are no longer available at any of the Forestry England visitor centres.
We do not advise purchasing from any other ticket agents (other than those listed on our approved agents page), secondary ticket agents, ticket brokers or online auction sites as sale on these sites is in breach of our terms and conditions. Please buy your tickets from the Forestry England or our official agents.
Ticket scams and fake tickets have occasionally been in circulation for some acts in the past - these have been detected at the arena entrance and purchasers of fake tickets have not been able to gain admittance to concerts.
Please note that email confirmations are not tickets and will not be accepted as tickets to access the arena.
What is the child policy?
Any child aged 6 or over requires a full price ticket. Children aged 5 and under can attend free of charge and do not require any form of ticket.
Under 16s must be accompanied by a parent/guardian (18 or over) and supervised at a maximum ratio of 1 adult to 8 children.
Entry may be refused without valid proof of age (photocopy of passport or birth certificate is accepted).
Why do you charge a booking fee?
Most ticket agents charge a booking fee to cover administration costs which include staff, office costs, tickets, stationery and postage.
The Forestry England box office charge a booking fee, as stated alongside the face value ticket price. This is lower than the booking fee charged by most other ticket agents. We do not charge an extra postage or transaction fee in addition to the booking fee.
When will I receive my tickets?
Customers booking with the Forestry England box office from inside the UK: Please check your confirmation email for details of when tickets will be dispatched to you.
Customers booking with the Forestry England box office from outside the UK: Tickets purchased from Forestry England are not posted outside the UK and you will need to collect the tickets from the venue box office on the evening of the event. Venue box offices are open from 5pm.
Bookings made with the Forestry England box office close to the date of the gig: If you book tickets close to the time of the concert there may not be enough time to deliver them to you. In this case they will be held at the venue for you to collect on the evening of the concert. Ticket collections can be made at the box office at the venue from 5pm onwards.
Group bookings (over eight tickets)*:
We operate a group booking policy aimed at protecting potential customers from ticket touting, ticket scams and re-selling of tickets at an inflated price.
Purchases of up to eight tickets can be made on our internet sales pages. The purchase of over eight tickets constitutes a group booking (even if purchased in separate transactions). If you wish to book nine or more tickets, please contact the box office on 0300 068 0400 or e-mail boxoffice@forestryengland.uk
We reserve the right to contact any customer to discuss their purchase and ensure that our booking policy and terms and conditions are adhered to. Purchases suspected of being made with the intention of resale for profit will be cancelled.
We are unable to offer any group discounts.
What is a waiting list?
Once an event is sold out, we may offer the opportunity to join a waiting list, in the slim chance that any further tickets were to become available. Customers can join the waiting list via the online booking system.
Joining the waiting list is no guarantee that we will be able to offer you tickets. If we are in a position to offer tickets, you will be either telephoned or emailed by the Box Office during office opening hours. If you are unavailable when we try to make contact, tickets cannot be held (and we will move onto the next person in the list), however your interest will remain registered for any further opportunities.
2. Travel Arrangements
Can I park on site and is there car parking charge?
Sufficient car parking for visitors is provided at each venue and is free of charge for the evening. Vehicles should not be left overnight in the car parks.
Travelling by public transport
Unfortunately due to their rural nature our venues are difficult to reach by public transport. Select your chosen venue from the Forest Live homepage and view the venue information page which will detail any public transport options available.
Travelling by coach
Coach options will be added if and when available.
Travelling by taxi or being dropped off
If you are arriving by taxi or being dropped off, make sure you have made arrangements for your return journey in advance as there are a limited number of taxi companies operating in rural areas. In addition forest sites do not have public telephones and most sites have poor mobile reception. Arrange to meet your taxi at the designated taxi pick up/drop off point which will be sign posted on site.
Travelling on foot
If you are walking to the venue along the public highway please be aware that it will be dark when you leave. For your safety you may like to consider bringing a torch and hi-viz vest for your journey home.
3. About the Venues
Where are the venues?
Bedgebury Pinetum and Forest, Goudhurst, Kent, TN17 2SJ
Cannock Chase Forest, Lady Hill, Birches Valley, Rugeley, Staffs, WS15 2UQ
Dalby Forest, Adderstone Field, Nr Thornton Le Dale, Pickering, N.Yorks YO18 7LR
Delamere Forest, Delamere, Northwich, Cheshire, CW8 2HZ
Sherwood Pines, Edwinstowe, Mansfield, Notts, NG21 9JL
High Lodge, Thetford Forest, Santon Downham, Brandon, Suffolk, IP27 0AF
Westonbirt Arboretum, Tetbury, Gloucestershire, GL8 8QS
Is seating provided and do you reserve seats?
Seating is not provided or reserved. You are welcome to bring folding picnic chairs or rugs. If a standing area has been designated directly in front of the stage, seating brought into the venue will not be allowed in this area.
Will the concert go ahead if it's raining?
Concerts will go ahead regardless of weather, except in circumstances where the conditions at the venue are deemed unsafe or unfeasible to proceed with the event. We advise that you wear suitable clothing and footwear for an outdoor event. Unfortunately, we can not permit umbrellas to be taken into the arena so dress for the outdoors and bring a raincoat and suitable waterproof footwear.
How will I find out if the event does have to be cancelled?
Concerts would only be cancelled in extreme circumstances. Otherwise every effort is made to proceed with the event. Should there be any updates, details would be published on the website and via Facebook: www.facebook.com/fcforestlive and Twitter: www.twitter.com/fcforestlive
Tickets will only be refunded if the event is cancelled by the organisers. Refunds are not available for events that do take place. See terms and conditions for full details.
Is food and drink available?
A full licensed bar and a variety of hot food and drink outlets are available at all venues. Please note bar and food outlets do not accept card payments and there are no cashpoints at the venues.
Can I bring my own food or picnic?
You are welcome to bring picnics, but please check the terms and conditions carefully as items including but not limited to glass, cans, tables, metal cutlery and breakable crockery, are not permitted in the arena. No more than total 2 litres soft and/or alcoholic drink permitted per person.
Is the event suitable for me and my party?
Crowd conditions can vary dependant on artists. It is the purchaser's responsibility to ensure the content and show is appropriate for them and their party. Some artists may use potentially offensive language.
Screens
Forestry England does not generally use screens at the Forest Live concerts. Unlike stadium venues, all our arenas are of a size where it is possible to see the stage clearly and as our venues are unseated customers can move around freely to find their own preferred viewing position. In addition some artists specify a personal preference not to work with screens. We are committed to keeping ticket prices as low as possible and hire of the screen, associated cameras and staff significantly increase the cost of putting on the event which would be reflected in the ticket price.
Major sporting events
We will not be showing any major sporting events at our Forest Live concerts.
4. What can I bring?
Which items cannot be brought into the arena?
Certain items are not allowed in the arena for both the audience and the artist's safety and comfort. It is essential that you check the Terms and Conditions for the complete list of prohibited items.
Prohibited items include umbrellas, tables, glass of any kind including bottles and jars, cans, breakable crockery plates, serving dishes or other containers and metal cutlery.
What about cameras?
Professional photography is prohibited. Tripods and audio visual or video equipment are not permitted in the arena.
Please note, on the night of the event, artists may make specific requests limiting photography. We appreciate your co-operation.
What will happen if I try to bring in a prohibited item?
At the entrance to the arena all bags will be searched by our security team. You will be asked to take any prohibited item(s) back to your car or allow them to be disposed of. We do not have facilities to decant drinks from glass bottles or cans into paper cups as this unfairly increases the waiting time of other customers queuing to enter the arena.
What should I bring?
Dress for the outdoors - bring something warm for later in the evening and bring a waterproof as we do not permit umbrellas in the arena. Bring cash if you would like to buy food, drinks or merchandise - we aren't able to accept credit or debit cards. Bring a fold up chair or rug if you would like to have a seat. Consider bringing a torch and/or high viz vest to wear if you are planning to walk home. Insect repellent may be useful.
5. Information for customers with access needs
Do you have specific information and facilities for customers with access needs?
Yes, please see our Access Policy. If you have any queries regarding disabled access please contact us on 0300 068 0400 or email us at boxoffice@forestryengland.uk and our Box Office team will happily try to assist.
Will there be laser and strobe lighting?
Laser and strobe lighting may be used at some events.
6. Running Times
What time can I arrive?
Concert car parks open at 5pm, except at Bedgebury Pinetum and Delamere Forest where car parks open at 4pm.
How can I find out when the band will be on stage?
The concert arena opens at approx 6pm, with live music starting from about 7.30pm. These times are approximate, for the latest updates on running times please check the appropriate venue page on the website as the concert date approaches.
What time will the event end?
Concerts normally finish between 10.30pm and 10.45pm. Live music will not continue beyond 11pm.
7. Accommodation
Can I camp at the venue?
Forest Live venues do not allow camping on site or in the car park area.
Some venues have either Forestry England or privately run camping nearby. Select your chosen venue from the homepage and view the venue information page which will detail any local camping options. Contact the nearest Tourist Information Centre for more details of local camp sites.
Where can I stay?
Contact the nearest Tourist Information Centre for full details of local accommodation.
 
8. Environmental Impact
Do the concerts affect the forests?
Forestry England has some of the country's leading wildlife and habitat experts among its staff. All venues are carefully vetted to ensure that they will not have undue impact on the local flora and fauna. One of the many strengths of woodland, as a habitat, is its robustness, and its ability to "carry" people, and absorb sound and activity. The sizes of the sites we use ensure we can select an appropriate area for the concert which causes little or no damage to the wider site. After each concert litter teams clean and hand pick the site. It takes about 72 hours to de-rig the infrastructure and return the site to its original state. Similarly we work with local Police authorities to ensure there will be a smooth flow of traffic to and from all events. Sites are generally clear of traffic within one hour of closing the arena. The concert sites are not linked to any of our sensitive areas, and the tour is all about encouraging responsible enjoyment of the forest. These concerts give people a legitimate way to enjoy woodlands, in a responsible and fun way.
Why does Forestry England host concerts?
Forestry England is committed to taking the importance of woodlands to new audiences, and making them relevant to people in new ways. We have to encourage people to enjoy woodlands, to feel at home there, and to learn about them through experiencing them and looking at them in different ways. The best way of getting people to engage in the importance of woodlands, and to teach them about respecting their environment, is not to preach at them, but to ensure they value and feel for the environment around them.
The Forest Live programme is self-sustaining, and provides valuable revenue to plough back into our management of woodlands in a variety of social and environmental projects. In recent years examples include work on habitat creation for endangered butterfly species; health projects to encourage young and old alike to get out and about in the natural environment - from mountain biking to T'ai Chi; installing woodfuel heating systems to help us contribute towards, and demonstrate how everyone can get involved in, the fight against climate change; the regeneration of industrial sites and renewal of disused areas into community woodlands; and many more schemes.
 
9. Contacts
How can I get in touch?
The box office is staffed Monday to Friday 9am - 5pm and email support during concert weekends.
Telephone 0300 068 0400
You can also contact us by email at boxoffice@forestryengland.uk
You can write to us at:
Forestry England
Keystone Innovation Centre
Croxton Road
Thetford
Norfolk
IP24 1JD