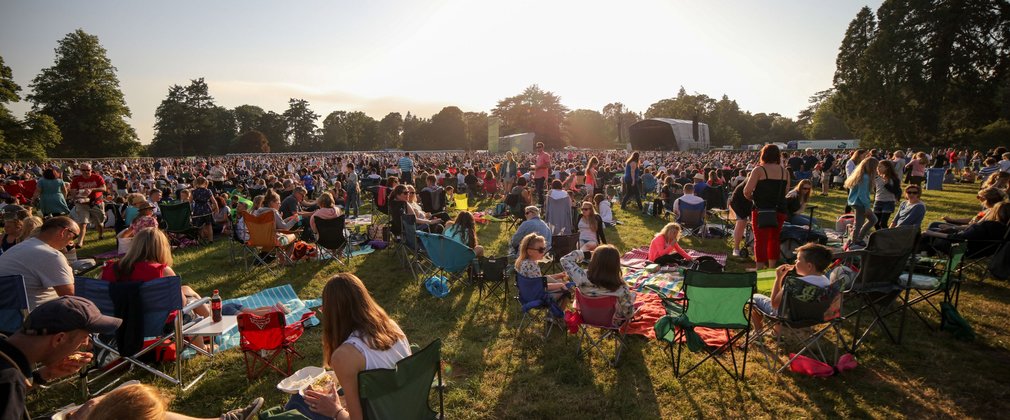 1. This event will continue regardless of weather except in the case of extreme weather conditions affecting the venue.
2. Tickets will only be refunded if the event is cancelled by the organiser. The booking fee is not refundable under any circumstances.
3. Tickets which are lost or not delivered due to the fault of the consumer will not be replaced.
4. Seating is not provided in the arena - folding chairs are permitted.
5. Umbrellas, tables, glass, cans, metal cutlery and breakable crockery are prohibited. No more than total 1 litre soft and/or alcoholic drink permitted per person. No undiluted spirits.
6.  Trollies, laser pens, banners, selfie sticks, flagpoles, parasols, gazebos, tents and dogs (apart from registered assistance dogs) are prohibited. Naked flames (including fireworks, BBQs, sparklers, candles and flares), are prohibited.
7. Admission is by physical ticket only, no other proof of purchase will be accepted.
8. We reserve the right to search all persons and all personal property and to prohibit any other items considered to be a potential hazard.
9. Professional photography is prohibited.
10. Under 16s must be accompanied by a parent/guardian (18 or over) and at a minimum ratio of 1 adult to no more than 4 children under 16. Forestry England may refuse entry without valid proof of age. Children aged 5 and under do not require a ticket.
11. Forestry England will not be responsible for damage or injury caused or that caused by third parties or for loss of personal property on site or left in vehicles. Damages will not be paid in any circumstances.
12. Any person who fails or refuses to comply with instructions from any persons acting for Forestry England may be removed from the venue.
13. We reserve the right to refuse admission. No person considered drunk will be admitted. Forestry England operates a no drugs policy.
14. Photography and filming may take place for promotional purposes. Let us know if you don't want your image used.
15. Surveillance cameras may be in operation for security purposes.
16. Customers purchasing over 8 tickets* must adhere to the group booking policy (see below). Tickets are not permitted for resale in the course of business or for a profit. Purchases suspected of being made with the intention of resale for profit will be cancelled.
17. Tickets cannot be used in commercial promotions or packages without the express permission of Forestry England.
18. Forestry England reserves the right to change these terms and conditions at any time.
19. The purchase and use of this ticket shall constitute an acceptance of these conditions by the purchaser and holder.
Group bookings (over eight tickets)*:
We operate a group booking policy aimed at protecting customers from ticket touting, ticket scams and resale of tickets at an inflated price.
Purchases of up to eight tickets can be made on our website. The purchase of over eight tickets constitutes a group booking (even if purchased in separate transactions). If you wish to book nine or more tickets, please contact the box office on 0300 068 0400 or e-mail boxoffice@forestryengland.uk
We reserve the right to contact any customer to ensure that their purchase adheres to our booking policy and terms and conditions. Purchases suspected of being made with the intention of resale for profit will be cancelled
We are unable to offer any group discounts.  Occasionally for specific acts, additional per person ticket limitations may be applied