The nation's forests and essential facilities are open, but please follow government coronavirus guidelines when planning your visit
-
read our coronavirus guidance.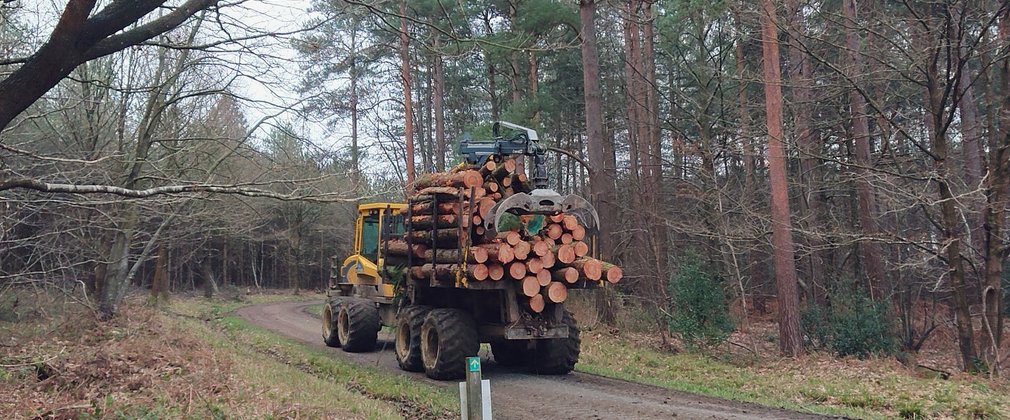 Bedgebury National Pinetum and Forest - Park Lane
Park Lane Consultation 
Forestry England manages Bedgebury National Pinetum and Forest. Park Lane is a section of public highway, private road and forest track which transects the forest. Over recent years the road has become an increasingly popular way of accessing Bedgebury Forest and has become unsustainable through overuse.
There have been regular incidents of cars parking outside of parking bays in very unsafe locations and legitimate road users have had their access obstructed and blocked, such as Park Lane residents and local businesses.
Park Lane is a National Cycle Route and, in some places, a public footpath or bridleway and therefore a route designated for people on foot, horseback, and bicycles.
As with every scenario, there is more than one perspective on the current situation. We have consulted residents along Park Lane, KCC Highways and with the parish councils of Hawkhurst, Sissinghurst & Cranbrook, and Goudhurst.
Background information can be found on the pages of the residents and neighbours' consultation.
Park Lane - Consultation Survey
Over recent months Forestry England has been considering several measures which would reduce the level of inconsiderate parking and help find a long-term sustainable solution for access along Park Lane.  An outline of what we asked you to consider follows:
Option 1

Option 2

Option 3 

Do nothing

Remove all parking options

Regulate parking, potentially a locally administrated pass

Reinstate the parking bays which offers approx. 12 spaces.

Parking on roadside verges would be permitted to continue between Forester's and Eggshell Cottages.

No restrictions placed on vehicle sizes.

Permanent closure of parking bays.

Road-side verges (under Forestry England control) would be bunded to stop parking, passing bays created for road users.

Bund designs would be agreed with KCC Highways who have already offered their support to this.

Parking enforcement introduced on land under Forestry England control and the area would not be dedicated for vehicle parking.

Reinstate the parking bays which offers approx. 12 spaces.

Parking could be offered either for free or a local resident's pass introduced, with vehicle size restrictions (nothing larger than SUV).

Road-side verges under Forestry England control would be bunded to stop parking but passing bays created for road users. 

Contracted parking enforcement introduced on land under Forestry England control for any vehicles parked outside of the parking bays or parking which is causing obstruction.

Potential outcomes

Vehicles blocking access to emergency vehicles would continue to present a risk to visitor safety.

Vehicles blocking access to agricultural vehicles for neighbouring landowners continue to create highway incidences and vehicles blocking access to forestry vehicles would impede harvesting and other operations. 

The verge side parking will continue to cause ground damage and impacting on an historic earth bank which has archaeological interest.

Safety concerns caused by vehicles obstructing sightlines, including those larger vehicles and people dismounting bikes or unloading dogs/horses on to the highway, possibility of accidents and damage to property.

Potential outcomes

Displaced local people not willing to park in the main car park at Lady Oak Lane might go instead to other local free forests gateways, or block access in other forests.

Bunding the verges would help reduce damage to the verges and protect the earth bank.

Locals who neighbour the eastern side of Bedgebury forest would be asked to drive around to the main car park which is several miles away or visit another forest.

Missed opportunity to continue support for Bedgebury Forest.

Potential outcomes

This option 

creates a limited number of parking bays for communities that live on the eastern side of the forest.

The introduction of a local resident's pass could help limit access to only those with a reasonable need.

The introduction of enforcement will limit use to the parking bays only.

Restricting parking helps Forestry England to protect areas including the roadside verges and the earth bank, which is of archaeological interest.
Please note: Forestry England only considered comments that related to the choice of a specific option. 
Results
There were 386 responses to the survey.
Of these responses 8% were from residents or local businesses on Park Lane, 43% were from residents of Hawkhurst Parish, 26% of Cranbrook & Sissinghurst and 6% of Goudhurst. The remaining 17% were from none of the above.
Respondents selected one or more of the following ways that they accessed Bedgebury Forest. 10% of respondents said that they accessed Park Lane to visit a domestic or commercial property, 67% for walking, 61% to exercise their dogs, 41% for running and 33% for cycling and 12% to ride or exercise their horses.
Comments from Park Lane residents included the wish that local people should be able to continue to access the forest from Park Lane. Many believe that cyclists are a particular issue, especially those who arrive in vans. Responses included that local residents are negatively impacted including not being able to access their properties due to inconsiderate behaviour and parking. Several suggested that a larger car park should be created at this end of the forest.
Concerns from Park Lane residents included the worry that restricting parking in this area would simply push the problem further along Park Lane. Some people were also concerned about how parking would be regulated for option 3 and that it would be difficult to administer and would not work unless it was enforced rigorously, i.e., with clamping. It was also questioned whether the 12 existing parking bays would be enough to satisfy demand.
Residents from the three local parishes shared many of these concerns, in particular questioning whether the 12 existing parking bays would be sufficient. They also mentioned the introduction of cycle trails at Bedgebury and the resulting increase in cyclists.
It was pointed out that it is not environmentally friendly to drive to the main car park for people living on the west side of the forest and, by having to drive to the main car park they would put extra pressure on local traffic. Convenience was mentioned by many people, and in some instances, people included that they do not wish to spend long in the forest.
Several people pointed out that they had been accessing the forest via Park Lane for many years – 50 plus years in some cases – and many said how disappointed they would be to have this access taken away.
For some people, the parking charges in the main car park were prohibitive. Others said that they were already Friends of Bedgebury Pinetum members and used the main car park at Lady Oak Lane as well as Park Lane. A handful of people said that they would be happy to pay for a pass that would enable them to continue to park at Park Lane. However, a few people saw this as a resource which should remain free to local residents. Some noted that they visit the forest early in the morning or in the evening when the main car park is shut.
Survey Results – Option choice
The most popular of the three options offered in the survey was number 3 - to regulate parking, potentially with a locally administrated pass.
61% of respondents chose this option and a further 30% said that they would support this option even though it was not their first choice – a combined total of 91%. Furthermore, 59% said that this option was fair to all user groups. 
Option 3 was the preferred choice for two thirds of Park Lane residents and local business owners as well as most residents in all three of the outlying parishes.  
Weighting
The survey asked for your relationship to Bedgebury Forest so that Forestry England could apply a reasonable weighting to responses based on the level of impact that the options would have for you. Residents and neighbours living on Park Lane were given a higher weight than those from a local parish or without a relationship identified.
However, this weighting did not change the result and we want to thank everyone who responded for considering the bigger picture. The selection of options and the comments both demonstrated a very balanced approach.
Next Steps
Following this survey, with a good representation from each parish as well as different user groups, Forestry England will move ahead with plans to regulate parking.
Considerations
The displaced parking issues experienced at Park Lane are not a new challenge. However, 2020 has been an exceptionally different year for visitor demand due to the global pandemic and subsequent government restrictions. This has resulted in an increased level of interest in outdoor recreation at places like Bedgebury. Therefore, the car park at Lady Oak Lane has been closed more often, though the busiest periods of displaced parking on Park Lane are not always at times when the main car park is closed.

Increase in cycling is a nationwide trend. Larger vehicles or those with bikes attached stand out more than a car and therefore are more easily identifiable as a user group. Bedgebury's visitor centre and cycling trails were both opened in 2006, over 14 years ago.
Out of scope
Extension of formal car parking in this area. No space or resource will be allocated to create more parking in this semi ancient natural woodland. Parking will continue to be managed in line with the High Weald Forest Design Plan with Lady Oak Lane as the site of the main car park.

Existing 12

parking bays will

not be adequate. Park Lane is not intended to provide adequate car parking for all visitors to Bedgebury National Pinetum and Forest. Lady Oak Lane is, and will remain, the main car park.
The Option 3 measures that Forestry England will take include:
Remove temporary barriers for the existing parking bays opposite Tanyard Farm. - reinstatement work will commence on Monday 22 March and bays will re-open afterwards.

Signage to encourage responsible parking, to inform of parking enforcement and direct visitors to use the main car park at Lady Oak Lane if the parking bays are full.

Reinforcing boundaries on parts of Park Lane where the edges of the track or road are under Forestry England control. This will be done in consultation with KCC Highways. This will stop vehicles parking in inappropriate places and damaging land and/or property. - work will commence on Monday 22 March for 5 days, with a full road closure in place.

Protection for archaeological features; passing places and loading areas that are required for commercial timber production, agricultural vehicles, emergency services access to residents and forest visitors etc.- work will commence on Monday 22 March for 5 days, with a full road closure in place.

A parking enforcement contractor to enforce the parking rules, including periods of increased presence at times when the demand is likely to be highest, resourced by Forestry England.

Linking up with the parish councils as they plan to enable residents to choose more sustainable transport options and create more environmentally friendly ways to access Bedgebury Forest.

Locally administrated pass warrants further investigation. This will be kept under review as other measures take effect.
As these measures are implemented, Forestry England will continue to inform neighbours and residents of progress.
Any follow up queries please send to bedgebury@forestryengland.uk
Thank you to all those that participated in this consultation.