Forest Runner frequently asked questions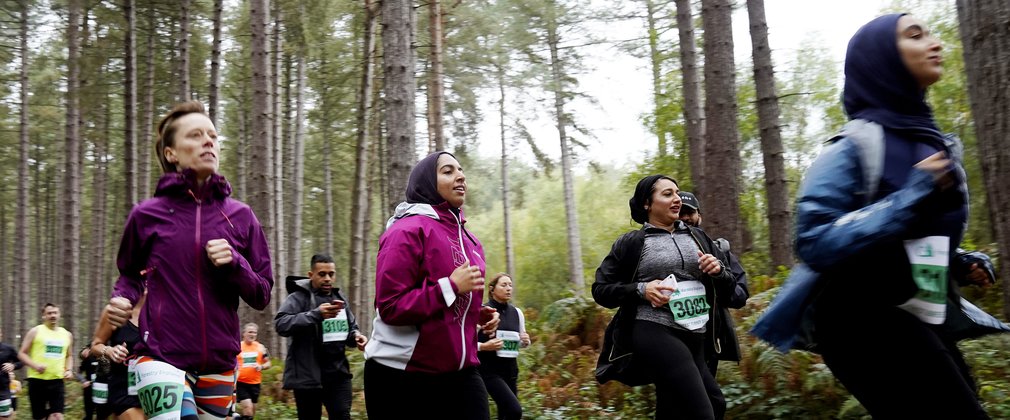 Forest Runner 2022-23 FAQs
What Covid-19 safety measures will be in place?
All of our events will be managed in accordance with the latest Covid protocols. Participants must follow the latest UK government Covid-19 guidance in place at the time of the event. Please also visit our website for our coronavirus visitor safety guide.
How do I enter an event?
You can enter online via the Forest Runner webpage. The links to each event are available on the individual event pages on this site.
Can I enter on the day?
No, entries close a few days prior to each event to allow for postage of run packs and sorting event-day materials.
How do I know if I am entered?
When you book online you will receive a confirmation email and e-ticket attachment. If you have not received this, please contact customerrelations@forestryengland.uk
What will the cost of my ticket be used for?
All proceeds from ticket sales go directly back into Forestry England. 
Can I fundraise for a charity?
You are welcome to fundraise for any registered charity of your choice.
If you would like to further support our work, Forestry England also accepts donations. Although we are a public body and not a charity, we receive limited public funding and generate most of our revenue ourselves. For just £10 a square metre you could help grow the nation's forests and protect them for generations to come. You can find out more at www.forestryengland.uk/donate-today
When will I receive my run pack?
Your run pack will be posted but if booking less than 10 days before, it will be collected on the event day. Your run pack will include details about the event including directions, parking and facilities onsite.
How do I attach my timing chip and race number?
Your timing chip is incorporated into your run number and should not be removed. Please attach your number to the front of your running top or vest, securing all four corners. Please do not attach your number to the back of your shirt, or your leg, as it is difficult for marshals to identify you.
Can someone else enter for me or can I enter a group?
Yes, you can enter online on behalf of others, as long as all the required information is submitted for each participant.
Can anyone enter an event?
Our events are designed both for those new to running and experienced athletes. The 10k distance has a minimum age limit of 16 years and the 5k has a minimum age of 12 years. Unfortunately, we are unable to accept any runners under the specified age band.
Why is there a 3rd gender category?
We are aiming to make Forest Runner more inclusive and welcoming to all and have added a third run category as our first step towards this. We would welcome any feedback you may have on how we can improve in this area for future series. Please contact customerrelations@forestryengland.uk with any feedback you may have.
Are the events UKA affiliated?
No, due to the trail nature of the routes, the events will not have a UKA permit. However, our Event Management Company, Events of the North, continue to deliver the events to the governing body standards.
Do you have an attached/affiliated entry fee?
No, there is no discount for UK Athletics affiliated running club members.
Is car parking included in the ticket price?
Yes, parking charges are included in the price and will allow you 3 hours of parking or admission. More details will follow in your run pack.
Can I amend my registration details?
Any amendments to participant details must be made 10 days in advance of the event via email to customerrelations@forestryengland.uk
I cannot make the event, can I get a refund?
Unfortunately, we are unable to offer refunds. If you purchased refund protection you can claim a refund at https://bookingprotect.com/apply-for-a-refund/ subject to Booking Protect terms and conditions.
Can I transfer my entry to a friend?
You can transfer your place to another person, as long as you inform customerrelations@forestryengland.uk of the change (including full details of the new participant) no later than 10 days before the event.
It is your responsibility to pass on your run number if you are giving your place to someone else. It is an extreme safety hazard to run under another person's race number. Any participant found running under another person's number without notifying us will risk disqualification from this and future events.
For health and safety reasons we need to ensure that the event organiser has all the details of the runners on the day in case of a medical incident.
Have the courses been officially measured as 5k and 10k?
All the events are on forest paths and will be measured with a calibrated bike, however a measurement certificate will not be held as this is not required for trail terrain.
How are the events timed?
All events will be chip timed using the latest timing technology. Our event partners Events of the North will manage the timings on the day. Due to poor connectivity in some of the forests, results will be emailed out within 24 hours and then be uploaded to the Forestry England website.
What will the route terrain be like?
All of the routes vary but will take place within Forestry England land, the trails are a majority of forest tracks with some muddy off-road sections and some tarmac paths and private road sections.
How will I know which way to go?
There will be course signage and marshals at all key junctions to ensure you don't get lost.
Are the routes accessible for wheelchair athletes?
The trail surface and the gradients of the routes vary, please check with us at customerrelations@forestryengland.uk and we can provide more detail about the terrain.
Can I enter with a guide runner?
Yes. For those participants who use a guide runner, the guide runner must also be a registered participant. Please contact customerrelations@forestryengland.uk and a free entry place will be provided to the guide runner. This website can help you locate a suitable guide runner www.runtogether.co.uk/get-involved/find-a-guide/
What happens if I find out I am pregnant prior to my Forest Runner event?
Congratulations on your pregnancy. If you wish to continue with your run then please advise our Customer Relations team of your pregnancy and we can ensure this is added to your medical conditions. If however you would prefer not to run you are able to transfer your ticket to an alternative runner. If there is no-one who wishes to use your ticket, please contact our Customer Relations team who will be happy to issue you with a refund for the cost of your ticket. 
Can I run with a buggy?
Only at limited sites where course and conditions allow. Please check with us beforehand if you would like to run with a buggy. We ask that all buggy runners start from the rear of the field for the safety of themselves and other runners.
Can I run with my dog?
No. For the health and safety of the participants dogs are prohibited in these events.
Can I walk the event?
The 5k and 10k events are designed for runners but you are able to walk the route when you need to. There will be a sweeper following the last runners to ensure the course is clear but there is no cut-off time.
Can I wear headphones whilst running?
Headphones are allowed as the events are taking place 'off-road' on routes closed to traffic. We request the use of bone conduction headphones where possible so runners can hear marshal instructions.
At Salcey Forest, only bone conduction headphones are allowed as part of this course has a road crossing that is not closed to traffic. It is a health and safety hazard if using in-ear headphones during an event that utilises a road that isn't closed to traffic.
Please read your run pack instructions for more details of each event. Please note you must be able to hear the marshal's instructions and other runners around you at all times.
Will food and water be available?
Water will be provided in sealed containers at the finish for all runners and at half-way water stations on the 10K routes. Please dispose of the water containers as close to the litter areas on the course as possible to help us keep the forest tidy. You can also bring your own re-useable water bottles where possible to help us reduce waste.
There will also be either onsite cafes or catering facilities available at sites serving hot drinks and light snacks.
Are there toilets and changing facilities at the events?
All our events will have toilet facilities but not all events will include changing facilities. Please check the individual forest pages and the 'visitor information' section to check on-site facilities and refer to your race pack details for each race.
Will there be a secure baggage area?
There will be an undercover bag drop but this will not be very secure. It will be accessible to runners only and you must be wearing your run number to access it. We advise you to keep your valuables at home or in your vehicle.
Is there First Aid at the event?
Yes, there will be a fully trained team of First Aid medics who will respond to any First Aid incidents.
I don't feel well or have an injury, should I run at the event?
If you feel unwell or are carrying an injury, we strongly recommend not running.
Are there prizes on offer at the event?
All finishers will be offered a medal and a goody bag with prizes available for first, second, and third place winners in the 5k and 10k events.
Where can I find the photos after my Forest Runner event?
The event photos will be uploaded after each event onto the Forestry England Flickr account. Click here to access the account.
Can my friends and family come and watch?
Friends and family may come and watch but please note that the free parking included in your run pack only covers the runner's vehicle. All additional vehicle will be charged the usual car parking fee at the site.
Cancellations
Our events will only be cancelled as a result of new government Covid-19 restrictions and guidelines or if there are severe weather conditions, for example, high winds. Make sure you are suitably dressed for the event, some of the best events happen in the rain! If the event has to be cancelled due to severe weather, you will be notified the day before the event via email.
Where can I read the full terms and conditions?
Terms and conditions can be found here; www.forestryengland.uk/eventterms
How can I get in touch?
The best way to get in touch with our team is via email customerrelations@forestryengland.uk (Monday-Friday 9am-5pm). If you are unable to email us, call 03000 680400. Thanks for your patience.