Running trails at Haldon Forest Park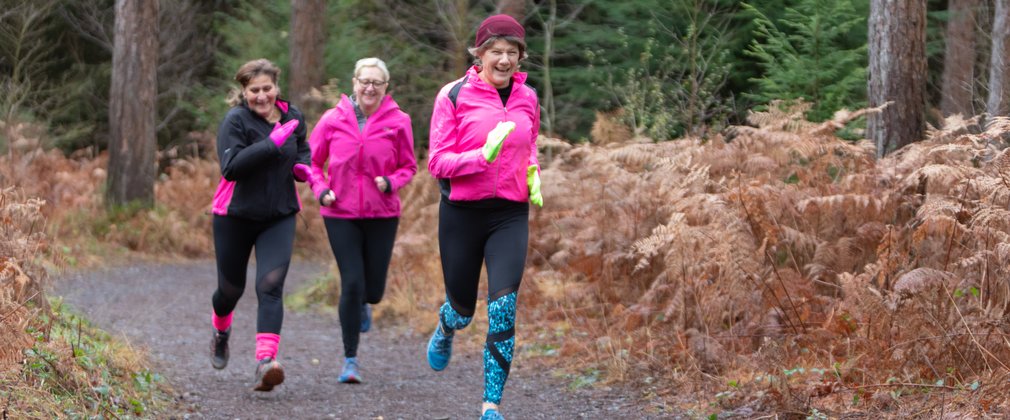 Running trails at Haldon Forest Park
With miles of off-road routes for you to enjoy, escape the stuffy gym, embrace the fresh air and get fit where you can be inspired by stunning natural surroundings.
Supported by Sport England and using National Lottery funding, the network of marked trails make running through the forest more accessible, so you can feel confident to just hit the trails and enjoy all the benefits of being active outdoors.
Pick up a handy pocket map from the Info Pod for £1 or take a photo of the map board in the visitor hub.
1-3km running routes
Follow the turquoise waymarkers.
This 3km route begins to get the lungs working. There are turn around points for you to achieve 1km and 2km distances before going on to complete the full 3km loop. It's a great way to build up your distance. Halfway round there is a steep incline and you'll be rewarded by Haldon's famous viewpoint.
5km Challenge running route
Follow the grey waymarkers.
This 5km route is good for building your fitness. It has some inclines including a couple of short, steep hills. This route will take you through beautiful woodland and past Haldon's breath-taking viewpoint.
5km Challenge+ running route
Follow the brown waymarkers.
It's in the name: this 5km is challenging. There are steep gradients, both up and down, and some steps. Running over gravel and grassed surfaces you can spot many wildlife species.
Useful information
parkrun organise free, weekly, 5km timed runs around the world. They are open to everyone, free, and are safe and easy to take part in.