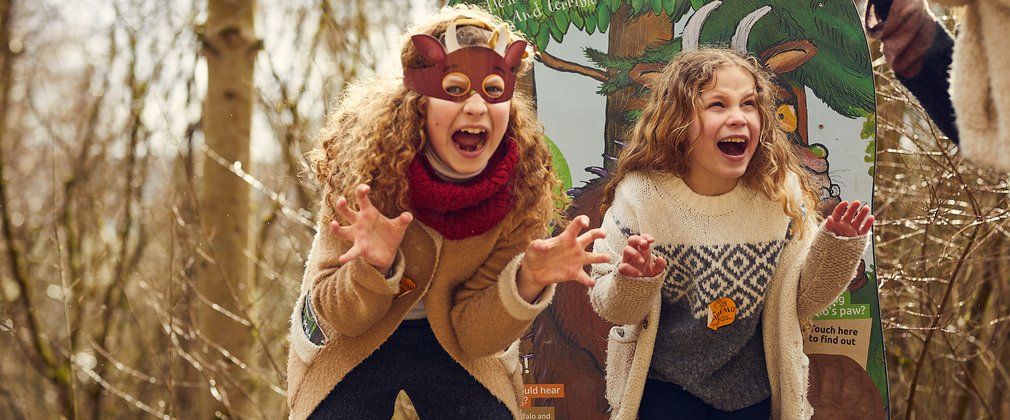 Gruffalo Spotters trail at Kielder Castle
Follow the Gruffalo Spotters trail at Kielder Castle, spot the signs and see what creatures you can find! With the amazing new Gruffalo Spotter 2 app, fun trail activity pack, you'll get to interact with all your favourite characters as you go in search of the Gruffalo in the deep dark wood. 
When visiting, it is important that you and your family follow social distancing guidelines and keep 2m apart from other groups where possible. Please remember to wash your hands before you start the trail and bring hand sanitiser to use while out in the forest.
For more information on staying safe during your visit, please read our FAQs.
How does it work?
1. Download the new Gruffalo Spotter 2 app
Point the brand new app at special markers along the trail and watch the characters from The Gruffalo story come to life. Thanks to amazing augmented reality technology, you'll be able to interact with each of the characters as they appear within the forest around you. Capture the fun by taking videos and photos with your favourites!
Remember to download the app before you visit the forest.
Get it on Google Play     Get it on the App Store
2. Get your paws on the Gruffalo Spotters trail activity pack
Head to the The Sea Diner outside Kielder Castle or the Anglers Arms in Kielder Village to buy your trail activity kit, packed with fun things to do to help you spot the Gruffalo. Inside you'll find:
Gruffalo mask and paws
Trail activity leaflet
Crayon and pencil
Nature spotters game and instructions
Stickers
To keep visitors and our staff safe we are asking that people make contactless payments when buying their trail activity packs and wear a face covering during the purchase.
3. Follow the trail
The trail at Kielder starts at the castle. Complete fun family activities and learn about each animal from the book as you follow the new interactive trail.
There are also rubbings to complete and other characters to look out for as you go! Use the app to see the characters appear in the forest around you. 
© 1999 & TM Julia Donaldson & Axel Scheffler. Licensed by Magic Light Pictures Ltd.
Information about this trail
Kielder Castle, Kielder, NE48 1ER
Trail activity packs available from the The Sea Diner outside Kielder Castle, Anglers Arms in Kielder Village, Kielder Waterside and Bellingham Post Office during opening times and cost just £3.50.
Mostly level surfaced trail, suitable for buggies, one flight of steps (buggies need to be carried over these).
This trail is aimed at families with children aged 3-9, but can be enjoyed by all.
Be the first to hear about family activities and trails like this one!