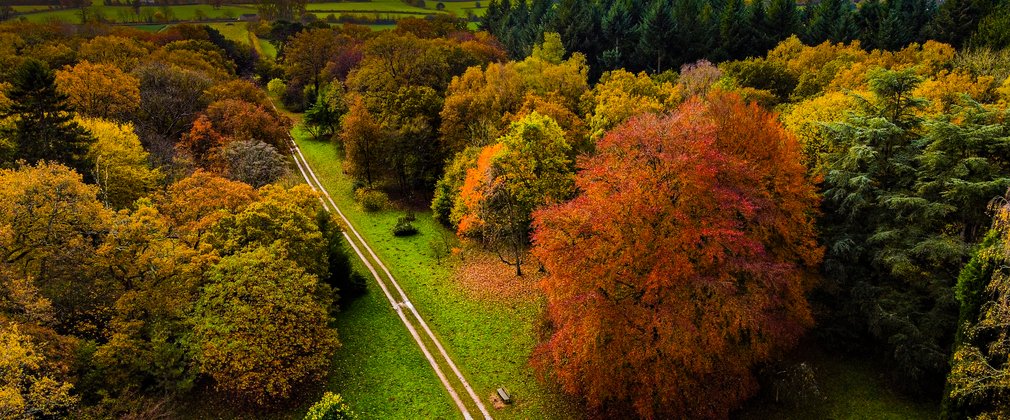 Autumn yet to peak, experts say
16 November 2021
Stunning drone images taken at Forestry England Westonbirt, the National Arboretum, over the weekend show that we are still experiencing a spectacular display of autumn colour. The golds, reds, purples, and oranges are continuing to provide a burst of joy as the days have become shorter and darker.
The weather plays a big part in how long the magical autumn colour will last each year. Heavy wind or rain can cause the leaves to fall before they fully develop colour and frost can weaken the vibrant colours. The Met Office reports that this year, autumn has been warmer than average, with mean temperatures more than 1.5 °C above normal over most of the UK which could be one of the reasons that we are now experiencing a prolonged display!
Mark Ballard, Curator at Westonbirt Arboretum says:
"The conditions that make for a spectacular and longer autumn are a moist growing season followed by a dry autumn with warm, sunny days and cool nights."

"The rain and sun that we experienced throughout spring and summer means that the trees were able to produce the sugars which create the colours in their leaves for a spectacular autumn display."

"The length of display relies heavily on the weather throughout autumn. Although this autumn has been quite dull, it has been very mild which means the leaves have had time for the build-up of chlorophyll to entirely fade and their dormant pigments to fully take over."
Autumn according to the meteorological calendar begins in September and ends in November. Now in mid-November, forests across England are still a blaze with colour with some just reaching their peak!
Esta Mion, Marketing and Communications Manager at Forestry England's New Forest says:
"In the New Forest the colours are only just reaching their peak and it is absolutely stunning right now. The oak trees, usually the last to turn, are only just beginning to glow with gold and many trees are still to drop their leaves."
Fiona Dewsbury, Forest Centre Manager at Forestry England's Delamere Forest adds:
"Autumn is just starting to get into full swing at Delamere Forest, the beech and sweet chestnut trees are looking fantastic. If you follow the Old Pail trail up the hill you will be rewarded with a wonderful tapestry of autumnal colour."
With a warming climate and changing rainfall patterns, Forestry England experts add that we can expect to see a change in autumn into the future.
Dan Luscombe, Collections Manager at Forestry England Bedgebury Pinetum, explains:
"A longer growing season will likely keep trees greener later into the autumn, however the risk of a sudden frost remains, which can cause vegetation to shed their leaves before they reach their full potential."
To ensure that autumn is kept colourful for future generations and to increase the resilience of our nation's forests in the fight against climate, Forestry England is working hard to plant lots of different species of trees in many woodlands which will fare well in the climate conditions predicted over the next decades. Sycamore, wild cherry, hornbeam, small-leaved lime, and oak to name a few should bring a riot of colour to our countryside for visitors to enjoy well into the future.
Notes to Editor
Photos can be downloaded here. Please credit: Forestry England/Crown Copyright

An interview can be arranged with Forestry England's tree expert, Simon Butcher

Forestry England manages and cares for the nation's 1,500 woods and forests, with over 296 million visits per year. As England's largest land manager, we shape landscapes and enhance forests for people to enjoy, wildlife to flourish and businesses to grow. We are continuing the work we have already started to make the nation's forests resilient to climate change and by 2026 we will:  
create at least 6,000 more hectares where we integrate wilding activities in our productive forests.

increase the diversity of visitors to the nation's forests and have one million hours of high-quality volunteer time given to the nation's forests

plant at least 2,000 hectares of new, high quality, predominantly broadleaf woodlands

For more information visit forestryengland.uk Forestry England is an agency of the Forestry Commission.
Media Contact:
Rebecca Ulewicz, Media Relations Officer