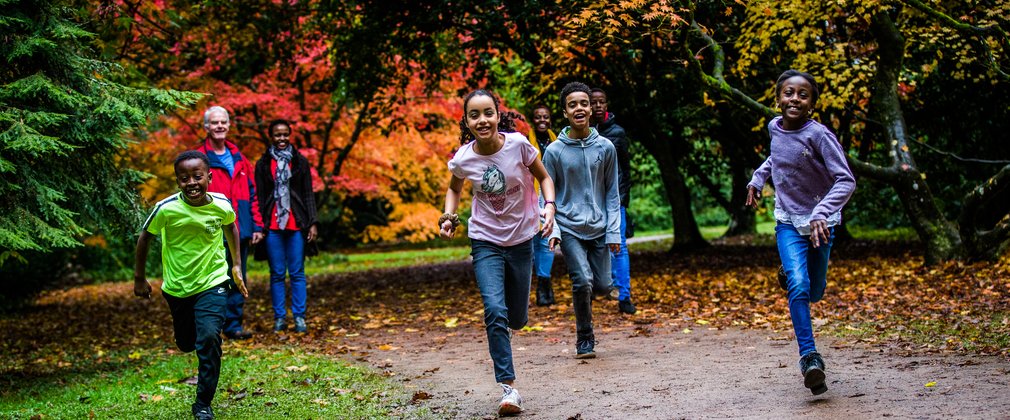 Forestry England's ultimate list of fun activities to do this autumn half-term
For getting out and about with the kids, the seasons don't get much better than autumn. From conker collecting to jumping in leaf-piles, there are so many brilliant autumnal activities to enjoy.
So, whether you are looking to play amongst the leaves or create a nature inspired artwork, Forestry England are on hand with some brilliant autumn activities for you to try this season! We've got recommended places to go, activity sheets to try and simple try anywhere ideas.
Stomp through leaves 
In autumn deciduous trees lose their leaves, leaving a carpet of red, yellow and orange leaves spread across the forest. On your family walk, try gathering as many fallen leaves as you can, and have a competition to see who can build the tallest pile. Or just take the opportunity to roll, jump and play in them!
Here is our ultimate guide of autumn walks to enjoy.
Look out for the weird and wonderful
Try looking for different coloured fungi on your walk.
Fungi like the damp conditions among the fallen leaves, which create a wonderful rich earthy smell in the forest. Remember they don't all look like mushrooms and they don't all grow on the ground – some grow on tree trunks or fallen branches. Fungi are essential to where they are found. They rot and recycle leaf litter, provide food for small animals and are great to admire.
Become a cone collector
During the autumn, trees produce hundreds of seeds in the hope that a few will find the perfect place to land and grow into a tree. Each plant has a clever way of scattering their seeds. Some seeds and nuts will fall from the tree, some will explode from pods, some will blow away in the wind or float in water and others will be scattered by animals.
Look out for cones, nuts and seeds as you explore the forest. Have a competition to see who find the most!
Download free autumn activity sheets
Inspired by and featuring characters from Room on the Broom, inside you'll find autumn activities to bring sights, sounds and smells of the forest to life.
Craft 

witchy autumn wands to capture the magic of forests

Explore

 the spectrum of autumn colours and spot them in the woods

Hunt

 for forest treasure on a Halloween scavenger hunt

Create 

forest art, inspired by nature

Listen 

to the sounds of the season, and make an autumn sound map
Explore your senses
Autumn is a fantastic time to look, listen and reflect on the things all around you. Did you know that simply taking time to be mindful can be beneficial for children's health and wellbeing? 
Download our forest bathing activity sheet, find a quiet spot where your kids feel safe and relaxed and start practicing the art of forest bathing with our downloadable activity sheets.
Take photos as a family
When everything around us is more colourful and there's a lovely autumn light in the woods, it can be a great time to get some memorable snaps.
Try tossing some leaves up in the air and taking a picture at just the right time!
Don't forget to share your autumnal photos using #AutumnLeafWatch on Twitter and Instagram or by posting them directly on to our Facebook page.
Calling all Gruffalo Spotters
Head out into the deep dark wood in search of the Gruffalo! Gruffalo Spotter 2has been designed for exclusive use at up to 24 of the nation's forests across England where visitors of all ages can join the adventure this autumn and spot favourite characters along the way! Complete fun activities and learn about each animal from the book as you follow the new interactive family trail. Download the Gruffalo Spotters 2 app and pick up a trail pack before you begin and make the most of your adventure.
Can you spot them all? Let us know and share your photos using #GruffaloSpotters.
Go on an autumn picnic
It might not be as warm as the summer, but autumn can be the perfect time for a picturesque family picnic. Wrap up warm, dust off your picnic blanket and pack all your favourites into your picnic basket, you could even try including something warm, like soup in a flask! The best thing? You can even include some other activities from this list for the ultimate autumn day out.
Notes to editor
Images available here. Please credit Forestry England/Crown copyright
Forestry England manages and cares for the nation's 1,500 woods and forests, with over 296 million visits per year. As England's largest land manager, we shape landscapes and are enhancing forests for people to enjoy, wildlife to flourish and businesses to grow. For more information visit forestryengland.uk. Forestry England is an agency of the Forestry Commission.
Media Contact:
Rebecca Ulewicz, Media Relations Officer