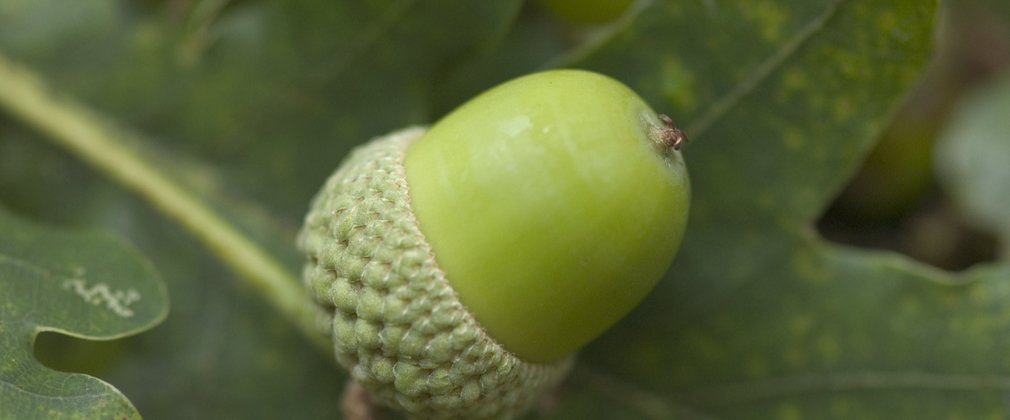 It's been a bumper year for fruits and nuts say Forestry England experts
Autumn 2020 is a bumper time for acorns and fruits across much of the nation's forests. Our oak trees have been producing a large crop of acorns this year, all because of one of nature's mysterious events known as 'masting'.
A bumper seed year is known as a 'mast year'; a natural phenomenon where some tree species produce very large crops of seeds in some years, compared to very few seeds in others.
It's not known exactly why mast years happen, however they have been linked to various causes over the years, including weather and climatic conditions.
Andrew Smith, Director of Westonbirt, The National Arboretum says:
"We experienced a warm and dry spring, which are the perfect conditions for flowers to 'set' seeds. This, along with no late frost meant that flowers and young fruit survived into summer. The warm and moist summer has meant the nuts, fruits and berries have filled out well and are continuing to ripen nicely."
"Part of the fascination of experiencing a mast year is that we don't completely understand the complex blend of factors that give rise to them and allow plants and trees to co-ordinate the production of so much fruit and seed. Weather and climate can certainly affect fruit and seed production in trees, however we also see certain trees go through cycles of mast years. For oak trees it's usually every four years"
It's not just acorns that have experienced a bumper year, at Westonbirt, the National Arboretum trees such as hawthorn, Hupeh crab apple and mountain ash along with others have also seen a bumper year for fruits.
Andrew Smith adds:
"The leaves and fruits are lovely to look at, but so are the scents of autumn. This year the scent on our Katsura trees, also known as the "caramel tree" has been incredible!"
Forestry England has a small team that collect acorns to bring them to our nurseries each year and once our saplings reach the right size, we carefully remove them, hand sort them and they are sent to the new site they are destined for.
Hopefully there will be lots of acorns that manage to establish themselves in the soils and saplings will start to grow and become the next generation of oak trees.
Notes to Editor
Images available on request
Forestry England manages and cares for the nation's 1,500 woods and forests, with over 235 million visits per year. As England's largest land manager, we shape landscapes and are enhancing forests for people to enjoy, wildlife to flourish and businesses to grow. For more information visit forestryengland.uk. Forestry England is an agency of the Forestry Commission.
 
Westonbirt, The National Arboretum is managed by Forestry England and is renowned worldwide for its tree and shrub collection. Home to five national collections, the arboretum covers 243 hectares (600 acres) and contains nearly 15,000 labelled specimens. Visitor numbers are 500,000 a year, with a membership of over 32,000. Westonbirt Arboretum was established in the 1850s by wealthy landowner Robert Holford and later developed by his son George Holford. Unlike many arboretums, Westonbirt is laid out according to aesthetic appeal rather than scientific or geographical criteria. Visit https://www.forestryengland.uk/westonbirt
Media Contact:
Rebecca Ulewicz, Media relations Officer
e: Rebecca.ulewicz@forestryengland.uk