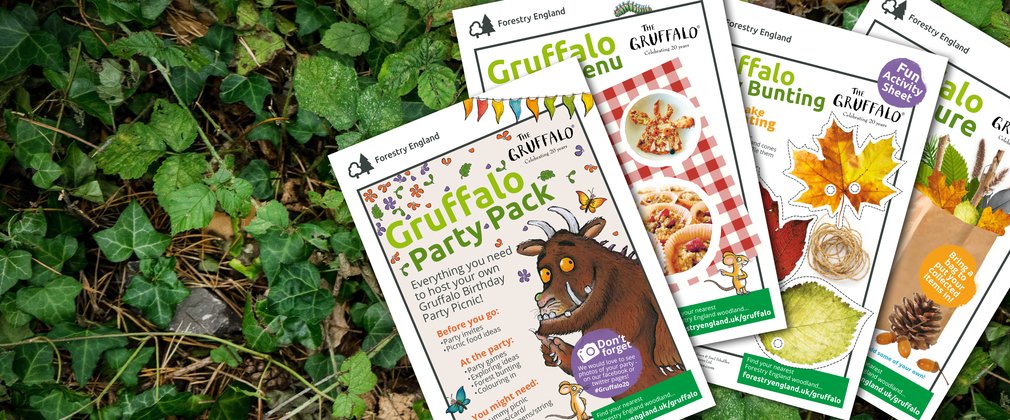 It's The Gruffalo's birthday
Forestry England is celebrating their ongoing relationship with The Gruffalo as the nation's favourite children's picture book reaches its 20th anniversary.
It comes as research reveals that the nation is turning to forests as a focal point for leisure time.
93% of people in England agree forests are where people can have fun and enjoy themselves.
The Gruffalo first made an appearance in the nation's forests in 2014. Since then the loveable monster has been bringing fun and enjoyment to families through a variety of trails and sculptures.
To celebrate this birthday year,  Forestry England is inviting families to host their own birthday party picnic at a deep dark wood this summer with a fun, free activity pack full of forest activities and Gruffalo inspired picnic ideas.

Great for birthday parties or family adventures, anytime, in any forest.
The top five recipe ideas include a Gruffalo Crumble, mouse's summer time treats, Roasted Fox rolls, Scrambled Snake quiche and Owl cupcakes.
The party packs also contains blank Gruffalo invitations for family and friends, plus loads of fun party games and activity sheets to keep the children inspired during their time in the forest.
The partnership between Forestry England and Magic Light, The Gruffalo licensor, has been an overwhelming success from the start and many children have got out into nature and connected with forests. With increasing evidence valuing outdoor experience and with forests in particular being recognised as inspiring settings for child development, partnerships like this are a great way for children to have an all-new forest experience.
Josephine Lavelle, Forestry England's Head of Marketing, says:
"The Gruffalo is a world-renowned story and it's great to be celebrating its 20th birthday!
"Since our partnership with Magic Light began, we have loved the opportunity to bring all the characters to life in the natural forest surroundings.
"It's so great to see children and families connecting with the nation's forest through the much-loved character, it has encouraged so many children to get exploring and is a fantastic way for the whole family to enjoy the forest."
Daryl Shute, Brand Director at Magic Light, says:
"Our ongoing partnership with Forestry England is so important for our brand engagement. Fans from across the country can visit Gruffalo trails and sculptures and discover the character in his natural environment: the deep dark wood. Being able to engage families and children with nature and encourage exploration for our young fans is hugely satisfying and a great way to enhance the overall benefits we can have."
The Gruffalo Party Pack is available to download from www.forestryengland.uk/ resource/ Gruffalo-party-pack.
It has all the ingredients that you need to host a monster party with your family and friends this summer!
Notes to Editor
1. Forestry England manages and cares for the nation's 1,500 woods and forests, welcoming 230 million visits per year. As England's largest land manager, we shape landscapes and are enhancing forests for people to enjoy, wildlife to flourish and businesses to grow. For more information visit forestryengland.uk. Forestry England is an agency of the Forestry Commission.

2. Magic Light Pictures makes imaginative entertainment for audiences, families and children worldwide.
The company creates high quality films and products and has built the wonderful Gruffalo brand over many years. Its filmmaking includes feature films such as Oscar-nominated animation Chico & Rita, comedy thriller Wild Target and natural history documentary One Life.
Magic Light directly manages production, licensing, global distribution and marketing. Its award winning films, The Gruffalo, The Gruffalo's Child, Room on the Broom, Stick Man, The Highway Rat and Zog have been sold to 180 broadcasters worldwide. It runs an international merchandising programme with over 60 licensees and hundreds of products. www.magiclightpictures.com  @MagicLightPics
3. The Gruffalo: First published in 1999 by Macmillan Children's Books, The Gruffalo was recognised immediately as a 'modern classic' (The Observer). Written by Julia Donaldson and illustrated by Axel Scheffler, the book has been translated into 75 languages.  A second book, The Gruffalo's Child, was published in 2004 and together they have sold over 17 million copies worldwide. The Gruffalo Live! theatre show, produced by Tall Stories, has been running since 2001. The award-winning film The Gruffalo, produced by Magic Light Pictures, was released in 2009 followed by The Gruffalo's Child in 2011. From books to films, merchandising and stage shows, The Gruffalo is a fast-growing classic brand. www.Gruffalo.com
Media Contact:
Becky Ulewicz, Media Relations Officer
e: Rebecca.ulewicz@forestryengland.uk p: 0300 0674104