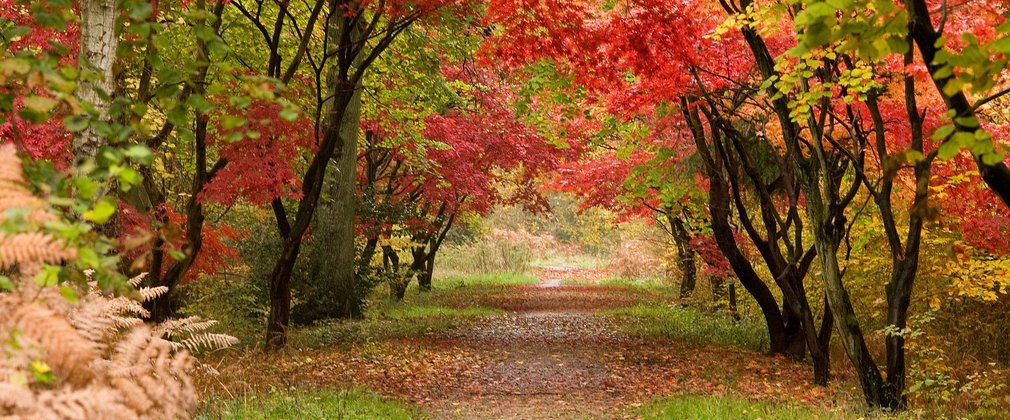 A soggy and sunny summer means autumn has come early to the south of England
In 2021, a cold and sunny spring, followed by a soggy and sunny summer, means we are already seeing signs of autumn in the south of England, say Forestry England experts.
Met Office data shows that the south and south-east of England has been particularly wet this summer with around double the average rainfall in places. This rain, coupled with above average sunshine, has meant that we are already noticing signs of autumn within our forests.
Mike Pittock, Head of Environment and Planning for South District says:
"At Alice Holt we are already finding ripe blackberries in the undergrowth, our rowan trees are full of big juicy berry-like fruit, and lots of fungi is popping up on the forest floor. These are signs that we would expect to see in September."

"The abundance of rain means all the trees are looking lush and green, but the acorns, conkers and sweet chestnuts are ripening, getting ready for their time to fall."
Along with early sightings of forest fruits, Forestry England experts add that we could be in with a spectacular autumn display. Trees need a healthy balance of sunlight and rain throughout the growing season to produce sugars, which create the colour in their leaves.
Mark Ballard, Curator at Westonbirt Arboretum says:
"The conditions that make for a spectacular autumn are a moist growing season followed by a dry autumn with warm, sunny days and cool nights."

"The rain and sun we have experienced throughout spring and summer means that the trees will have been able to produce the sugars which create the colours in their leaves. This should mean we see a spectacular autumn display."

"The length of display relies heavily on the weather throughout autumn. Once the autumn season arrives, leaves need time for the build-up of chlorophyll to entirely fade and their dormant pigments to fully take over."
With a warming climate and changing precipitation patterns, Forestry England experts add that we can expect to see a change in autumn into the future.
Dan Luscombe, Collections Manager at Bedgebury Pinetum, explains:
"A longer growing season will likely keep trees greener later into the autumn, however the risk of a sudden frost remains, which can cause vegetation to shed their leaves before they reach their full potential."
To ensure that autumn is kept colourful for future generations and to increase the resilience of our nation's forests in the fight against climate, Forestry England is working hard to plant lots of different species of trees in many woodlands which will fare well in the climate conditions predicted over the next decades. Sycamore, wild cherry, hornbeam, small-leaved lime, and oak to name a few should bring a riot of colour to our countryside for visitors to enjoy well into the future.
Notes to Editor
Forestry England manages and cares for the nation's 1,500 woods and forests, with over 296 million visits per year. As England's largest land manager, we shape landscapes and are enhancing forests for people to enjoy, wildlife to flourish and businesses to grow. For more information visit forestryengland.uk. Forestry England is an agency of the Forestry Commission.
Images available here.

Please credit:

Autumn landscape: Forestry England/Crown copyright

Blackberries:  Kunai Srivasta/iStock/Getty images plus via Getty images

Rowan fruit: Robert Moore/ iStock/ Getty images plus via Getty images
Media contact
Hayley Coristine hayley.coristine@forestryengland.uk  07867 190489
or Naomi Fuller naomi.fuller@forestryengland.uk  07825 255618