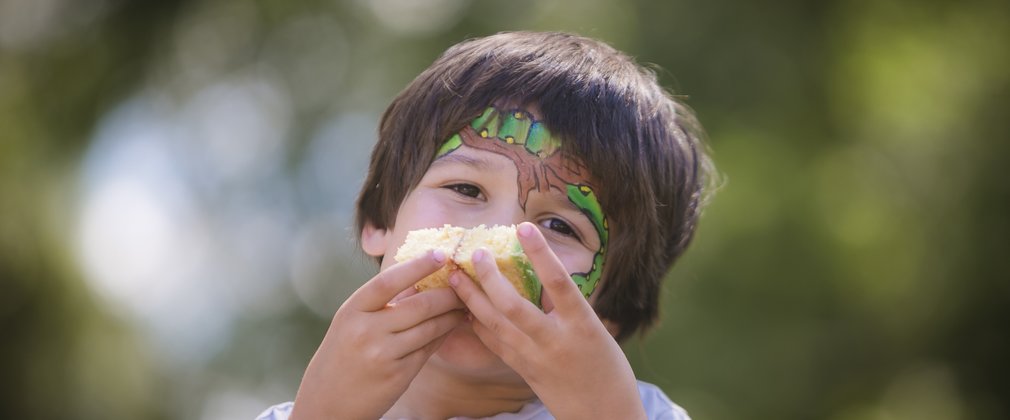 The Gruffalo's big birthday picnic
To celebrate the Gruffalo's 20th anniversary Forestry England has revealed their top 10 family picnic sites to enjoy this summer along with a fun, free activity pack full of forest activities and Gruffalo inspired picnic ideas. Great for birthday parties or family adventures, anytime, in any forest!
The top five recipe ideas include a gruffalo crumble, mouse's summer time treats, roasted fox rolls, scrambled snake quiche and owl cupcakes.
The party packs also include blank Gruffalo invitations so visitors can invite their family and friends, recommended party games such as 'Pin the wart on the Gruffalo,' and 'What's the time Mr Gruffalo,' as well as different activity sheets to keep the children inspired during their time in the forest.
To help you plan the perfect Gruffalo picnic this summer, here are Forestry England's top 10 spots:
1. Jeskyns Community Woodlands - Kent
Grab a picnic and head down to Jeskyns where you can enjoy lunch with the Gruffalo himself as well as Mouse, Fox, Owl and of course Snake.  You'll find all our wonderful Gruffalo character sculptures in the Tree House Play Area, just a short walk from the car park. Remember your party hats!
2. Wyre Forest - Worcester
Set aside a day for a leisurely family walk.  Follow the Buzzard trail, Wyre Forest's longest walking trail at 3 miles, leading you through mixed woodland and forest pools to the arboretum which makes the perfect spot for a picnic. If you venture into the deep dark wood you may even bump into the Gruffalo or the Gruffalo's Child sculptures. 
3. Alice Holt - Surrey
Enjoy a tasty treat in the forest at one of the beautiful picnic areas, located throughout Alice Holt Forest. Children will love the Timberline play trail with its adventure climbing units, challenging balance beams, wobbly bridges and exhilarating slides - hours of play for all the family. Why not finish your visit with a quiet stroll or bike ride in one of the more remote parts of the forest? 
4. Hamsterley Forest – County DurhamHamsterley forest is one of the best places to enjoy some alfresco dining with your family. Build up an appetite by enjoying the fun family play trail which is set along a buggy friendly path, straddling both sides of the bubbling beck. After enjoying all of the ingredients of a great adventure including forts and boats, mud and water, settle yourself down along the river to enjoy your picnic and a paddle.
5. Fineshade Wood - Northamptonshire
With lovely picnic areas right next to both its main play areas, Fineshade Wood is the perfect destination for a family picnic. Enjoy the Smelter's trail, a short, circular family friendly walk. Along the trail you can look out for red kites and nightingales, or dormice and newts. So while we can't promise you'll see all the characters from The Gruffalo, you might see their cousins!
6. Great Wood - Somerset
A stunning site in the Quantocks, the wide meadow in Great Wood is a perfect spot to enjoy a family picnic or BBQ, a kick about or a game of frisbee. Spend some time exploring the nooks and crannies of Great Wood and admire some majestic Douglas fir along the two mile red walk, which is ideal for families.
7. Cardinham Woods - Cornwall
Nestling in a beautiful valley with a bubbling stream, Cardinham Woods is one of Cornwall's hidden gems. This beautiful mixed woodland offers a scenic meadow for family-friendly picnics and wild playtime.
8. Wenchford, Forest of Dean - Gloucestershire
Cool off with a family picnic at Wenchford, where Blackpool Brook trickles through the site under the dappled shade of the large oak trees. With picnic tables and grassy areas it is the perfect place for picnicking and BBQs. Make a family day of it and bring a towel, the stream is perfect for paddling. 
9. Thetford Forest - Norfolk
Whizz through the trees, have fun in the wild play area or have a go at the Gruffalo orienteering trail. Children will love this navigational challenge which uses a simple map to find 12 Gruffalo markers hidden in the wood. If your family is a little more competitive, you can challenge each other to complete the course in the quickest time! Once you have built up an appetite, you can enjoy your picnic or BBQ in beautiful woodland surroundings.
10. Dalby Forest - Yorkshire
The Adderstone Field play area at Dalby Forest is a great place for kids to run about, play games and enjoy the adventure playground. Pack a bag with your picnic and enjoy the space to have fun and games. From here you can easily venture into the woods where you may bump into the Gruffalo and Gruffalo's child sculptures.
To further celebrate the Gruffalo's 20th Birthday Forestry England have teamed up with champions of healthy baby and toddler food, Organix, to offer you the chance to win a delicious bundle of forest fun this summer.
Five lucky winners will receive a year-long membership to their favourite Forestry England site and five boxes of delicious Organix biscuits in fun Gruffalo and mouse shapes. There will also be 15 runners up who will each receive 5 boxes of tasty Gruffalo Organix treats delivered to their door!
For your chance of winning, visit https://www.forestryengland.uk/blog/win-years-membership-and-five-boxes-scrummy-organix-biscuits.
The Gruffalo Party Pack is available to download from www.forestryengland.uk/ resource/ Gruffalo-party-pack. It has all the ingredients that you need to host a monster party with your family and friends this summer!
Notes to Editor
Forestry England manages and cares for the nation's 1,500 woods and forests, welcoming 230 million visits per year. As England's largest land manager, we shape landscapes and are enhancing forests for people to enjoy, wildlife to flourish and businesses to grow. For more information visit forestryengland.uk. Forestry England is an agency of the Forestry Commission.
Magic Light Pictures makes imaginative entertainment for audiences, families and children worldwide.

The company creates high quality films and products and has built the wonderful Gruffalo brand over many years. Its filmmaking includes feature films such as Oscar-nominated animation Chico & Rita, comedy thriller Wild Target and natural history documentary One Life.

Magic Light directly manages production, licensing, global distribution and marketing. Its award winning films, The Gruffalo, The Gruffalo's Child, Room on the Broom and Stick Man have been sold to 180 broadcasters worldwide. It runs an international merchandising programme with over 40 licensees and 350 products.

This Christmas the company premiered their latest animation for BBC One, Roald Dahl's Revolting Rhymes to 11 million viewers, and are currently in production with another Donaldson and Scheffler title, Highway Rat to air for Christmas 2017.

www.magiclightpictures.com
@MagicLightPics
 
The Gruffalo: First published in 1999 by Macmillan Children's Books, The Gruffalo was recognised immediately as a 'modern classic' (The Observer). Written by Julia Donaldson and illustrated by Axel Scheffler, the book has been translated into 75 languages.  A second book, The Gruffalo's Child, was published in 2004 and together they have sold over 17 million copies worldwide. The Gruffalo Live! theatre show, produced by Tall Stories, has been running since 2001. The award-winning film The Gruffalo, produced by Magic Light Pictures, was released in 2009 followed by The Gruffalo's Child in 2011. From books to films, merchandising and stage shows, The Gruffalo is a fast-growing classic brand.

www.Gruffalo.com
 
About Organix: Organix wants a world where healthy, nutritious food is a real choice for everyone.  Its mission is to champion the right thing for children's food - by working with parents to demand a better food environment, and supporting them to make good food choices, through honest advice about growing, cooking and eating great food.  Organix is committed to setting standards in its foods, never adding anything unnecessary, and providing parents with peace of mind through the Organix No Junk Promise.  Organix makes weaning and finger foods to help little ones discover new shapes, textures and tastes in the early stages of their development, and a range of toddler foods that help make exploring all kinds of food fun, safe and enjoyable as they grow up. Organix makes foods parents can feel good about giving their little ones, fuelling their wonder, and love of real food, along the way.   www.organix.com #FuelTheirWonder
ENDS
Media Contact:
Becky Ulewicz, Media Relations Officer
e: Rebecca.ulewicz@forestryengland.uk p: 0300 0674104