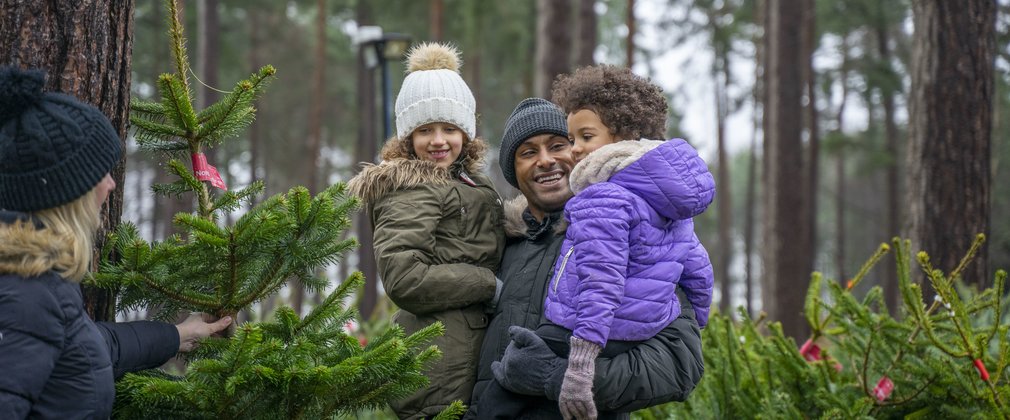 Looking for a real Christmas tree?
Buy your real Christmas tree from one of our tree shops this year for a wonderful experience and the highest quality, sustainably-grown British Christmas trees.
Get into the festive spirit at one of our Christmas tree shops. Find the nearest one to you and click on the link for more information.
Each of our Christmas tree sites opens at the end of November and offers food and drink as well as Christmas trees for sale. You can enjoy a lovely winter walk in our beautiful forest whilst selecting the perfect tree for your home.
At Moors Valley Country Park and Alice Holt Forest there is a last chance to try our popular Gruffalo Spotters trails before they finish on 19th December.
There are lots of other fun and festive Christmas events and activities happening at Moors Valley and Queen Elizabeth Country Parks too, simply click the links for more information.
You can even choose a tree in the stunning New Forest, at our New Park Farm location in Brockenhurst. Try our woodland family trail, treat yourself to an indulgent hot drink and enjoy the scenic New Forest whilst selecting your tree.
Moors Valley Country Park and Forest Christmas Shop opens 27th November, 10am - 4pm
Alice Holt Forest Christmas Shop opens 25th November, 9am - 5pm
New Forest Christmas Shop opens 26th November, 10am - 4pm
Queen Elizabeth Country Park Christmas Shop opens 26th November, 10am - 4pm
Christmas tree shops
Select a tree shop near you.