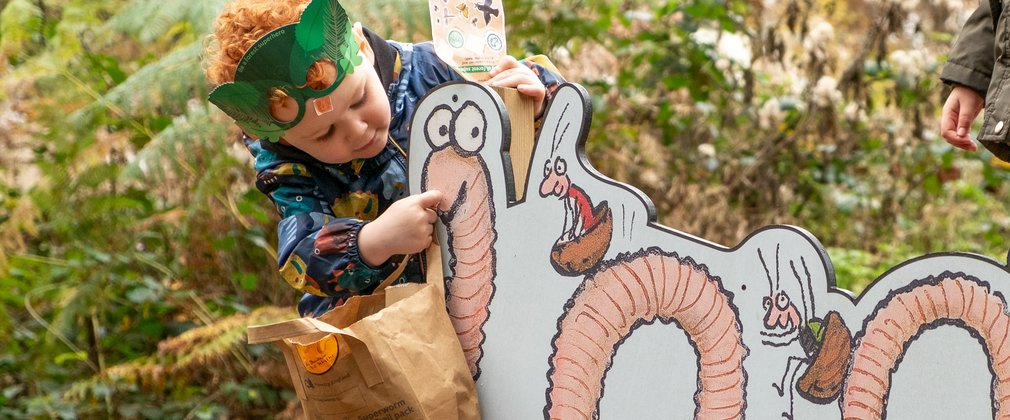 Join Superworm and friends on their brand-new adventure at Westonbirt Arboretum
Discover the small but mighty creatures in the much-loved story and learn about the everyday heroic feats of minibeasts in the forest.
The new self-led trail in the Old Arboretum features brightly illustrated panels and a trail pack full of fun activities, including your very own mask.
Set off with Superworm and become a forest superhero! Trail starts outside the Great Oak Hall
Superworm lasso a trail activity pack!
What superhero antics will you pull off in your forest superhero mask?
Inside the Superworm trail pack you'll find:
Kraft bag to colour in
Forest superhero mask
7 creature facts cards
Activity sheet to complete at home
Stickers
Pencil and crayon
Trail leaflet
Packs are available to purchase from the Westonbirt shop for £3.50. 
Follow the trail
The trail should keep the young ones entertained for around an hour leaving plenty of time to find more fun and explore the arboretum. Trail starts outside the Great Oak Hall and takes visitors past 2 natural play spots and the Gruffalo sculptures. 
The trail is in the Old Arboretum which is a dog free area.
Share your experiences and photos with #SuperwormTrail
© 2012 & TM Julia Donaldson & Axel Scheffler. Licensed by Magic Light Pictures Ltd.
Information about the trail
Westonbirt, The National Arboretum, Tetbury, GL8 8QS
The Superworm trail is in the Old Arboretum, which is a dog free area. Trail starts outside the Great Oak Hall.
This trail is aimed at families with children aged 3-9, but can be enjoyed by all.
Be the first to hear about family activities and trails like this one!