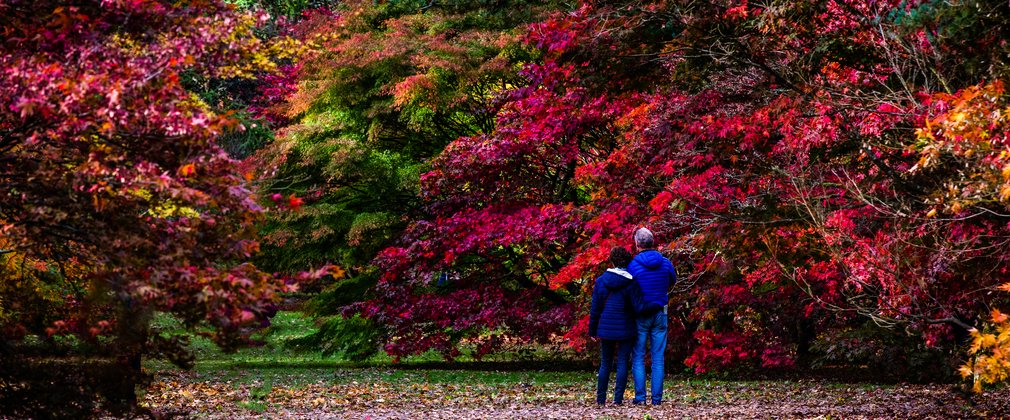 Autumn trail - Discover more about our changing world at Westonbirt Arboretum
Take a journey round the world on our autumn seasonal trails to learn how Westonbirt is working with our changing world to create a resilient landscape for future generations to enjoy. 
Along the way you'll discover sweet dreams, endangered species, saintly sinners, toxic trees, climate challenges and of course sensational autumn colour!
This autumn we are launching a new project in Silk Wood focusing on our ash trees and the serious challenge they (and we) face as a result of chalara ash dieback. This virulent disease is caused by the Hymenoscyphus fraxineus fungus, which arrived at Westonbirt in 2015. Since then we have monitored the disease's progress; regrettably we have taken the decision that we must act now. Look out for the installations along the Silk Wood autumn trail to discover more.
Autumn highlights
An explosion of colour as nature puts on its brightest display
Seasonal trails with accompanying installations highlighting our response to a changing world
Join a free guided walk throughout Sept / Oct: every day at 11am and also at 2pm at the weekend
Check out what's looking good on our 'Window on Westonbirt' at the Welcome Building
Enjoy exhibitions in the Great Oak Hall throughout October
Watch the birds at the bird viewing shelter in the Old Arboretum
Pick up a seasonal trail map for free from the Welcome Building when you arrive or download one from the right Trail Information box.
Westonbirt, The National Arboretum, Tetbury, GL8 8QS
There are 2 seasonal trails. one in the Old Arboretum of 1 mile and the second in Silk Wood of 2 miles
These trails are on hard surface and are suitable for families with prams, wheel chairs, mobility scooters and buggies.