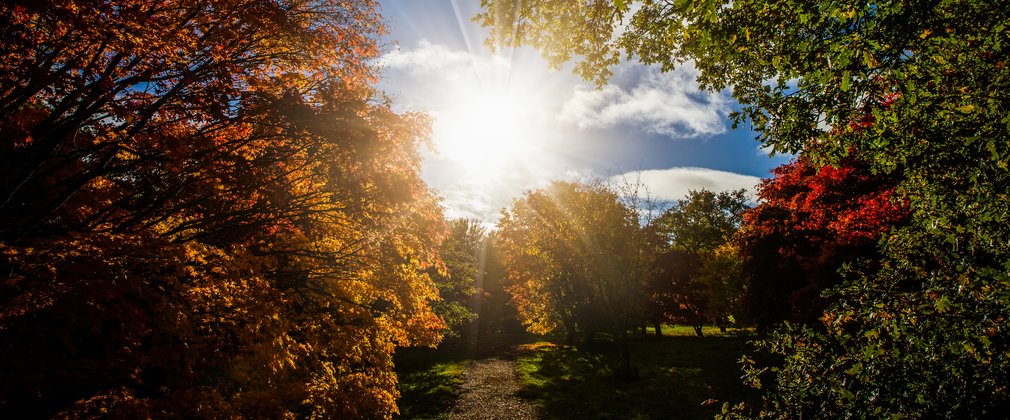 We are facing a climate emergency.
Nature is in crisis and it's not just the Polar Bears we should be worried about. In Britain, one in seven species is at risk of extinction (State of Nature, 2019). Climate breakdown, habitat loss and the associated decline in wildlife are the biggest threats facing the environment today. The UK is not immune to these issues or the consequences.
Trees are vital for society and people need nature more than ever before. As the National Arboretum, and part of the country's largest land manager, we're committed to fighting climate change. We are working hard to help ensure a better future for trees, forests and society. 
Discover below how we are doing our bit for climate change and join us this autumn at special events to join in the conversation.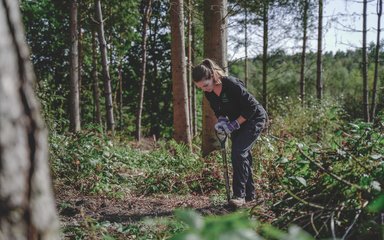 Adapting the nation's forests for the future
We are changing what we do now to ensure the arboretum continues to thrive in the future. As a result, we are increasing diversity by planting a wider range of species than ever before, which are predicted to cope better with future climate conditions. We are changing the way we look after our trees, changing to less intensive management techniques where possible. We are also changing when we plant to reduce the impact of spring droughts and how we design our woodland buildings and infrastructure to cope with changing rainfall patterns. 

As an internationally important botanical collection with almost 2,000 species, Westonbirt can play a crucial role in growing threatened species to back up wild populations. Our work can also aid conservation efforts through providing horticultural expertise and material for habitat restoration and spreading public awareness of trees and the challenges they face.
Everyone will be impacted: At least 136 cities are at risk from flooding due to sea level rises, including several in the UK.
Restoring wildlife habitats and repairing ecosystems 
As well as using lower impact woodland management practices, we are restoring our ancient woodland, Silk Wood, and we have many places that are specifically managed for wildlife.
Simple things such as leaving dead and dying trees can provide more homes for bats, fungi, lichens and mosses, birds and insects. Being less tidy to allow plants such as brambles to grow can provide an excellent source of food for butterflies and bees, birds and small mammals. 
As well as recovering vital ecosystems, we are also working to re-introduce missing species back to our landscapes, such as the Wood White Butterfly seen flying in Silk Wood this summer. You may have heard of the Pine Marten's appearing again in the Forest of Dean, the white-tailed eagle being released in the Isle of Wight and the beavers in Yorkshire; just some of the great work of teams across Britain.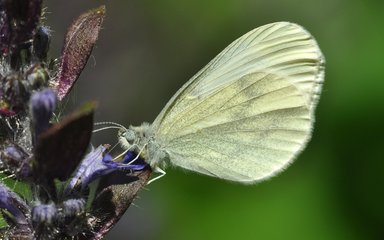 Everything will be impacted: 168 of 454 native European tree species are threatened with extinction.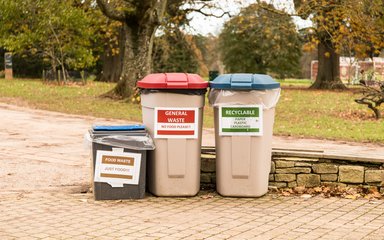 Reducing our emissions and becoming more sustainable
We can't rely on planting trees to help us with carbon offsetting as this doesn't tackle the underlying problem. Instead, we are focusing on renewable energy and reducing vehicle emissions. We've audited our buildings to improve their energy efficiency and ensuring all new buildings will be sustainable, introduced electric vehicles to our fleet and looking at how we can produce our own clean energy using the land we manage.
As well as reducing the amount of waste we produce, we're working to ensure that our waste doesn't end up in landfill. This means reusing more, recycling more and if we still have waste, ensuring that the energy is recovered.  
We're doing this by, introducing and working with partners to improve their practices such as local sourcing and palm oil use, and taking a whole life approach to purchases by working out how we will reuse / recycle things when they come to their end of life.
Everywhere will be impacted: 70–90% of warm water (tropical) coral reefs that exist today will disappear.