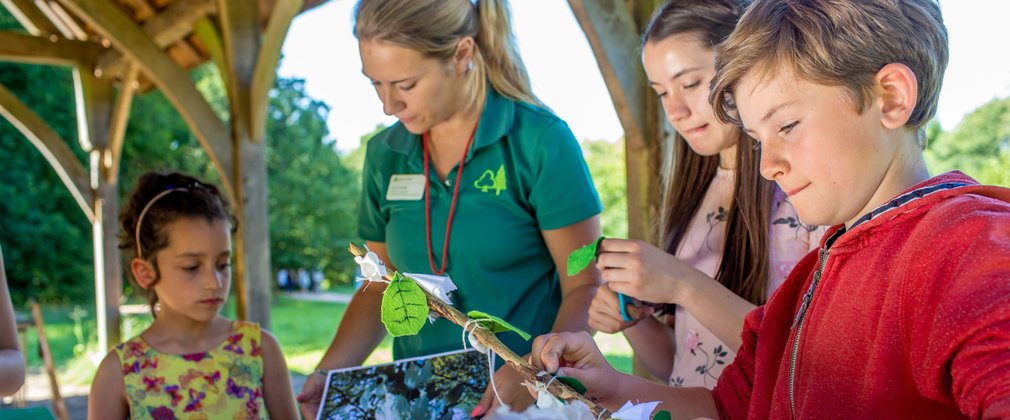 Come along to our Discovery Days, to learn more about our trees and wildlife. How about learning to smell the secret signs of spring? Or you could have a go at making paper, tasting honey or writing your own stories inspired by trees? These Saturdays give you the chance to roll up your sleeves and discover something new, improve your sense of wellbeing, meet new people and feel more connected to nature.
Simply drop in and join us at Silk Wood Barn on these dates:
Sat 15 Apr:  'The Awakening Wood'
activities include completing a signs of spring challenge sheet, creating a nature table of spring and observing dissected buds under the microscope.

Sat 20 May:  'Secret Scents'
learning about natures hidden spring secrets by smelling scented leaves, flowers, bark and wood and making your own tree-based scent to take home.

Sat 17 Jun: 'Meet the Machines'
come and sit in one of the tractors used to look after the arboretum and watch films to see our forestry vehicles in action.

Sat 15 Jul: 'Sensory Discovery'
test and explore your senses through taste, touch and smell in a range of activities including honey tasting.

Sat 19 Aug 'Green Games'
discover and play some traditional wooden games as part of our summer Wellbeing Weekend.
Sat 16 Sep as a part of our 'Wild Wonder at Westonbirt' book festival,
learn to make paper and create your own tree stories inspired by our tree collection.
Sat 21 Oct 'Inspired by Nature'
offers activities that take you on an autumn discovery to learn about fungi, leaves, fruits, and seeds within the arboretum.
Suitable for all ages, 5 years and above
Essential Information
Westonbirt, The National Arboretum, Tetbury, GL8 8QS
How much? Free after admission
Where to meet? Silk Wood Barn
Do I need to book? No
Dogs allowed? Well behaved dogs on leads welcome
What to wear? Suitable outdoor clothing is recommended.