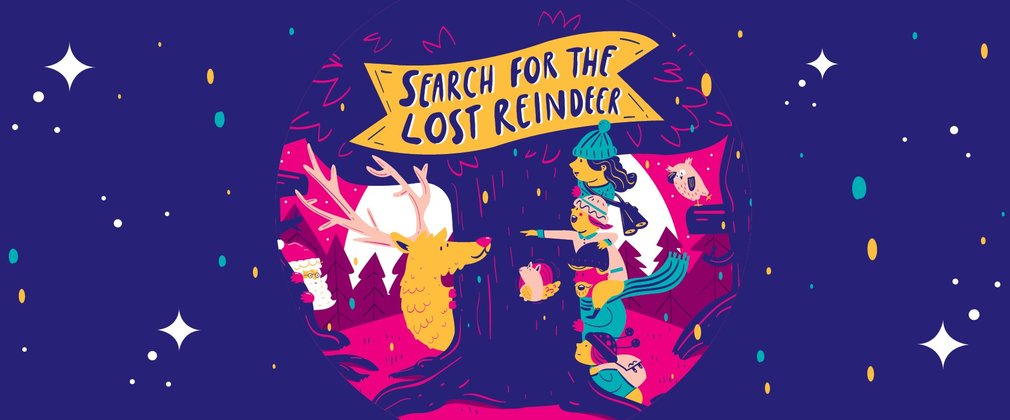 Weather the storm to help to reunite Father Christmas with his lost reindeer and experience mesmerising light displays and stunning spectacles along the way!
Oh no! Father Christmas has lost his Reindeer among the trees of Westonbirt following an almighty storm. Not even Rudolph's bright red nose can guide them back together. We need your help to reunite Father Christmas with his Reindeer, recover lost presents and save Christmas! If you do, you'll go down in histor-tree!
Set out on an adventure through the illuminated trees of the arboretum, speak to the trees and tree elves for clues, but watch out for the storm and don't get lost! If you manage to locate all the Reindeer you may catch a glimpse of Father Christmas himself!
Dates
Friday 26 - Saturday 27 November
Friday 03 - Saturday 04 December
Friday 10 - Sunday 12 December
Friday 17 - Tuesday 21 December
Time
4.00pm - 9.30pm.
Advanced booking essential
Trail entry time slots
To avoid overcrowding and ensure the enjoyment of all visitors on the illuminated trail you will be prompted at time of booking to select a time slot to begin exploring the trail. Time slots are every 10 minutes from 4.30pm – 8.20pm. Please ensure you arrive at the trail entrance promptly for your allocated start time. Trail admittance timeslots will be shown on a screen by entrance to the illuminated trail. 
Prices
Adults: £18*

Concessions (students & job seekers): £16*

Children (aged 3 - 18 years): £9*

Infant (aged 0 - 2 years): Free, but will require a ticket

Friends: half price* adult and up to 4 children** tickets on Friday evenings only.

Access: Personal assistant goes free
*All tickets include £1 non-refundable booking fee
**Children must be the child or grandchild of the Friends member
Relaxed Sessions - Saturday 27 November & Saturday 04 December
Sat 27 Nov & Sat 04 Dec from 4pm - 5pm the trail will be adapted to suit those with additional needs such as autism. For example, strong flashing lights, loud sound effects and smoke effects will be temporarily deactivated. All usual functions will resume ready for the general public to enter the trail at 5pm.
Dogs
Dogs are not permitted on the illuminated trail, except assistance dogs. 
Food and Drink
Local food carts will be selling seasonal food from 4pm - 9pm.
Due to staff shortages the restaurant will not be open on Enchanted Christmas evenings (Mon 20 & Tue 21 Dec). Alternative food carts are open in the villages.
Accessibility 
Trail fully accessible for wheelchairs, mobility scooters, prams and push chairs.
If you would like to hire a free mobility scooteryou can do so here. We would recommend checking availability of mobility scooters before you book your tickets.
Father Christmas 
Father Christmas will be located along the woodland trail – he will do a short appearance; however, he will not be wandering around the Christmas Village or in a grotto. His elves will be at key areas along the trail and will interact with visitors. 
Christmas Village
You can arrive anytime before your trail time slot to soak up some seasonal cheer in our pre-trail Christmas Village. Once complete you will exit via our post-trail Christmas Village. Both villages will have food and drink stalls and traditional fairground rides at each one. In line with the latest government guidance face coverings will need to be worn on fairground rides for visitors aged 12 and above. A one way system will be in place and visitors will not be able to re-enter the villages once they have left them. Any purchases you wish to make will be by card only. 
Visiting during the day
Unfortunately, we are not able to allow visitors with Enchanted Christmas tickets to visit the arboretum for free during the day. This is because we have reduced the number of people we can welcome onto site at any one time and are asking everyone to pre-book their tickets and entry timeslots when visiting the arboretum. On an Enchanted Christmas day the Old Arboretum will close at 2pm to allow for set up and the last entry tickets will be at 1.40pm.
COVID - 19
As always, the safety of our visitors, volunteers and staff is our priority as we continue to closely monitor the situation and respond to COVID-19 guidance as it evolves. Our team are working hard on plans to ensure that everyone coming to our Enchanted Christmas has a safe and enjoyable experience. 
Extending the length of the event and reducing the number of people in each timeslot from previous years, to allow visitors more space.

Revising the trail to manage visitor flow.

Catering facilities will be available and adhering to COVID-19 regulations.  

Additional cleaning and handwashing stations where needed.

The

Christmas village (including catering facilities) will be in two parts, one at the start and one at the end of the trail, and visitors will not be able to re-enter the villages once they have left them.
In line with the latest government guidance face coverings will need to be worn on fairground rides 

for visitors aged 12 and above.
More Information
Westonbirt, The National Arboretum, Tetbury, GL8 8QS
In addition to the Standard terms and conditions the following bespoke terms apply
• A post trail survey will be sent to the email address provided. You are under no obligation to complete the survey but doing so will help in planning future activities
• Dogs are not permitted on the illuminated trail, except assistance dogs.
• Attendees must follow the latest UK government COVID-19 guidance in place at the time of the trail.