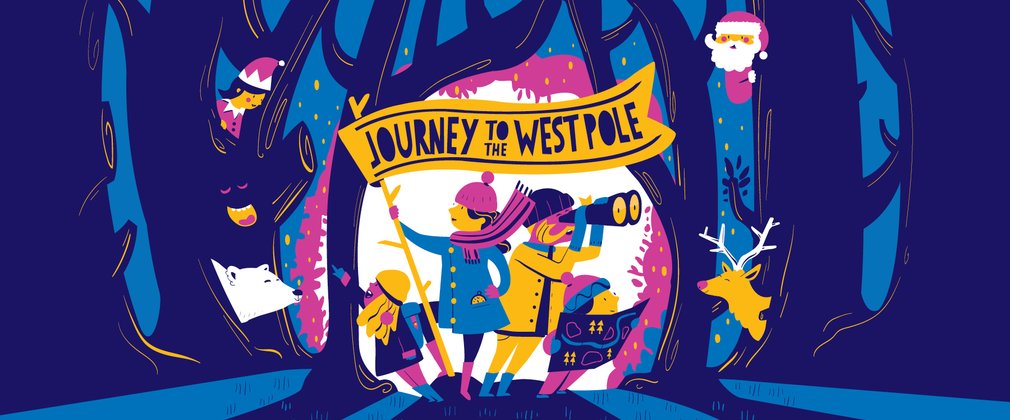 Following the government announcement that the national lockdown in England will be replaced with a tiering system from Thursday 3 December, we can confirm that the Enchanted Christmas Illuminated Trail will be able to proceed.
Discover the trees of Westonbirt Arboretum in a whole new light along the Christmas Illuminated Trail this December….
December is a very busy month for Father Christmas and his elves… making and delivering toys to all the children of the world in one night is no easy task! Everybody knows that to accomplish this incredible feat, Father Christmas has a workshop in the North Pole… But did you know that he also has workshops (or poles as he calls them) all over the world to help him on his journey across the globe come Christmas Eve?!
And rumour has it that the West Pole is located right here in the UK, amongst the trees of Westonbirt, The National Arboretum…
Set out on an adventure through the trees of the arboretum to find the West Pole and experience mesmerising light displays and stunning spectacles along the way. Meet the elves that help Father Christmas make the toys for the children, come across talking trees and make your way through the Candy Cane Forest on your quest to the West Pole. Who knows, when you arrive there you may catch a glimpse of a very special guest from the North Pole…
Dates
Friday 04 - Sunday 06 December
Thursday 10 - Sunday 13 December
Friday 18 - Monday 21 December
Please note due to the national lockdown Sat 28 & Sun 29 Nov have been cancelled. Ticket holders have been emailed about their tickets being transferred to an alternative date.
Time
4.00pm - 9.30pm.
Advanced booking essential
Please note that in order to help keep everybody safe during this time we are asking all visitors to Enchanted Christmas to arrive no earlier than 30 mins before their selected trail entrance slot.
Trail entry time slots
To avoid overcrowding and ensure the enjoyment of all visitors on the illuminated trail you will be prompted at time of booking to select a time slot to begin exploring the trail. Time slots are every 10 minutes from 4.30pm – 8.20pm. Please ensure you arrive at the trail entrance promptly for your allocated start time. Trail admittance timeslots will be shown on a LED banner above the entrance to the illuminated trail. 
Prices
Adults: £16*

Concessions (students & job seekers): £14*

Children (aged 5 - 18): £8* (under 5s go free and do not require a ticket)

Friends: half price* tickets and £3* for children on Friday evenings

Access: Personal assistant goes free
*All tickets include £1 non-refundable booking fee
SOLD OUT - Relaxed Sessions - Saturday 05 December & Tuesday 22 December
Sat 05 Dec & Tue 22 Dec from 4pm - 5pm the trail will be adapted to suit those with additional needs such as autism. For example, strong flashing lights, loud sound effects and smoke effects will be temporarily deactivated. All usual functions will resume ready for the general public to enter the trail at 5pm.
Dogs
Dogs are not permitted on the illuminated trail, except assistance dogs. 
Food and Drink
Local food carts will be selling seasonal food from 4pm - 9pm. Card payments only.
Accessibility 
Trail fully accessible for wheelchairs, mobility scooters, prams and push chairs.
If you would like to hire a free mobility scooter you can do so here. We would recommend checking availability of mobility scooters before you book your tickets.
Father Christmas 
Father Christmas will be located along the woodland trail – he will do a short appearance; however, he will not be wandering around the Christmas Village or in a grotto. His elves will be at key areas along the trail and will interact with visitors. Sadly, in order to keep visitors and staff safe this year Father Christmas will not be able to hand out presents, however families will be able to pick up an activity pack at the beginning of the trail, which will contain a small present (a pencil) from Father Christmas.
Christmas Village
You can arrive up to 30 minutes before your trail time slot to soak up some seasonal cheer in our pre-trail Christmas Village. Once complete you will exit via our post-trail Christmas Village. Both villages will have food and drink stalls at each one. A one way system will be in place and visitors will not be able to re-enter the villages once they have left them. Any purchases you wish to make will be by card only. Please note there are no traditional fairground rides this year. 
Visiting during the day
Unfortunately, we are not able to allow visitors with Enchanted Christmas tickets to visit the arboretum for free during the day this year. This is because we have reduced the number of people we can welcome onto site at any one time and are asking everyone to pre-book their tickets and entry timeslots when visiting the arboretum, in order to keep visitors, volunteers, staff and our neighbours safe. On an Enchanted Christmas day the Old Arboretum will close at 2pm to allow for set up. The last paid for entry tickets will be at 1.40pm but members of the Friends of Westonbirt Arboretum can still book until 3.40pm. We are asking all Enchanted Christmas ticket holders not to arrive to the Christmas Village more than 30 minutes before their trail start time. 
COVID - 19
As always, the safety of our visitors, volunteers and staff is our priority, and we are continuing to closely monitor the situation and respond to the COVID-19 pandemic as it evolves. Our team are working hard on plans to ensure that everyone coming to our Enchanted Christmas has a safe and enjoyable experience. Current plans include:
Extending the length of the event and reducing the number of people in each timeslot from previous years, to allow visitors more space.

Revising the trail to manage visitor flow.

Catering facilities will be available and adhering to COVID-19 regulations.  

Additional cleaning and handwashing stations where needed.

The

Christmas village (including catering facilities) will be in two parts, one at the start and one at the end of the trail, and visitors will not be able to re-enter the villages once they have left them.

In the unlikely event that we have to cancel Enchanted Christmas, 

you will be able to transfer your ticket to the following year or you will receive a refund on the cost of your ticket, however please be aware that the £1 booking fee per ticket is non-refundable.
More Information
Westonbirt, The National Arboretum, Tetbury, GL8 8QS