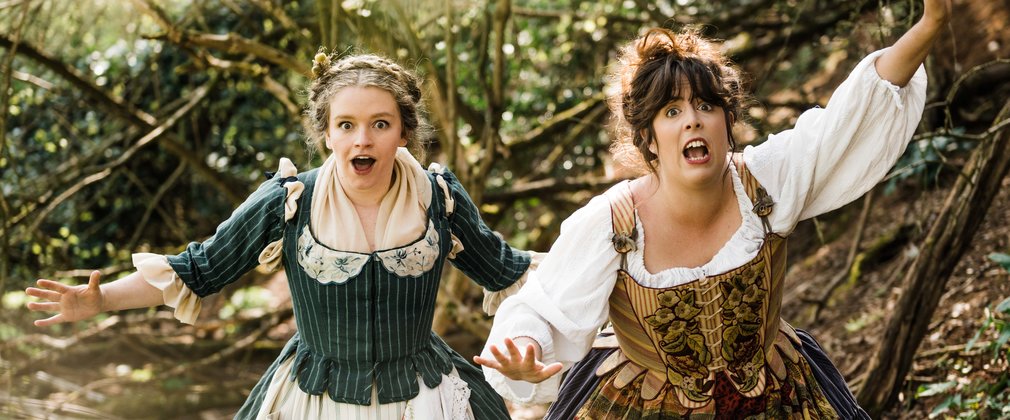 The Grimm Sisters – Open Air Theatre Production
Would you like to hear a remarkable story? We promise it will only be a little bit gory... 
You know the Brothers Grimm? The famous storytellers...or story stealers more like! Brunhilda & Mitzi were the true brains behind the books, but thanks to a treacherous father, a nasty curse and a great big dollop of bad luck, you've probably never heard of them. 
The Grimm Sisters are here to set the record straight. Join them on the journey as they tell their twisted tales with a marvellous mix of comedy, singing & live music. Dive headfirst into their weird world of poisonous parents, courageous quests & a magical frog called Jeremy (Jeremy is not to be trusted). 
Keep your mind sharp and your guts gory, because in the blink of an eyelash, you might find yourself within the story… 
Scratchworks Theatre Company takes you by the socially-distanced hand and leads you outdoors to discover a joyful & mischievous interruption to the everyday. Following on from their popular comedy trilogy of 'Great Train Robbery', 'WOMANS' and 'Hags: A Magical Extravaganza', THE GRIMM SISTERS is a brand new show for 2021.  
Socially distanced, highly interactive & family friendly - perfect for 2021!
SUITABLE FOR ALL AGES 6+
Date
Saturday 07 August
Time
12.30pm & 3pm
Running time - 60 minutes, no interval.
Advanced booking essential
Prices
Adult - £15 + £1 booking fee

Child (5-18 years) - £10 + £1 booking fee

Child (3 & 4 years)* - £6 + £1 booking fee

Personal Assistant - Free
Members of the Friends of Westonbirt Arboretum
Adult member - £8 + £1 booking fee

Child of member (3 - 18 years)* - £6 + £1 booking fee

Personal Assistant – Free
All tickets include general entry to the arboretum from 9am on the day of the performance.
*Please note this performance is suitable for ages 6+ due to dark themes. Children under 6 are brought at parents' discretion.
Open air information
You'll be seated on the grass, so please bring blankets, cushions or low-backed camping chairs to sit on. Visitors with blankets and cushions will be seated nearer the front with camping chairs placed behind so everyone has a good view to the performance area. This open-air performance is designed to take place even in inclement weather and so we recommend that audiences come prepared for all eventualities – suncream or waterproofs, maybe even both! Please note, umbrellas will not be permitted during the performance.
Access
There is a disabled toilet available on arrival at the Welcome Building and also at the Great Oak Hall (the audience meeting point) including a Changing Places adult changing facility. From the Great Oak Hall, the performance space is a 5-10 minute walk and there are no further welfare facilities beyond the Great Oak Hall.
There are disabled car parking spaces available near the Welcome Building.
Mobility Scooters and wheelchairs are available to hire free of charge but we have limited availability and they are in high demand so early booking is recommended. These are collected on arrival from the Information Marquee near the Welcome Building. Please note, the performance area is off the path and on grass. Should the weather make ground conditions unfavourable, an accessible path and viewing area will be installed. Please contact our Customer Relations team directly to book a mobility aid.
Arrival
As part of your ticket you will receive a general admission ticket that can be used to gain access to the arboretum at any time after 9am on the day of the performance.  We suggest you aim to arrive at the arboretum a minimum of 30 minutes before the performance is due to start as there is a 700m walk to the performance area from the Welcome Building.
Please park in the main visitor car park on arrival and head to the Welcome Building where your ticket will be scanned.
Audience members will meet at the Great Oak Hall 15 minutes before the performance is due to start and will be guided to the performance area in the middle of the Old Arboretum by members of staff or the cast.
Food & Drink
Onsite catering facilities will be available for those who wish to use them during arboretum opening hours (9.30am - 4.30pm). You are welcome to bring a picnic.
Essential Information
Westonbirt, The National Arboretum, Tetbury, GL8 8QS
Where to meet? By the great oak hall 15 minutes prior to the performance to be escorted to the performance area.
Do I need to book? Yes.
Dogs allowed? No, with the exception of assistance dogs.
What to bring? Blankets, cushions or Low-backed camping chairs to sit on.
What to wear? Be prepared for all weather conditions and note umbrellas won't be permitted during the performance.

In addition to the Standard terms and conditions the following bespoke terms apply:
• A post event survey will be sent to the email address provided. You are under no obligation to complete the survey but doing so will help in planning future activities.
• No umbrellas permitted during the performance.
• Attendees must follow the latest UK government COVID-19 guidance in place at the time of the event.