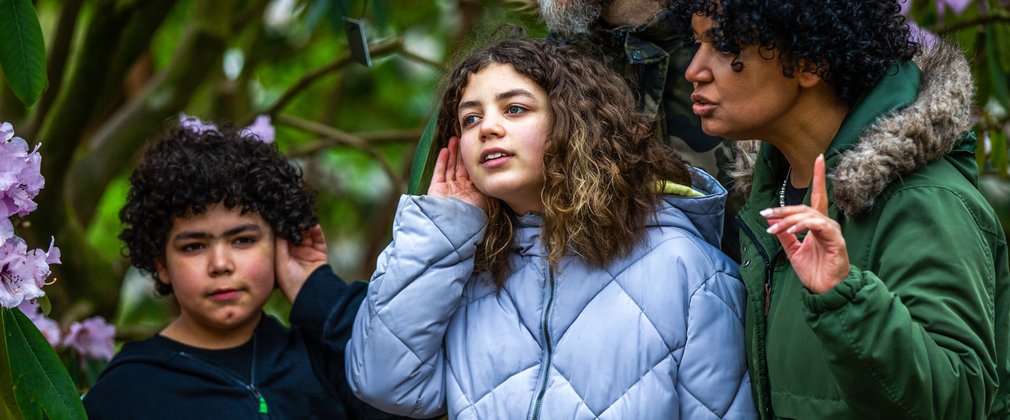 Sensing History is an immersive outdoor art installation that explores and celebrates the multisensory histories, ecologies and places of Westonbirt Arboretum.
Created by sound artist, James Bulley, and sight impaired sensory explorer, Andy Shipley, the piece entices audiences to embark on a more-than-human tale, woven from sound, touch and smell, journeying from deep time into the present day, their pathway marked by the rich diversity of floral species present around them.
So, close your eyes, feel your connection with the land on which you stand and let the story unfold around you.
Sensing History will be located just inside Down Gate on Mitchell Drive in the Old Arboretum and will run every half an hour from 11.30am - 2.30pm from 12 – 24 April.
Sensing History is part of the wider 'Re-Storying Landscapes for Social Inclusion' project funded by the Economic and Social Research Council and led by the University of Exeter.
Through the project, we have been developing and celebrating new creative approaches to landscape interpretation, visitor experience and social inclusion.
Additional credits to:
Sensing History script writer, Imogen Robertson.
Sensing History voiceover artist, Michelle Newell.
Sensing History technical production manager, Ed Borgnis.
Essential Information
Westonbirt, The National Arboretum, Tetbury, GL8 8QS
How much? Free after admission
Where to meet? Down Gate at Mitchell Drive
Do I need to book? No
Dogs allowed? No