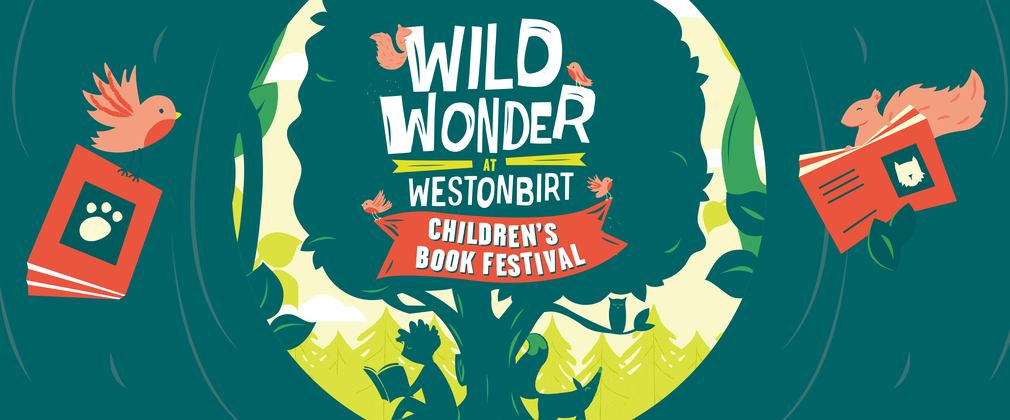 Join us for Wild Wonder at Westonbirt; a new children's book festival, dedicated to nature, animals, and the outdoors.
Westonbirt is hosting a 3-day event for families, featuring some of the UK's most famous children's book authors, illustrators, wildlife presenters and storytellers.
Young bookworms can come and meet their favourite authors and illustrators and take part in a whole host of exciting activities, all surrounding stories set in and around nature.
There are some incredible names taking part, including authors Michael Morpurgo, Waterstones Children's Laureate Cressida Cowell, Wild Child author and young naturalist Dara McAnulty. Not to mention TV presenter Jess French, M.G. Leonard, Emma Carroll and Michelle Paver who will also be joining for masterclasses, workshops and talks.
Alongside the authors will be several bestselling illustrators including Martin Brown, Rachel Bright, Sophy Henn, Yuval Zommer, Katz Cowley, Adam Stower and William Grill. There will also be story time sessions and character costume appearances by The Gruffalo and Little Nutbrown Hare from Guess How Much I Love You.
Enjoy workshops, performances and activities with trails, book signings and craft sessions set amongst the trees. Bucket loads of fun, wonder, exploration, inspiration and learning.
Event 1
Event 2
Event 3
Event 4
10am - 11am
It's a Wonderful World with Jess French
12pm - 1pm 
M. G. Leonard
2pm - 3pm
Wild Child: Dara McAnulty

4pm - 5pm
Escape to the River Sea with Emma Carroll

10am - 10.45am
The Secret Wild with Alex Evelyn
12pm - 12.45pm
Michelle Paver
2pm - 2.45pm
Who Makes a Forest?
4pm - 4.45pm
Darwin & Hooker: Friends of Nature
10am - 10.40am
Storytime with The Gruffalo
11.30am - 12.15pm
Lifesize! with Sophy Henn
1.30pm - 2.15pm
One Million Insects
3.30pm - 4.15pm
Slow Down
 
 
1pm - 2.30pm
Nature Drawing Workshop with Emma Carlisle
3pm - 3.45pm
Talking to trees with Natasha Farrant
Event 1
Event 2
Event 3
Event 4
10am - 11am
Martin Brown's Lesser-Spotted Animals
12pm - 12.40pm 
Storytime with The Gruffalo
2pm - 3pm
Holly Webb

4pm - 5pm
Animal Planet's Ask The Experts! Live!

10am - 10.45am
Nature's Treasures with Ben Hoare
 
2pm - 2.45pm
Treehouse Tales with Adam Stower
4pm - 4.45pm
Greta And The Giants
10.30am - 11.15am
Wonky Donkey Fun
12.15am - 1pm
Guess How Much I Love You
2pm - 2.45pm
Wonky Donkey Fun
3.45pm - 4.30pm
Guess How Much I Love You
 10.30am - 12pm
Brilliant Bugs with Jess French
 
1.30pm - 3pm
Amazing Animal Drawing Workshop
 2.30pm - 4pm
Eco-Projects Workshop
Event 1
Event 2
Event 3
Event 4
10am - 10.40am
Storytime with The Gruffalo
12pm - 1pm 
The Last Bear with Hannah Gold
2pm - 3pm
Cressida Cowell

4pm - 5pm
Michael Morpurgo

11am - 11.45am
Animal Stories with Rachel Bright
12pm - 12.45pm
Into the Wild with Nizrana Farook
2pm - 2.45pm
Big Bugs with Yuval Zommer
4pm - 4.45pm
Drawing with William Grill
11am - 12.30am
Nature Art Workshop with Yuval Zommer
1pm - 1.45pm
Jungle Fun with Brendan Kearney
2.30pm - 4pm
Nature (and Comedy) Writing Workshop with Harry Heape
3pm - 3.45pm
Animal Stories with Rachel Bright
Essential Information
Westonbirt, The National Arboretum, Tetbury, GL8 8QS
How much? Each event has it's own cost. Please see event pages for details. Adults and children pay the same event ticket prices.
Ages 0-2 free to attend but required to seat on parent/guardians lap during events.
Where to meet? Events are held at various locations across Westonbirt.
Do I need to book? Yes
Dogs allowed? No