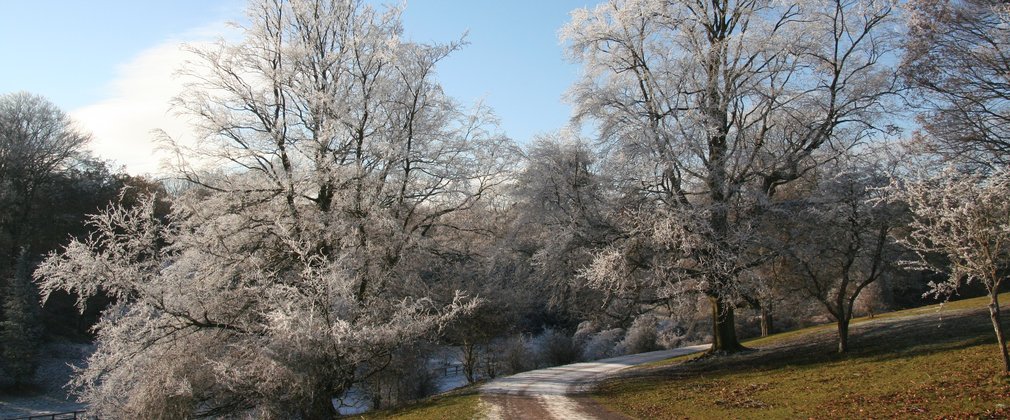 Discover Westonbirt in winter!
Follow our seasonal trails to discover seasonal scents, gold dust, festive traditions, strawberries and our beautiful Winter landscape!
On the trails you'll discover why we deck the halls with boughs of holly, sniff out the truly arresting citrus scent of the winter honeysuckle and come face to face with the devils walk stick...!
Winter highlights
Enjoy winter's sensory delights; bark textures, majestic conifers and beautiful tree silhouettes...
Discover how we care for our magnificent trees on our seasonal trails…
Walk the Downs and admire our remarkable skyline…
Check out what's looking good on our 'Window on Westonbirt' at the Welcome Building…
Find our tallest tree – a grand fir (Abies grandis) hidden on Morley Drive (Map ref 25D)…
Watch the birds at the bird viewing shelter…
Pick up a seasonal trail map for free from the Welcome Building when you arrive or download one from the right Trail Information box.
Trail information
Westonbirt, The National Arboretum, Tetbury, GL8 8QS
There are 2 Seasonal trails, 1 in Old Arboretum of 1 miles and the second in Silk Wood of 1.5 miles
These trails are on hard surface and are suitable for families with prams, wheel chairs, mobility scooters and buggies.