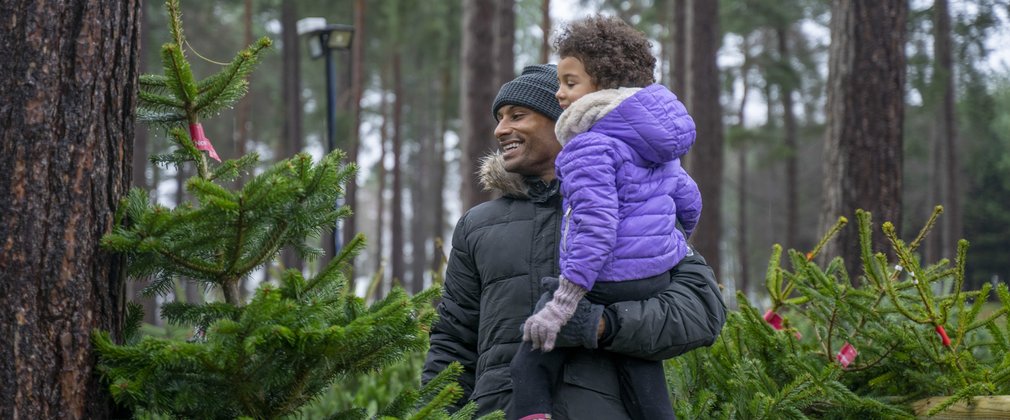 Looking for a real Christmas tree near you in Worcestershire? 
Sign up by email now to be the first to hear when tree sales start from 28 November. 
Buy your real Christmas tree from the Visitor Centre at Wyre Forest this year for a wonderful experience and the highest quality, sustainably-grown British Christmas trees.
Treasured family traditions make Christmas extra special so join us this festive season to make choosing the perfect tree part of yours. Wrap up warm, pull on your boots and make it a day for everyone to remember at Wyre Forest.
From 28 November to 20 December, our tree team will be on hand to help you choose from hundreds of 4ft-8ft spruces and 2ft-3ft potted trees in the fresh, wintery air of our beautiful forest.
What makes our Christmas trees so special?
Quality: Our high-quality trees are

Grown in Britain

certified - so you can be proud of your superior quality tree
Experience: Choose your tree from a beautiful forest location to kick off your Christmas celebrations 
Expertise: With 100 years of forestry experience, our experts can help you choose the right tree for your home
Support your forests: The money raised from your Christmas tree helps us maintain the forests for wildlife, for you, and for future generations
Christmas in our forest
Wellies crunching through twigs and leaves. Steaming hot chocolate and a cheek-warming tea. Walking trails and special memories. It's more than a trip to pick up your Christmas tree.
Enjoy a full day out with your loved ones! At Wyre Forest we have wonderful winter walks and brilliant bike rides for you to make the experience extra special.
More information
Wyre Forest, Callow Hill, Bewdley, DY14 9XQ
Please follow all site signage and instructions given by our staff. Be patient, allow a little more time for your visit, and help us keep you, our staff and volunteers safe.
10 am - 4pm: 28-29 Nov, 4-6 Dec, 11-13 Dec, 18-20 Dec
Choose a tree to match your budget, size and species requirements.